How do you spend your weekends? That is a silly question, as there would be as many different answers as there are readers of this post. But a common kind of response might be: "Relaxing after a hard week at work". That is not, however, my style. I am incredibly fortunate in having a very rewarding job; I am quite well paid to do interesting work under agreeable circumstances. I am always saddened when I hear from people who hate the grind of their job, but have no choice but to keep doing it. I do, however, strongly value my free time and, as I get older, become more determined to put it to good use …
Spending time "well" is a very personal thing. To me, just doing nothing much for a period of time is squandering some of the 40 million or so minutes that I have in this life. I do not spend every waking minute doing something creative or beneficial to the wellbeing of mankind, but I do try to spend it doing something. Libby and I tend to over-fill our calendar and my ToDo list always has some boxes to check …
This weekend was an example. We traveled into London [about 3 hours away] to go to the All Points East festival, specifically because we wanted to see Nick Cave. Patti Smith being there too was a bonus incentive. The opportunity popped up to attend a small afternoon family party, so we expanded our plans to include that. We filled the rest of our time exploring the area [around Hackney], that was unfamiliar to us: lots of pubs and restaurants and a couple of markets and a good stroll along the canal. My iPhone says that I did over 18000 steps each day.
The party was enjoyable, benefitting from the great weather that also blessed our meanderings around the area. But the festival was the highlight of our weekend. It was fairly well organized, so we had few problems finding what we wanted [food, beer, toilets and music mainly ?]. We did not see all that many performances, mostly saving ourselves for the headliners.
I am not that familiar with Patti Smith's work, but found her performance captivating. She [bravely] started out celebrating the birthday of the late Allen Ginsberg by reading his poem "Footnote to Howl". It was a brilliant start to her set and was hugely moving. She has incredible presence even in such a large venue – there were 35000 attendees to the festival and a significant proportion attended her set. We were relatively close to the stage [maybe 50 meters away] and, to me, her anger [with injustices in the world and certain politicians in particular] was almost tangible.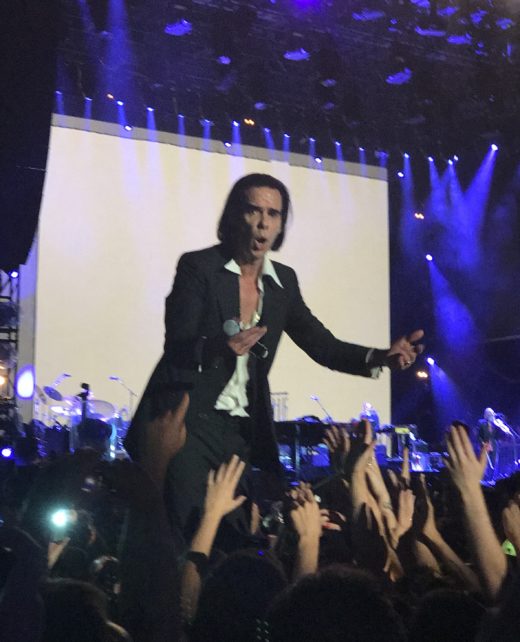 We were looking forward to seeing Nick Cave and were not disappointed. His performance was daring, powerful and spectacular. At one point, he disappeared and popped up on an "island" out in the audience, some distance from the stage. He then did it again, but this time he was just a few meters from us. My photo is barely cropped. That was a once in a lifetime bonus.
When we left the festival site, we thought it would be nice to have a beer. In due course, we found ourselves sitting at a table outside a restaurant with 4 people we did not know: two Irish women who had flown over specifically to see Nick Cave and a local English/Australian couple, who had also been at the festival. Pitchers of beer and a quantity of wine was imbibed and laughter resulted. We talked about the music and about London and "wet the baby's head", as Libby's second grandson had just been born [a text arrived during Nick Cave's performance]. It is very un-English – socializing with strangers – but strangers are only friends that you have yet to meet. We will never see them again, but we enjoyed their transient company. Having said that, the local woman's comment about Nick Cave was surprising. For us, it was an amazing performance and we were blown away; Libby likened Nick's approach to the audience to the Second Coming. But this woman said he was boring and they had left early! There is always one …
This article first appeared on the Siemens Digital Industries Software blog at https://blogs.sw.siemens.com/embedded-software/2018/06/07/weekending/