Thought Leadership
The House Book
Although, strictly speaking, he did not originate it, there is a famous quote that is usually attributed to Benjamin Franklin: "In this world nothing can be said to be certain, except death and taxes." I do not worry about death on a minute by minute basis [any more than I worry about tax], but I do feel that it is a topic of which many people are in denial, despite its inevitability. In the last couple of years, we have had to attend to the affairs of a couple of elderly relatives, who had died. These experiences have taught Libby and I some interesting lessons …
If someone close to you dies, you are, of course, very likely to be upset and it is not really the ideal time to embark on the complex process of settling their affairs. I have occasionally pondered about what I would like to leave behind when I die. Hopefully, I will leave behind some good memories. I might even leave some money – though I do plan to have a good go at spending it while I am alive! I think I would also like to leave my affairs in a state that is not too challenging for someone to address; I believe that everyone should do their best to achieve this. There are 3 steps:
Simplify your affairs as much as possible.
Document all the vital information [I'll come on to that in more detail].
Maintain that documentation to ensure that it is up to date.
(1) and (2) are not necessarily sequential, but they need to be addressed together.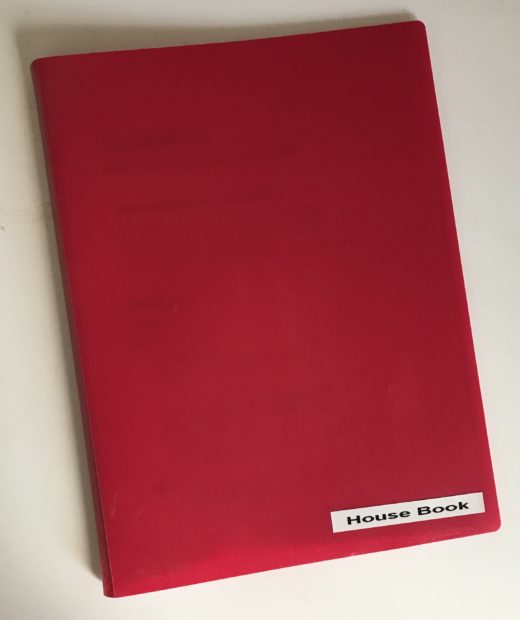 We decided that the best way to document the key information about all aspects of our lives was to create what we call a "house book". This is just an inexpensive A4 display book – a kind of folder with plastic pockets inside. We chose the one with 40 pockets to ensure we would not run out of space. The first document in the house book is the overall information summary. This is headed with a date that shows when the information was last reviewed/updated and runs to about 6 pages of information:
A document list: the documents, copies of which are also included in the house book, indicating where the originals may be found. At present the list is: birth certificates, marriage certificate, passports, driving licenses and wills.
Personal information: dates/places of births for ourselves and immediate family, phone numbers etc., organ donation status, NI numbers, NHS numbers, tax references, doctor, dentists, optician.
Employment information.
Financial information: insurance policies, pensions, credit cards, bank accounts, investments.
Household information: details of cars, TV license, council tax, utility companies.
Some information on end of life wishes.
I have calendared a quarterly review of the summary document. At this time we will update anything that has changed and print out a fresh, dated copy.
The idea of a house book is simple and, whilst a little time consuming, fairly straightforward to create. We managed its creation by scheduling a few short sessions to construct each part. I am sure that, one day [hopefully in the distant future!] our efforts will be appreciated.
If you have any suggestions for material that we have not included, please let me know by email or via comment or social media.
This article first appeared on the Siemens Digital Industries Software blog at https://blogs.sw.siemens.com/embedded-software/2018/03/15/the-house-book/