Thought Leadership
Mr. Tsunami and life-saving cricket
We decided that we would like to get away for the Christmas and New Year holiday. We had two objectives: find somewhere where Christmas was, if not ignored, a lot lower profile than it is the in UK; get some sunshine. After some deliberation, we chose Sri Lanka [big island, south east of India – formerly called Ceylon]. On vacation, it can be hard to get much impression of the lives of the local people. Tour companies, hotels etc. provide a significant level of insulation, as they endeavor to provide the comforts and mod cons that western visitors expect.
It is always a great opportunity [for me, anyway] to spend time with a "local", who is happy to tell you something about their way of life. For a few days, we had a driver – I will call him Mr. C. – who, apart from being a good driver on the rather chaotic roads, with an excellent knowledge of his country, liked telling stories. He had many stories and I was taking notes …
I am sure that most people remember the dreadful tsunami that took place on 26 December 2004, resulting from an earthquake in the Indian Ocean. It is one of the deadliest natural disasters in recorded history, with around 250,000 people being killed. My own recollection of the time was that Indonesia was badly hit – it was, in fact, the worst affected country. Also Thailand got a lot of news coverage, which I guess was a result of it's popularity with UK visitors. I now observe that 14 countries were affected and Sri Lanka was the second worst affected, with around 40,000 deaths. Mr. C had two stories about the tsunami: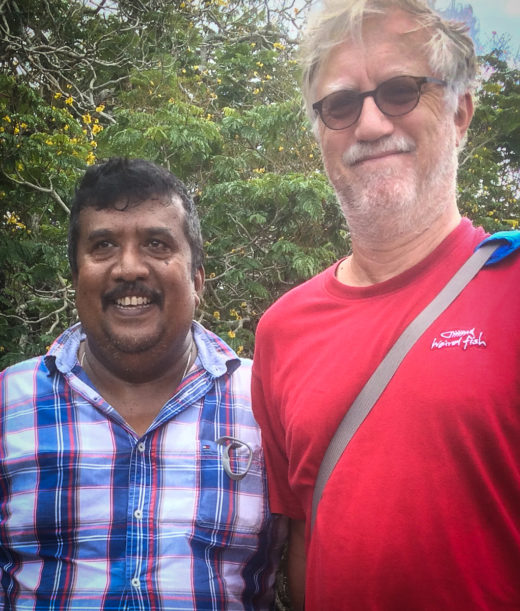 The first story is not particularly personal and variations of it can be found on the Internet, which gives the impression that the core story is true. I will tell it like Mr. C did, but I do wonder whether he added some embellishments, perhaps sharing the view of my late father-in-law: "Never let the facts get in the way of a good story." [Yes, I know that Mark Twain is credited with this quote.]
As the Christmas holiday in 2004 approached, the Sri Lankan government considered how its workers may be awarded some time off. It was decided to shut down the Meteorological Department in Colombo and the Disaster Monitoring Centre in Pallekele near Kandy. The thinking was that there had not been a major incident for about a century, so it was a low risk option. We now know that they were in error. When the earthquake struck, the Tsunami Monitoring Centre in Hawaii tried to make contact with local officials, but got no reply. Eventually, they sent a message to a senior member of the government [whom I will not name in case I have some details incorrect].
This politician was well known for two things: he liked to make extensive use of the gym; he hired secretaries on the strength of their looks rather than their intelligence or command of English. His latest secretary was still "under training". He was trying to school her in basic etiquette. For example, if John Smith came to visit, she would say "Smith is here for you." He explained that the correct address should be "Mr. Smith". The politician was enjoying a long gym session when the communication from Hawaii arrived. So, it was this secretary that received the message saying "Tsunami on the way from Indonesia". She passed on the message as "Mr. Tsunami is on his way from Indonesia". As there is no word for tsunami in Sinhalese, the politician did not see an error and assumed that this was a Japanese dignitary. A delegation was sent to the airport with a board that said "Welcome to Sri Lanka – Mr. Tsunami of Indonesia."
Although one might smile as this stupid mistake, the result was a total tragedy as the tsunami struck and laid waste the south west coast with no warning. Actually, the tsunami itself did give a kind of warning. The first wave to hit was very big, but not devastating. It seemed to be a freak wave that took out some landscaping and messed up the beach furniture – an annoyance really. However, such a wave is a common portent of something much worse, as was the case here.
Mr. C's second story is very personal. He is a very big fan of cricket, which is the #1 sport in Sri Lanka. He had been watching many hours of a game on TV. As his team were playing abroad in another time zone, much of this had been late at night and he had taken the odd nap, missing a few crucial moments. In the morning, there was a scheduled break in play and he realized that he would have a window of time in which to assist his wife. He suggested that they use this time to go to the market. As the time approached, he heard a disturbance outside and checked what it was. A woman was coming along the road in a state of undress and rather wet, moaning about something. Mr. C was less surprised than you might imagine, as she came from a family who were prone to odd behavior. In due course, there was another disturbance. A shirtless man was running along shouting that it was the end of the world. Mr. C said to him "But it's only cricket …" [His team was not doing so well.]
The time for the break arrived and Mr. C's wife was all ready to go to the market. But suddenly he realized the the cricket highlights were on the TV – he could see the important bits that he had missed while napping. He paused to watch them and, hence, delayed their departure. During that time, the tsunami struck and destroyed the area where the market was located. Were it not for his love of cricket, we would have had a different driver during our vacation.
There is a postscript to this latter story. On our flight home, we got into conversation with another couple who had been to Sri Lanka many times and regarded it as their ideal way to spend the holiday. One year, a friend of theirs had moved to Australia and invited them to visit for Christmas and New Year, so they decided to have a change from their usual destination. That year was 2004. Under other circumstances we would not have had the opportunity to meet them …
Happy New Year!
This article first appeared on the Siemens Digital Industries Software blog at https://blogs.sw.siemens.com/embedded-software/2017/01/05/mr-tsunami-and-life-saving-cricket/