Last weekend, my wife and I took a trip onto London. It is not something that we do often, if only because it takes about 3 hours to get there, but we had a specific purpose behind our trip. We were planning to visit two picture exhibitions: Georgia O'Keeffe in the morning and David Hockney in the afternoon. Both of these were enjoyable and enlightening and we were happy that we had made the trip. However, going to a big city can always be interesting in other ways …
I am not a fan of big cities – I am very much a "small town boy". I like places where I see people that I know and I am aware of the boundaries. Big cities are very anonymous and seem to go on for ever. Having said this, London is fairly easy to get about on public transportation – even though a day ticket cost about twice as much as we paid in Berlin a few weeks ago. For a limited period, I can enjoy the energy and vibrancy of a city – just so long as I know that I will be going home before long.
At the end of our afternoon gallery visit, we had a little time to spare before we were due to meet my stepson and his girlfriend for dinner. Looking around as we left the Royal Academy, we realized that just over the street was located a very famous department store, which is particularly renowned for their food. We decided to investigate and use our time to tour the store.
It was very much like stepping into another world. The whole place is an interesting fusion of the old and new. They have been in business over 300 years [yes – they were founded in 1707], but seem well able to embrace new ideas and technology. We took the elevator to the top floor, with a view to working our way down, inspecting each floor. At the top was a café, where a guy was sitting at a grand piano, entertaining the guests. We did not linger here, but headed down to investigate the various departments. We checked out the restrooms, which were a bit of a disappointment – we expected more opulence than was in evidence. We even looked in the Christmas Shop [in September!!]. Our conclusion was that the minimum price, that you paid for anything, was about $30. Maybe this store was out of our league.
It was in the kitchenware department that we discovered that we were truly visiting a world occupied by Other People – people whose whole perception of life [from a financial perspective, at least] is fundamentally different from ours. Many years ago the Rolls Royce car company used to say that, if you needed to ask how much their cars cost, you could not afford one. Customers of this store, it seems, are likely to owners of such fine vehicles. My wife spotted a lady, who was being followed around by a couple of store assistants, issuing instruction for items that she wished to purchase. "I will need two dozen of these." – she gestured towards some wine glasses. She did not look at the price. I did. They were about $160 each! For the cost of her glassware, I could easily feed myself for half a year. And they were not particular nice or tasteful glasses. They were cut glass, but reminded me of ones given away as promotions by filling stations in the 1970s.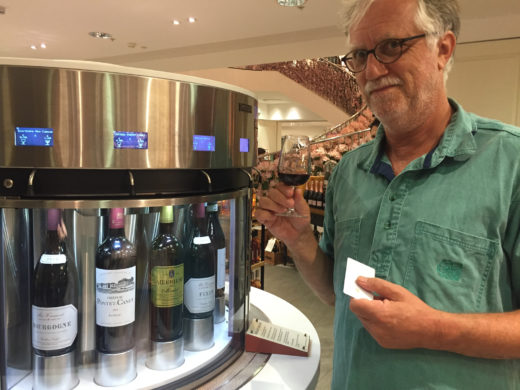 We ended up in the Food Hall. If I ignored the prices, this was a place that I understood, as food is a great interest of mine. We looked around, tasting the odd sample and marveling at how the Other Half eats. In due course, I found something even more interesting – the wine shop. I was not planning to lug any heavy bottles across London, but it was nice to browse. With wine, there is the possibility to go one step beyond browsing and do some tasting. And this possibility was accommodated. It is very intriguing to me when two separate interests come together and that is what happened. There was a very high-tech wine tasting machine – an embedded system, no less. I needed to purchase a small card [it looked like a plain white chip and pin credit card], which was "charged" with a certain amount of money. I inserted the card into the slot on the machine and pressed a button to have a sample of my chosen wine dispensed into my glass. The samples came in two sizes: tiny and really tiny. I feared that the smaller size might have evaporated before the glass reached my mouth. None of the wines really excited me, but it was interesting.
Overall, this latter experience was interesting because a 300-year old company had embraced the latest technology. Initially I was surprised that the charge-cards were plain white, but I realized that this was a strategy. If they had been printed with a logo, customers would take them as a souvenir [I would have!], but, being blank, they were left behind to be used again. Clearly the management look after the pennies. Of course, if they had been really up to date, the machine would be Apple Pay enabled and I could have waved my iPhone to pay for each sample, much as I seem to do for almost everything else …
This article first appeared on the Siemens Digital Industries Software blog at https://blogs.sw.siemens.com/embedded-software/2016/09/08/how-the-other-half-lives/