I can recall quite clearly way back in my childhood, in the 1960s, when my Dad first got a credit card. It was a Barclaycard, issued by Barclays Bank and probably the first really widely used plastic in the UK. Later, Barclaycard became part of the VISA network and my Dad used their cards for the rest of his life.
I remember, at that time, people started talking about a "cashless society", where we would use cards for everything and conventional cash would disappear. That has not happened yet, but, in the last couple of years, it has felt like something that might happen soon …
I made the decision 2-3 years ago that I would move away from using cash as much as I could. I figured that this would enable me to keep track of expenditure better, waste less time going to ATMs to get cash and feel more secure, as I would be walking around with less cash on my person [maybe none at all]. In a large majority of stores that I use, I can pay with a credit or debit card. Various trades people [plumber, electrician, cleaner, window cleaner …] I can pay using a bank transfer, which costs nothing and I can do it in seconds using the bank's app on my phone. In a similar way, I can send money to friends, when I am indebted.
At exactly the right time [for me], contactless cards came long and were very quickly deployed in numerous shops, food outlets etc. The are just so simple to use. For a transaction of up to £30 [about $45], you just place the card [which may still be inside one's wallet] close to the card reader, and normally it just bleeps once to say the transaction was successful and you get a receipt in the usual way. From time to time, at, I believe, random intervals, there are two bleeps and you are required to insert the card into the machine and enter the PIN to complete the transaction. If this procedure is not followed, the card is locked. I have found that the frequency at which this check is performed is often enough to be reassuring, as opposed to being annoyingly frequent.
Many people worry about the security of contactless cards. Their concern is that their card might be lost or stolen and someone would spend all their money. There are two reasons why this does not concern me. First, under these circumstances, the bank indemnifies customers for the losses – they take the hit. Second, after a few transactions, the PIN will demanded and fraudulent use of the card will be terminated. I would argue that cash is much less secure. If someone steels my wallet, they can spend all the cash and I will never see it again.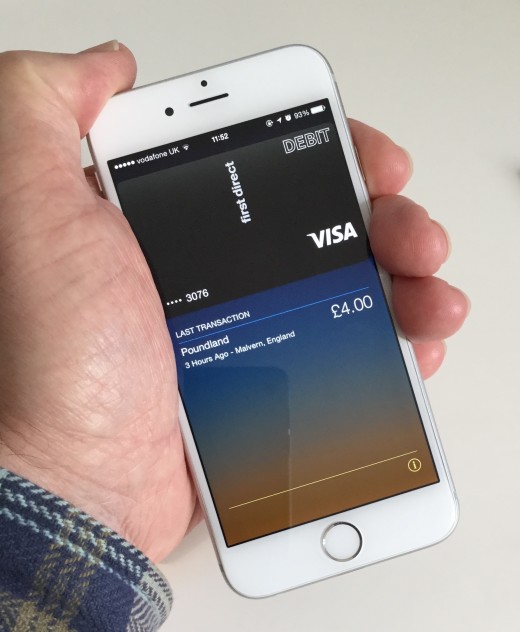 And then, along came Apple Pay. Payment by phone was first introduced in the US. The next country to get it – in 2015 – was the UK. The introduction here was quite smooth, as it initially tapped into the contactless card technology. From the first day, anyone with a card that supported Apple Pay could register it on their phone [which is beautifully easy to do] and then use their phone to pay anywhere where contactless cards are supported. Quite rapidly, many retailers etc. upgraded their systems to support Apple Pay explicitly, which gave users other advantages. So, what are the benefits of paying by phone, compared with a contactless card?
it is more secure, as a fingerprint is used instead of a PIN and it is required for every transaction
the phone stores a log of transactions, so there is no need to bother with paper receipts
where Apple Pay is explicitly supported, the £30 limit is removed
I observe that, once in a while, my fingerprint is not recognized. This is typically because I have been swimming and stayed in the water too long, so my fingers are a little "wrinkly". Normally a second attempt is successful. On one occasion, the app gave up and asked me for my [phone] PIN. It was interesting to know that this works as a fallback.
I have discovered another, probably unintended, benefit of Apple Pay. If I am in, say, a coffee shop with my wife and she wants another cup of coffee, I need to go to the counter to get it for her. I cannot give her my contactless card, as the PIN might be requested and I am not supposed to reveal that code to her. My phone, however, can hold a number of finger prints [I do not know exactly how many] and they do not all have to be mine. So all I have to do is ensure the phone is set up with my wife's thumb print and I can just hand her my phone.
One Sunday, a few weeks ago, my wife and I took a stroll. We headed for a nearby retail park to visit a shop that opened at 10:00. In the UK, Sunday opening hours are very odd. Big stores can only open for 6 hours, so their opening times are somewhat unpredictable. When we arrived at the store, we discovered two things. First, it did not open until 10:30 and neither of us had brought any means of payment – except for my phone. We went into the coffee shop nearby, meeting another couple of people we knew who were similarly waiting for shops to open. As they accepted contactless, the phone paid for coffee. In due course, we went to the store and to another shop nearby, using the phone in both. On the way home I had mixed feelings. On the one hand, I felt like a cool citizen of the 21st Century; on the other I was just relieved that it all worked and we did not have any embarrassing rejection bleeps …
This article first appeared on the Siemens Digital Industries Software blog at https://blogs.sw.siemens.com/embedded-software/2016/03/17/i-have-no-money/