How Mac and I are getting along – an interim report
I recently mentioned that I was planning – or at least seriously considering – moving from Windows to Mac as my primary computing platform. I immediately received some very positive responses from guys who have already made the move and were keen to share their enthusiasm. I thought that this might be a good time for an interim report on my progress.
When my wife asked me what I thought of the MacBook Pro after I had been using it for a while, I used a word which she did not believe she had ever heard me utter before. Suffice it to say, in summary, I will quote a well-known vendor of fine food: "I'm lovin' it" …
As planned, I have been using the MacBook Pro as my main computer for a couple of weeks now, learning as I go and addressing problems as they arise. Here are some of the issues that I have dealt with:
I need to work with MS Office documents and the advice, that I got from everyone, was to get Office for Mac. So, I took out a subscription to Office 365 and I have to say that it works like a charm. My only challenge is that I am used to Office 2007 and this is a newer version and a few things have changed. I have to accept progress.
There are various ways that I might access my work email and calendar, but, given that I have Office, Outlook seemed to be simplest and it was. I required the VPN set up and found that I could simply download the client from the company intranet and, when I had a little trouble setting it up, I got some great help from out IT support folks. [Working at Mentor Graphics has its benefits and IT Support is one of them!]
I installed the Mac Evernote client and it works beautifully. It is very similar to the Windows program, with just a few little differences. The key thing is that it appears to be [fingers cross!] very solid and stable. So far, no random crashes or hangs.
I had some difficulty finding a project management program to replace MS Project. I wanted something simple and cheap. I just want to maintain a Gantt diagram and export the numbers. I found an app called Plan It, which works, but has a slight clunkiness. A mark against it is that I emailed the developer with a query and quite a few days have elapsed with no reply. I may need to revisit this area.
For years, I have used CanoScan LiDE 60 flatbed scanner, which is an unfortunate casualty. I found that it is not supported using recent versions of OS X [or recent Windows for that matter – they stopped at 7]. This is no big deal, as I do most scanning nowadays using an app on my iPhone, which is fast and convenient.
Laptops have always been a challenge to me – I feel very cramped with the small screen. Given a nice clear, high resolution display [and the retina display on the MacBook Pro is amazing], I can get by. I then discovered Spaces [I would call them Workspaces or virtual desktops], which effectively make the screen bigger. The implementation is very intuitive – in fact I stumbled on it and then had to read up on what I had found. I have used systems that implement multiple desktops on Windows, but they never seem to cut it. Apple have it nailed. This left a tiny problem: how do I put two documents neatly side by side on the screen? On Windows 7, there is a facility to do just this. I found an app called Magnet that does the job. [If I understand correctly from the reports, the next version of OS X addresses this matter.]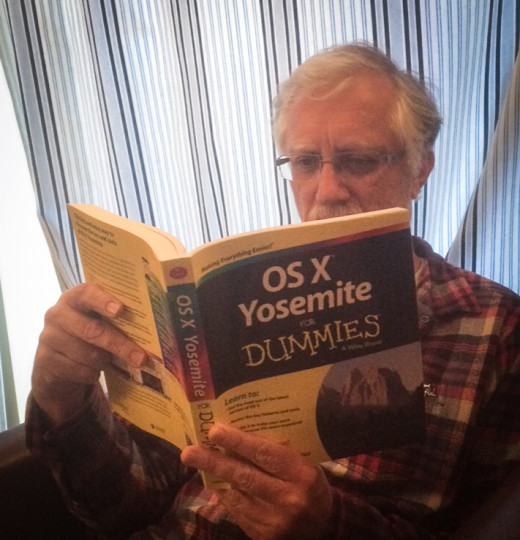 There are still some unknowns and things that I do not yet understand or do not know how to achieve, but I am enjoying the learning process. The bottom line is that the computer just @$§*ing works. If it happens to be fun to, that is a bonus.
I bit the bullet and ordered my iMac as I am adequately convinced that this is the way forward. The machine has a 27 inch 5K screen, 16GB memory and a 3TB fusion drive [mix of hard drive and solid state]. I was aiming to be as future proof as possible without ridiculous overkill. Hopefully this will fit the bill. I anticipate delivery in a few days, but because of business travel and some upcoming vacation, it will be sitting in its box for a couple of weeks.
BTW, the word Libby was surprised to hear was "awesome" …
This article first appeared on the Siemens Digital Industries Software blog at https://blogs.sw.siemens.com/embedded-software/2015/06/11/how-mac-and-i-are-getting-along-an-interim-report/