Thought Leadership
Video blogging for embedded software: should you use it?
I am not a great fan of video, as a medium. If I want to learn something, I am more likely to turn to the printed word. It is only when something is intrinsically visual that I turn to YouTube. Like the time I unexpectedly needed to gut some fish – there I was, working in the sink with two slippery fish and a sharp knife, with my wife holding an iPad showing a video of a rugged looking man doing the job more proficiently than I aspired to.
I think, however, that video may feature more strongly in my life this year …
Although I spend considerably more time reading and listening to the radio than watching TV, I know that I am somewhat unusual in my preference. [Actually, even I do enjoy going out to see the odd movie.] As a result, I am intending to produce some video content in the coming months.
My first plan is to create some video blogs, which will be posted here. I am not sure yet to what extent the medium will help enrich the content. Will it be a better way to describe aspects of embedded software programming, for example? I would appreciate any feedback here, by comment, or on my social media accounts – are you likely to watch any video blogs, or do you [too] prefer the written word?
I really do not like to hear recordings of my voice. Maybe it is because it sounds like my father – at least like he sounded at my age. Worse still is seeing myself on video. I guess I need to get used to it and I thought that I might share an example with you.
About 18 months ago, the ARM Connected Community was launched. Late last year, to mark its first birthday, the organizers made a video from contributions provided by a few dozen people around the world. I was one of them. Here it is:
In case you blinked and missed me, here is a still to see what I look like.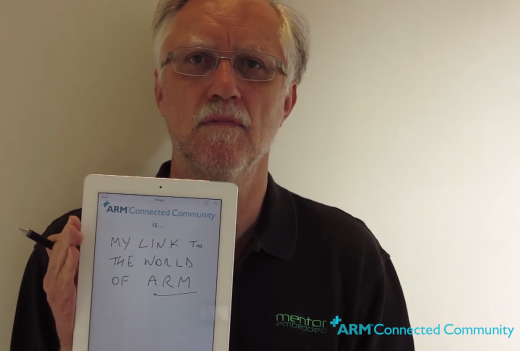 I look rather serious. I clearly need to loosen up. Another contributor is an old friend and colleague [I can hear his voice saying "not so much of the old"], who looks more relaxed: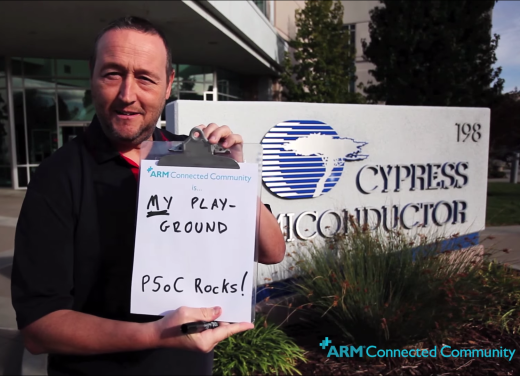 This article first appeared on the Siemens Digital Industries Software blog at https://blogs.sw.siemens.com/embedded-software/2015/01/19/video-blogging-for-embedded-software-should-you-use-it/