Thought Leadership
Eggheads
At a certain age, one arrives at the conclusion that it is time to try things – essentially before it is too late. As I have written before, there are many new things that I have been sampling. Part of this philosophy is to think about stuff that I might want to do, but also it is a matter of being aware of and responsive to opportunities. This in turn means that a default answer to a question might be "yes".
So, when someone suggested that I might like to be on a TV quiz show …
It all started about 3 months ago, when a friend – a fellow member of my camera club committee – said that he was thinking of getting together an Eggheads team and were any of us interested. I said that he could count me in, though I had almost no idea what the show was about. I watch very little TV and certainly not quiz shows. This was definitely a leap in the dark, but I did not really think that it would come to anything. I was wrong.
Some weeks later, we were invited to an audition. This took place in a nearby city. So, we all set off to give it a go, with no real expectations of success. There were 3 other teams being auditioned at the same time. To my surprise, I knew some members of one of the other teams, as they live nearby. They tested us a bit with some questions – it is mostly about giving a good answer rather than necessarily a correct one. They told us that quite a high proportion of teams that show up for audition are accepted, so we were quite optimistic. A week later, we heard that were in and would receive the recording date soon.
Last Sunday, we traveled up to Scotland [at the production company's expense!] ready to do the recording on Monday. We were provided with accommodation in a nice hotel and instructed not to drink too much or party too late. As if we would! As the weather was inclement, we headed for a nearby bar, which looked like a suitable place to hang out and get food and drink. As it turned out, they were having a quiz evening, so we saw the chance to get in some practice. It was not taken very seriously by anyone, but it was fun. We came 4th out of 9 teams, but since we were sure that the top 2 teams were cheating, we regarded ourselves as being 2nd. Not bad for a team that had never quizzed together before! However, we knew that, the following day, 2nd would not be good enough, as it was a question of winning or losing.
The Eggheads show is a popular TV quiz which is normally broadcast 5 times a week. The format is quite simple. There is a resident team of 5 smart people – "The Eggheads" – who are drawn from a pool of about 7 individuals. A competing team, like ours, is also 5 people [plus a reserve – just in case]. The contest is a series of 5 rounds. The first 4 are on specialist subjects [like Sport, Science, Books & Art etc.] and are a head to head between one team member and one Egghead. Initially the questions are multiple choice and, if, after those, there is no clear winner, they go to "sudden death", where no answers are suggested. Winners of rounds stay in the team; losers are out. The 5th round is the team [or what is left of it] against the remaining Eggheads and it is General Knowledge. The last round determines the winners. There is a £1000 prize if the team beats the Eggheads, but this rolls over each time it is not won.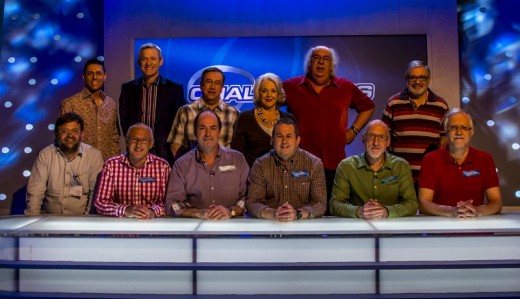 So, how did we do?
We arrived at the studio as planned. All the people there – production staff, the Eggheads, the chairman etc. – were really nice and welcoming. We did all the necessary preliminaries – paperwork, makeup [!] etc. – and then we went into the studio. The process was interesting – nothing is what it seems. The 30 minute show took about 90 minutes to record. There had been roll overs from a few previous shows, so there was an interesting [though not life changing] sum of prize money on offer. I got to go head to head with one of the Eggheads [Kevin, if you are familiar with them] and my subject was a difficult one: Music. I did quite well, being the only member of my team to get to Sudden Death, but I did lose. We ended up with 3 team members against 3 Eggheads.
Sorry, but I am not going to tell you what the final result was. You will have to wait until the program is broadcast. That may be quite a long wait – possibly as much as a year! Suffice it to say, we met our objectives, which were to have fun doing it. And it was, indeed, fun way to spend a day.
Thanks to Peter for letting me filch his picture [although actually it was taken by one of the production team using his camera].
This article first appeared on the Siemens Digital Industries Software blog at https://blogs.sw.siemens.com/embedded-software/2014/03/06/eggheads/