Thought Leadership
A 1000 days with an iPad
I figured out that I have been using an iPad for just about 1000 days. I do not just mean that it is around 3 years since I first bought one. I mean that I have used it every single day for the last 1000 days. As I described, when I wrote my my initial impressions, I was not sure what I wanted an iPad for when I made that initial purchase. I was just sure that tablets were the way forward. My usage of the device has evolved. In my interim report, I set some of the directions, but was still trying stuff. I also appraised how I felt about the iPad.
After six months, I felt that my usage of the device had settled somewhat and I documented what apps I used. It was 2 years later, after I had upgraded to an iPad 3 that I updated my description of the apps I used. Now I really do feel that the way the iPad fits in to my life has matured and stabilized …
I just checked and I have approximately 83 apps installed on my iPad. In reality, there are only a hand-full that I really use on a daily basis and would miss if they went away:
I keep my calendar [which I share with my wife] on Google and my To Do list with Toodledo; I manage both of these using Informant Pro, which integrates them well. [I also have the Toodledo app, but it is somewhat redundant.]
I use the built-in Mail app to manage my email, both personal [Google and Yahoo] and professional [Exchange].
The Evernote environment is very useful to me for both my personal and professional life, so the iPad app is well used.
For Web access I use the built-in Safari browser; it works fine and is hard-wired as the default.
I use the Facebook app to manage my social networking.
I get most of my news and keep track of various interests via RSS feeds. To do that on my iPad I use Feeddler Pro, which synchs with Google Reader.
As I now read almost exclusively ebooks, my Kindle is often at my side. However, I do find the iPad Kindle app invaluable, as they synch up nicely.
I have a Sonos music system and the iPad Sonos app is an ideal controller.
Lastly, I do play games a little. If I want to play with/against other people, Words with Friends is ideal; by myself, I play Rummikub.
I am sure that things will still change somewhat over time, as new apps appear frequently. But I think that the iPad's niche in my life is now quite clear.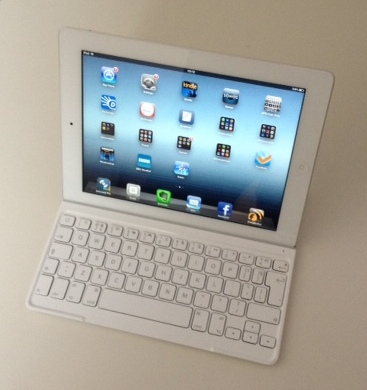 I recently bought an interesting iPad accessory. I have always been OK with the on-screen keyboard, as I rarely input large volumes of text to the device. However, I decided to invest in a Logitech Ultrathin Keyboard/Cover, as it was highly recommended and I thought that it might extend the usefulness of the iPad further. We shall see …
This article first appeared on the Siemens Digital Industries Software blog at https://blogs.sw.siemens.com/embedded-software/2013/02/21/a-1000-days-with-an-ipad/