I am not feeling so good. That is not too surprising. At the time of writing, it is less than 24 hours since I arrived home from a visit to California. A week spent in a timezone 8 hours earlier than home takes its toll. Add to that after-effects of a busy week followed by the discomfort of an 11 hour airplane flight and it is unsurprising that I am not 100%.
However, I am wondering if there is another reason for my malaise …
I generally try to eat well. What I mean is that I aim to consume a varied and balanced diet – broadly healthy. I often fail – a love of pizza, fondness for fish and chips and a weakness for the odd burger tend to lead me off of the straight and narrow. I am no saint, but, most of the time, I do try to pay attention. I think about what I am choosing and read labels on packages.
To me, breakfast is a very important meal and can set my mood for the day. So, I like a good breakfast. A traditional English breakfast [like its full-on American equivalent] is a heart attack on a plate. Although I might go for that once in a while, it is certainly the exception for me. I am more likely to have yogurt, muesli and fruit and have found this combination be enjoyable and amenable to ringing the changes from day to day.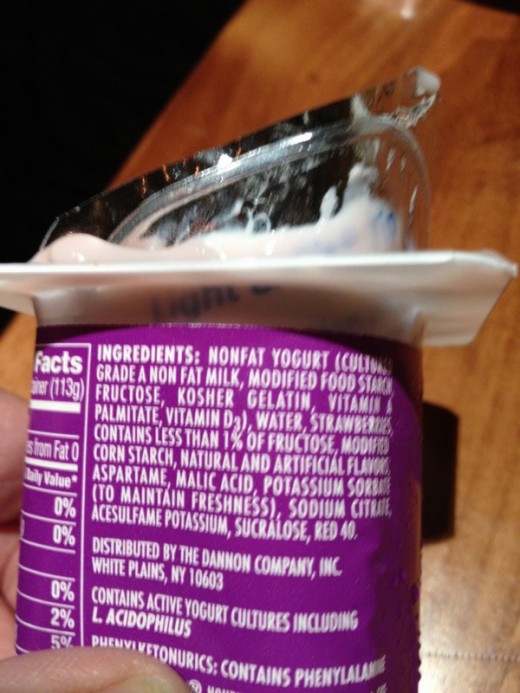 In the US, I was staying in a very nice hotel, which was locationally convenient, but also well managed with friendly and helpful staff. It is not cheap [sorry Mentor]. Their restaurant offers a wide range of options. Although I have a penchant for the Eggs Benedict, I do try to have healthy stuff too. So, the other day, I assembled the aforementioned yogurt etc. combo. The [strawberry] yogurt came in a small pot and my first surprise was when I removed the lid. I was a very lurid pink. I then started reading the [long] ingredients list:
Non-fat yogurt (cultured non-fat milk, modified food starch, fructose, kosher gelatin, Vitamin A palmitate, Vitamin D3)
Water
Strawberries
Contains less than 1% of:
Fructose
Modified corn starch
Natural and artificial flavors
Aspartame
Malic Acid
Potassium Sorbate (to maintain freshness)
Sodium Citrate
Acesulfame Potassium
Sucralose
Red 40
I was shocked and really doubted that I would want to put such contents of a chemical factory in my mouth. This length of list [and vile color] made me think of products that were normal in the UK in the 1970s. Things have changed since then. I bought some yogurt this morning, which has the following ingredients:
Yogurt
Rhubarb [9.5%]
Sugar
That is more like it! I have not eaten it yet, but I feel better already.
I know that good food can be found in the US. I wrote about an experience a while ago here. But I do wonder why there has not been the same consumer pressure for better products like there has been in Europe. I would be interested in any ideas by comment or email.
This article first appeared on the Siemens Digital Industries Software blog at https://blogs.sw.siemens.com/embedded-software/2012/04/05/poison-yogurt/