OK, so here is the plan. We are off to an event, which will last all weekend. It will be a bit of a drive to get there and then there will be a long walk to the place where we are camping. [Did I mention the camping?] There will also be quite a stroll to the place where the event takes place. It may well be wet and/or muddy. You need to pack light, as you will need to carry your stuff, but come prepared for it being very hot, very cold or very wet. At the event, there will be lots of music and a fair amount of that is likely to be … sub-optimal. You need to bring your own seating or be ready to sit on wet grass. There will be food available, but it might be of dubious quality and over-priced. The sanitary facilities will almost definitely feel rather third world.
We are going to a music festival! …
I do not really know the history of music festivals. They were certainly popular in the 1960s and 70s, with Woodstock being the iconic example. In the UK, the Isle of Wight and Knebworth were well known then. Things seemed to go quiet for about 20 years, then, about a decade ago, festivals started appearing everywhere. The most famous example over here is Glastonbury, which is massive. Of the hundreds that take place through the Summer, you can choose between different music genres, different durations [1 to 4 days] and different scales [a few hundred people to many thousands]. I am not sure whether this is a worldwide phenomenon, but maybe someone will comment or email to enlighten me.
Notwithstanding the negative picture that I painted above, festivals can be great fun. In my experience, the atmosphere is great and people are often more ready to talk with strangers than in real life. Although some of the music may be off, it may also be brilliant. Most often, there is good beer available, which helps. A highlight for me is cooking breakfast outside, but I guess I have had a sheltered life.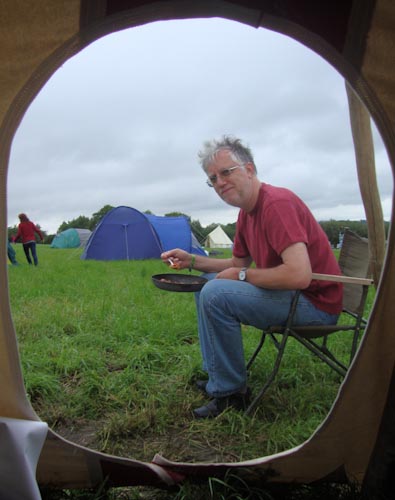 I have been to three festivals [so far] this Summer. Two were local, one day events, which were good, but barely count. Last weekend we went to Chagstock, which is on Dartmoor in the South West of England. We had some dampness, but no serious rain. In the space of 24 hours I got slightly sunburned and slept [a bit] through what was apparently the coldest July night on record. This was our second year and I am all ready to book 2012. The music was certainly variable, but, for anyone interested, here are a few highlights:
George & the Islanders
Jo Harman
The Freak Brothers
The Fireblockers
Show of Hands [well known political folk band, who were very professional]
Under the Driftwood Tree
3 Daft Monkeys [they are a 4 piece]
Rodney Branigan [brash Texan, who plays excellent, very energetic guitar; his party piece is playing 2 guitars at once]
Mad Dog McRea
Voodoo Trombone Quartet [there are 6 of them and only one plays trombone; kind of reggae meets brass; excellent]
Bellowhead [very well known and successful, but almost impossible to categorize]
This article first appeared on the Siemens Digital Industries Software blog at https://blogs.sw.siemens.com/embedded-software/2011/07/28/festival-fever/