Pssst, digital designers…wanna save WEEKS on your tapeouts?
By Srinivas Velivala – Mentor, A Siemens Business
Who doesn't want to save weeks of precious time on their tapeouts – or maybe even more? Have you ever been frustrated by DRC violations that your P&R tool's built-in DRC checker simply isn't equipped to handle? Are you tired of waiting around for database streamouts and DRC runs, so you can finish those final manual DRC fixes in your layouts? Help is at hand!
The Calibre RealTime Digital interface now lets you check your manual DRC fixes in your layout environment, using Calibre foundry-qualified rule decks. Think of it, in seconds or minutes, you can verify DRC fixes against Calibre signoff rule decks, ensuring "correct by construction" layouts. No time-consuming streamouts and batch DRC runs. Simply fix, verify, and move on.
So, how exactly does the Calibre RealTime Digital interface manage this? The tool provides direct calls to Calibre analysis engines running foundry-qualified signoff Calibre rule decks. These Calibre engines perform fast, incremental checking in the vicinity of shapes being edited, providing nearly instantaneous feedback on design rule violations and potential systematic variation susceptibility (as measured by recommended rule compliance). For example, the Calibre RealTime Digital interface can intelligently merge only the required shapes from top-level and hierarchical blocks, launch a DRC run, and highlight both the DRC error marker and the IP shapes around the error marker in the P&R tool. This allows designers to validate interface DRC fixes without leaving the P&R environment.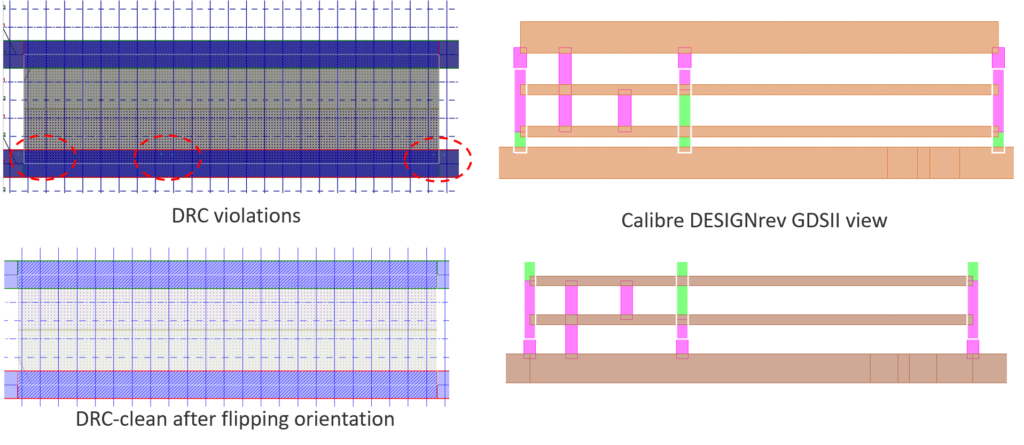 And, because it can perform all checks that can be run with the Calibre nmDRC platform, including recommended rules, pattern matching, equation- based DRC, preferred metal direction rules, and multi-patterning, you can also use this signoff DRC feedback in your P&R tools to perform what-if analyses on design rule violations and recommended rule compliance. Or iterate through multiple floorplan options early on to determine the cost/benefit of various layout options. Now you can focus more of your verification time and effort on achieving power, performance, and area (PPA) goals, while still meeting ever-tighter tapeout schedules.
Moving to a new node? Hate the thought of plowing through those complicated design rule descriptions for new checks? Use the Calibre RealTime Digital interface to apply the rule check to various layout options, and you can quickly understand the parameters simply by watching the actual application of the rule.
Think you're ready to shave weeks off your tapeout schedules? Check out the Calibre RealTime Digital interface details, or download a copy of our white paper in which Inphi Corporation details how they used the Calibre RealTime Digital solution to gain significant productivity while continuing to produce high-quality, optimized designs ready for manufacturing.

This article first appeared on the Siemens Digital Industries Software blog at https://blogs.sw.siemens.com/calibre/2018/08/02/pssst-digital-designerswanna-save-weeks-on-your-tapeouts/