Corporate
The winner of the Siemens PLM Software PACE Excellence Award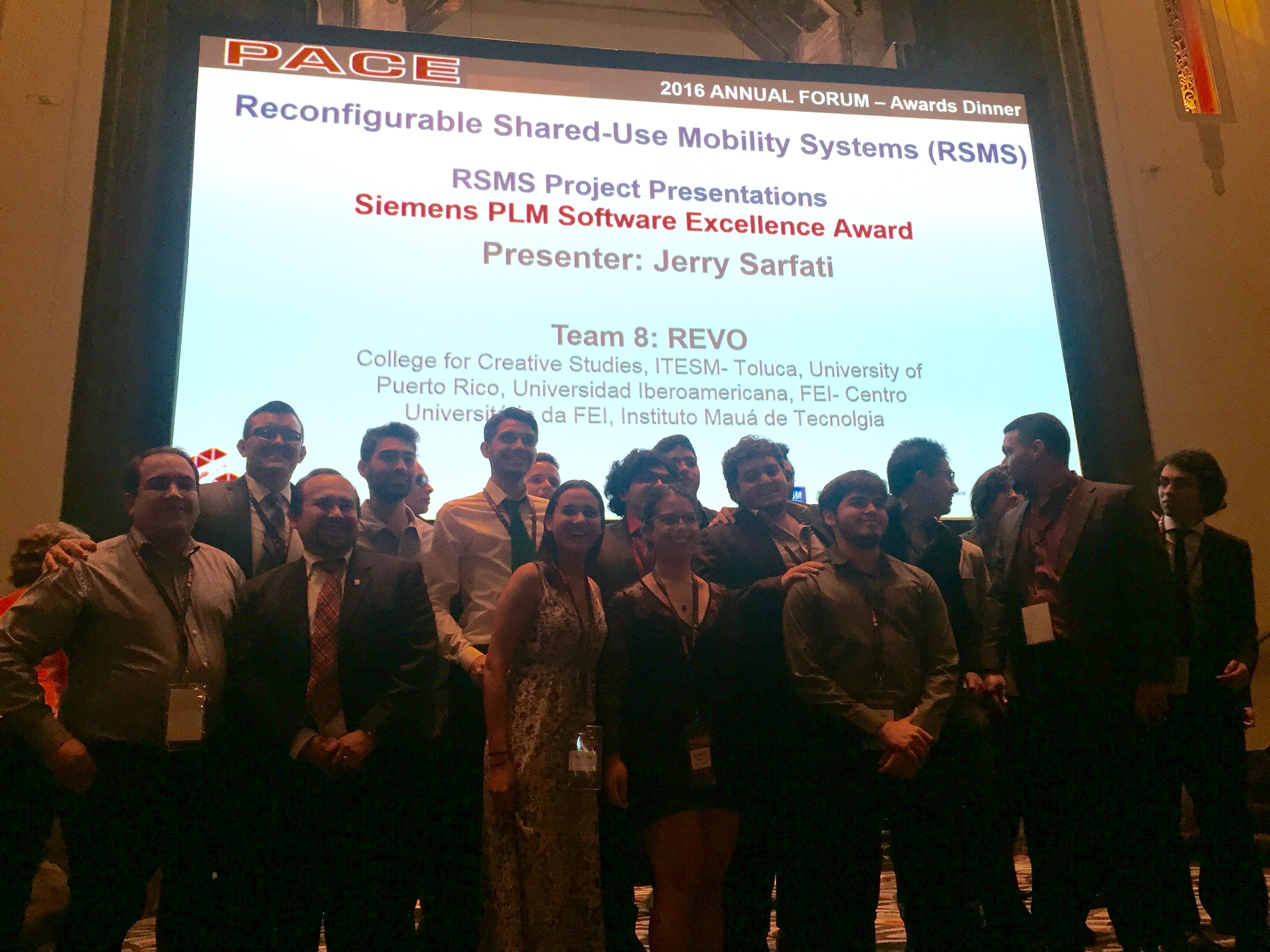 Each year Siemens PLM awards one team at the PACE Global Annual Forum the Siemens PLM Software PACE Excellence in Design and Simulation Award. It goes to the team that excelled in using the software to design and develop their vehicle for the two-year competition. Teams were tasked with designing a reconfigurable shared mobility system, essentially a vehicle that can adapt and change to be used by multiple types of consumers for their different needs.
Member of Team 8, Adriel Ildefonso, Edwin Ramos, and Natanael Montanez, study at the University of Puerto Rico
Eight teams, each made up of students from multiple universities, traveled from around the world to the University of Cincinnati at the end of July. There they collaborated and showcased their innovative designs to a panel of judges made up of industry experts and academia. The team that best used NX and Teamcenter software to advance their design and reconfigurable shared mobility system was Team 8 Revo. They defended their 2015 award and won the Software Excellence award for the second year in a row.
Team 8 is made up of students from multiple universities around the world including, the University of Puerto Rico, Insituto Tecnológico de Monterrey en Toluca, Centro Universitário da FEI, College of Creative Studies, and Universidad Iberoamericana en León. Three students from the University of Puerto Rico, Adriel Ildefonso, Edwin Ramos, and Natanael Montanez offered comment on their experiences with PACE and Siemens PLM Software.
Natanael, one of the team's main CAD designers discussed his experience, "At school we all took a class in our first year where we learned the basics of CAD and took skills we could apply to our PACE project, but it was very basic." However, the students found that they could always learn more about the software. Natanael elaborated, "We took the NX Certification course [the week before the forum] and we were able to expand our knowledge on how to edit and modify our designs."
Originally, the students on team 8 would have to restart their entire design process to make any modifications to their design, but after learning in the certification course it was much easier to modify existing drawings. In the future they will be able to save a considerable amount of time because of the extra training.
Team 8 celebrates after learning they won the Siemens PLM Software PACE Excellence AwardEven with limited knowledge on the software the team still excelled, perhaps, because of their perseverance and extreme dedication to the project. Edwin Ramos talked about his team's hard work throughout the year, "During the beginning of the year our students put in around 20-30 hours per week…but as we got closer to the competition the median time each team member spent working on the project was 70 hours." He continued with a sense of pride and admiration for his peers, "Our team was very, very focused leading up to this project."
With team members putting in hours far beyond a full-time job it is easy to see why employers look to real-world competitions such as PACE to find the most talented and determined students on the globe. These student put in work for their team on top of other personal and educational commitments and are able to achieve excellence in the work they do.
When asked about their favorite part of participating in PACE all three agreed that the international collaboration is the best part. With 65 universities from 12 countries around the world there are many different cultures, perspectives, and ideas represented during the forum.
The students also agreed that they really enjoyed giving their presentation to the judges, "Being on the stage presenting your teams' design and what you worked so hard on the past two years and pushing your ideas. Your team and seven other teams are all pushing for their own ideas and you have to stand out."
Team 8 had no trouble standing out and their long hours and hard work greatly paid off. Siemens PLM is proud to present the Siemens PLM Software PACE Excellence in Design and Simulation Award to Team 8, REVO. Learn more about PACE and other real-world competitions that Siemens PLM supports.
The preparedness of the future workforce depends on students that are properly trained and prepared to take over as the global workforce continues to age. Siemens helps students gain real-world experience to enhance their traditional education, resulting in a generation that is ready for the challenges of tomorrow.
This article first appeared on the Siemens Digital Industries Software blog at https://blogs.sw.siemens.com/academic/the-winner-of-the-siemens-plm-software-pace-excellence-award/