Podcast Transcript: Preparing Tomorrow's Engineers
Becoming more powerful everyday, engineering concepts and their respective masters are dealt with a challenge to maintain strict ethical standards. Whether it's constructing a high-level bridge or developing a cybersecurity testing system, engineers must ensure their applications are safe, reliable, and protected. Dora Smith, Senior Marketing Director at Siemens, hosts Yannis Yortsos, Dean at USC Viterbi School of Engineering, for an in depth discussion about the potential impact student engineers have and becoming a responsible change maker. Listen below to gain insight from a chemical engineering expert on how engineers are becoming more than just "problem solvers".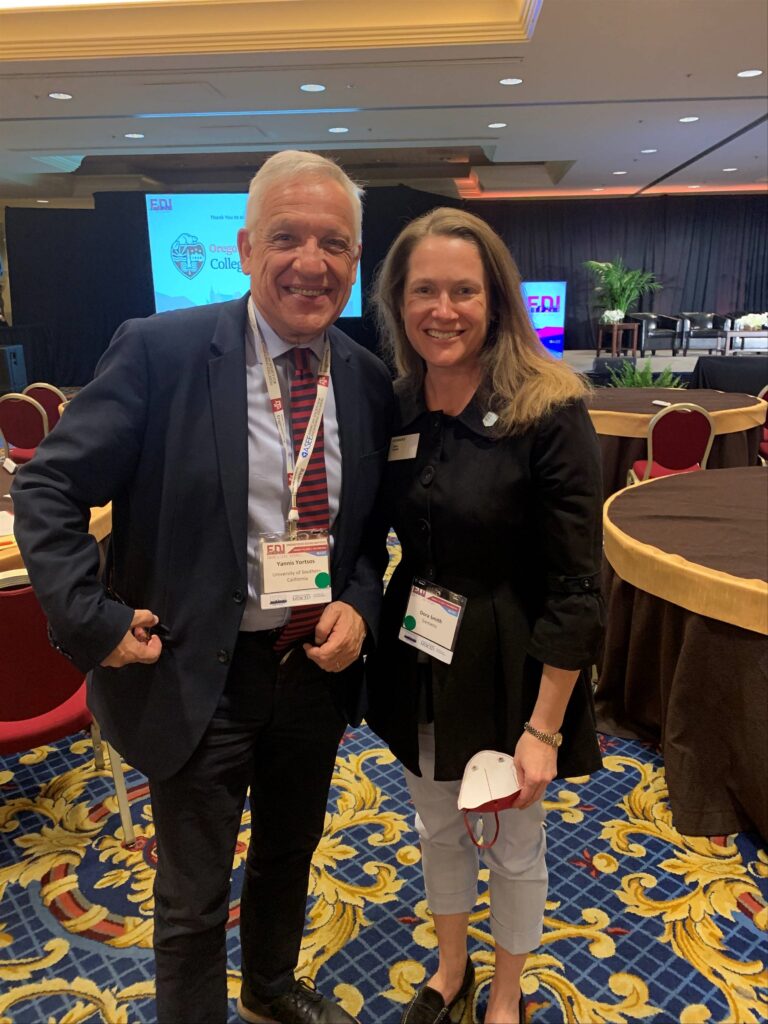 View "Lives Not Grades" story here: https://www.pbs.org/show/lives-not-grades/
Transcript
Dora (Narrator):
What do you think of when you hear the title "engineer?"
Big problem solvers? Someone who helps build skyscrapers or ensures our roads and bridges are safe? Maybe you're even thinking of the person who designed the device that you're listening to this podcast on.
In general, we imagine engineers creating safer, more stable environments.
At the University of Southern California's engineering school, students are working to do just that, but perhaps not in the way you'd imagine. With the help of their dean and The Grand Challenges Scholars Program, students are learning about the ethical repercussions of their work, as well as the societal impact they have the potential to make, through addressing some of mankind's biggest problems.
YANNIS: You know, many, they still have the conventional stereotype that engineers solve problems, but by problems, probably, they mean something trivial. I think we're looking at solving problems that have a much grander scale. And so, if we believe that our engineering students will do that, and we do want to believe that, then we have to give them the skills and the mindset and the opportunity to think in much more globally, and also to understand that the decisions they make are very important.
[Introducing the 'hook' speaker above to the listener] Yannis Yortsos is the dean of the Viterbi School of Engineering at the University of Southern California. He's joining me on the show today to discuss the mindset of change needed to thrive in today's engineering world and how he's ensuring that his students at USC are set up not only for success, but to become responsible change makers themselves.
I'm Dora Smith, and this, is the Innovation in the Classroom podcast.
[SHORT AUDIO TRANSITION/PAUSE TO INDICATE NEW SECTION]
I asked Yannis to walk me through the outstanding co-curricular engineering program that's been built at USC and how the students and their experiences develop.
[AUDIO TRANSITION INTO INTERVIEW]
YANNIS: So, the very, very first thing they will do is that, first of all, we tell our students, prospective applicants at USC, that we have a program like this… addresses and solves big societal problems, monsters, perhaps.
[Speaking to the listener, as always for these scripted sections. Keep a conversational tone] Beyond the societal viewpoint that this opens for the students at USC, they're also exposed to many of the issues that relate to the global influence of engineering.
YANNIS: We have a number of recent grants that we apply in this Freshman Academy class in this very specific area, the technology ethics, for instance, they're also exposed to innovation… all these other aspects of this program as well.
[To the listener] In 2009, The Grand Challenges Scholars program began as a response to the National Academy of Engineering's 14 GRAND CHALLENGES FOR ENGINEERING, as well as increasing calls for a new engineering education paradigm. The idea was to prepare engineering students to be future world changers.
YANNIS: It's a natural evolution of this program as it started back in 2009… as well as to our society, more generally.
YANNIS: It becomes a question of, "How does technology influence all this?" And the important role of engineers will play in developing these technologies and the unintended consequences that come as a result of this.
[To the listener] For Yannis, it's not just about his students becoming change leaders, it's also essential that they understand the responsibility of the potential impact they have.
YANNIS: Many, they still have the conventional stereotype that engineers solve problems… to make a real difference.
[To the listener] I asked Yannis to expand a bit on his vision of the thriving, socially responsible engineer through the lens of the Five Mindsets of Change.
YANNIS: Clearly, a technical competence… Because technology is moving all the time.
YANNIS: Then, you're talking about… start moving to understand others.
YANNIS: And the final item… I think it is.
[To the listener] When it comes to creating an impact on society, one of the most eye opening experiences the students from the Viterbi School of Engineering have had, came from working with the Moria Camp on the Greek island of Lesvos. This refugee camp has been known as one of the worst on Earth.
YANNIS: We taught, in civil engineering, on helping people in crisis… in order to be able to make progress in that direction.
[Text Wrapping Break][As follow up to Yannis' explanation] That project was featured in a documentary titled "Lives, Not Grades" that details the challenges faced once the students make the transition from solving problems in the classroom to seeing them up close and personal in the real world.
With all of the incredible work his students are doing while attending USC, I asked Yannis to share with me a few of the Grand Challenges alumni he's most proud of.
YANNIS: Two of our graduates who graduated in 2015… trying to infuse in our students.
YANNIS: Outside of USC… he has been a very excellent example of this.
[SHORT AUDIO TRANSITION/PAUSE TO INDICATE NEW SECTION]
YANNIS: You can try to say that many things that we do can be explained in a way that doesn't necessarily reflect a very specific physical process. But actually, it's part, maybe, of a societal process as well. And so, I am trying to see how one can use usefully this concept, in order to be able to make some more interesting not only predictions, but understanding of the way the world works.
[To the listener] With Yannis' background in chemical engineering, he's been able to develop a unique analogy for his vision of engineers as change leaders.
YANNIS: There is a lot of things that we do when we interact in a social setting… some sort of a form of chemical reaction.
YANNIS: When we look at the evolution of innovation… a simple chemical reaction, if you wish.
[To the listener] Moving from Moore's Law to Maslow's Hierarchy, I asked Yannis to expand on the Grand Challenges within the context of our planet's hierarchy of needs.
YANNIS: I don't want to take ownership… one of the speakers actually made that analogy.
YANNIS: I want to give some credit… member of the academy in moving this forward.
YANNIS: If you look at the Grand Challenges… the same way you do for the individuals in Maslow's hierarchy.
[SHORT AUDIO TRANSITION/PAUSE TO INDICATE NEW SECTION]
YANNIS: I don't think you can replace the in person experience and that actually, particularly when, when it has to do with understanding the plight of others in some way or trying to understand the reason why, you know, human centric problems are how to resolve them to some extent.
[To the listener] The impact of the COVID-19 pandemic has been astronomical on nearly every aspect of society. And for students, in particular. Yannis' take on the implementation of remote learning is multifaceted.
YANNIS: The positive part… other applications.
YANNIS: Now, will engineering… a nice combination of both.
[To the listener] So what, then, are the implications of remote learning on initiatives like the Freshman Academy program when students are unable to be physically together?
YANNIS: At USC… in South California.
YANNIS: So, these types of programs… you know, actually the opposite.
[To the listener] One thing that couldn't be replaced, according Yannis, was the vibrancy on campus when in-person learning returned.
YANNIS: I must say that when the University… and I think that will continue being the case.
[SHORT AUDIO TRANSITION/PAUSE TO INDICATE NEW SECTION]
YANNIS: We live in times that are very important for many of the things that we do as engineers, and I do want to—and scientists, as well, I want to make sure that the there's a continuum there, that we should not neglect, and have to look at it in a more holistic way—but science technology can be a big, entirely human trait. And certainly can make a big difference in the quality of life, essentially enriching life in many different ways as well.
[To the listener] Since the Grand Challenge began 13 years ago, there have been an incredible number of changes and challenges in the engineering world and beyond.
I asked Yannis which challenges have stood the test of time.
YANNIS: The question is… however you would want to define it.
YANNIS: Globally, sustainability has become a bigger issue… the reformulation of the Grand Challenges may be necessary.
YANNIS: There is tremendous progress that has been made… many interesting new directions there as well.
[To the listener] Although things like technology and tool sets continue to evolve, human innovation is always the common denominator serving as a central thread.
The question, then, is how a company like Siemens can lend support to continue the transformation of engineering education and better meet the industry's needs?
YANNIS: We look at corporations like Siemens… there's no question about that.
YANNIS: I think understanding how this interacts… and also the goals of the company as well.
YANNIS: At the same time… in many different ways in the same direction.
If you're interested in learning more about USC's student project to design and build innovations to improve the lives of refugees, you can find the documentary "Lives, Not Grades" streaming on PBS.org.[Text Wrapping Break][Text Wrapping Break]And learn more about how Siemens Digital Industries Software empowers learners to create an innovative and sustainable future, by heading over to siemens.com/students.
Stay tuned to Innovation In The Classroom wherever you do podcasts. I'm Dora Smith. Thanks so much for listening!
END
This article first appeared on the Siemens Digital Industries Software blog at https://blogs.sw.siemens.com/academic/podcast-transcript-preparing-tomorrows-engineers/