Corporate
My internship at Siemens PLM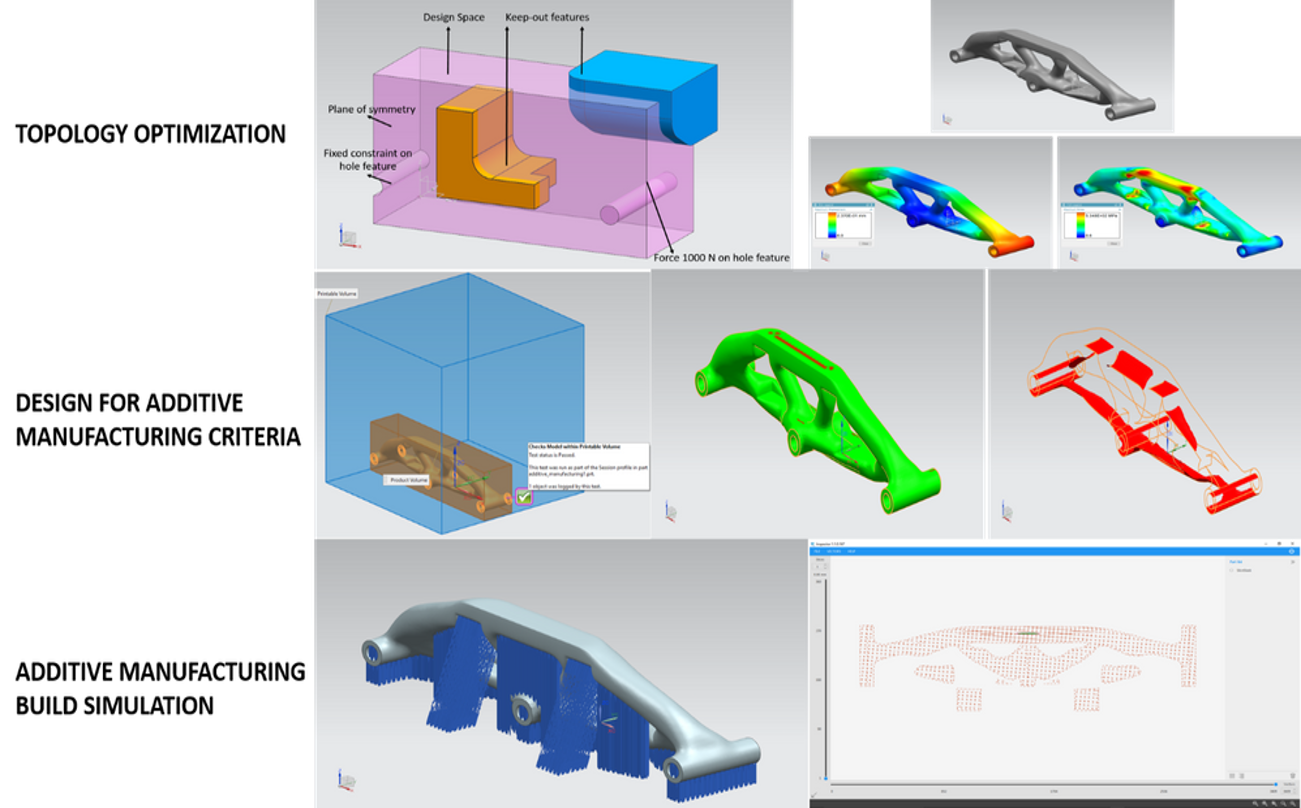 MY INTERNSHIP AT SIEMENS PLM
The realization of a product is complex and engineered cross-functionally from its inception to its conception. With changing product requirements, there is bound to be a subsequent evolution in the original design. Today, a product can undergo all these phases digitally before it is even brought into existence. With the concept of Topology Optimization, it is possible to evolve a product design into a lighter and stiffer shape while maintaining its functionality. However, a topologically optimized part is often complex and has a spider-web like design. Such a part cannot be manufactured using traditional subtractive manufacturing methods. Additive Manufacturing is a whole new perspective towards manufacturing thinking. The technological gap that hitherto existed between digital design and physical manufacturing has now been bridging rapidly. With the advent of Additive Manufacturing technology, product design complexity is no hindrance. Thus, AM has extensive applications in Aerospace, Automobile and Bio-medical industries. With rapid evolution in AM methods, it has the potential to become a mainstream method of manufacturing for any industry.
My internship at Siemens PLM Software as a Global Academic Student intern was a profound learning experience. With an academic background in Additive Manufacturing methods, this internship helped me gain a before and after picture of an AM product in its life-cycle. My job involved using Siemens NX to develop a hands-on Additive Manufacturing curriculum that can be accessed via Siemens Learning Advantage. The curriculum focused on the aspects of Topology Optimization, Design for Additive Manufacturing, Additive Manufacturing build simulation and Polygon Modeling.
I implemented an end to end workflow for a product that started with a defined design requirement. In the NX Topology Optimization environment, application of design constraints and loads on the Design Space resulted in product geometry of optimized shape, strength and stiffness.
In the NX Polygon Modeling environment, the Topologically Optimized part was analyzed for mesh defects, the sharp features on the part were smoothed, and part was custom modeled for a manufacturer's trademark. Polygon Modeling is a concept in which CAD geometry and mesh geometry can be modeled simultaneously. The resultant part design was used as a blueprint for design in Additive Manufacturing.
The part was subjected to various Design for Additive Manufacturing criteria, such as: Detection of wholly enclosed volumes within the part that could make support removal impossible without part destruction, detection of thin features on the part which may deform upon printing, detection of support requiring areas on the part, checking whether the part dimensions are compatible with a given printer, optimized nesting of parts on the AM build tray.
Upon analysis of the DFAM criteria, the part was set up for AM build simulation. Build simulation involved orientation and positioning of the part on the desired printer, setting up of custom printer build parameter profiles, automatic generation of supports and display of AM build slice profiles.
An end-to-end workflow: From Design Space to Additive Manufacturing of a Simple CantileverI greatly enjoyed working at Siemens. I loved the challenge of planning and documenting a hands-on end-to-end workflow and contributing from an academic standpoint. It was exciting to learn new capabilities of the NX software. The work culture at Siemens is diverse, team-oriented and encouraging. My mentors showed that they are very invested in my career growth. Their feedback was instrumental for me to learn and improve at every step of the way. I believe that this opportunity was a springboard for a career in the area of my primary interest – Additive Manufacturing. I feel excited and look forward to a fulfilling corporate career as a Mechanical Engineer.
This article first appeared on the Siemens Digital Industries Software blog at https://blogs.sw.siemens.com/academic/my-internship-at-siemens-plm/