McMaster Marches to Excellence with Award at EcoCAR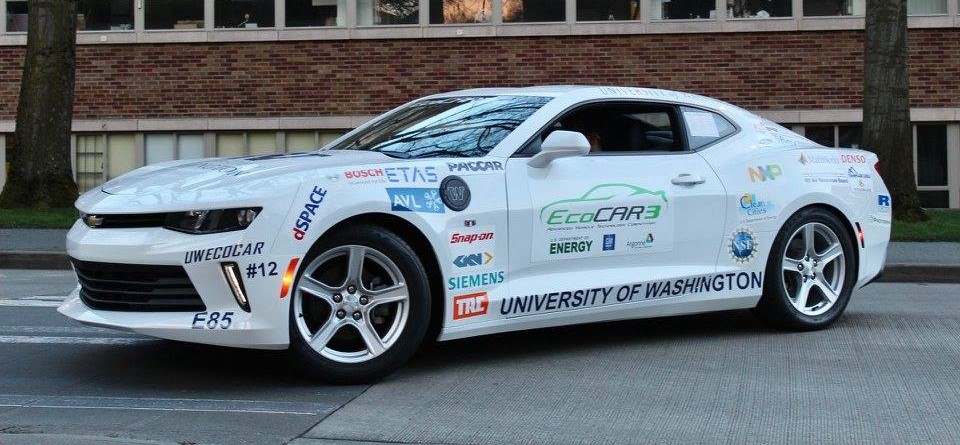 Last month EcoCAR 3 finished its fourth and final year of the competition. Sixteen teams spent four years making their stock Chevy Camaros into the most efficient speed machines on the track. In addition to all of the official categories upon which the competition is judged, several teams chose to submit portfolios for the Siemens PLM Software Excellence Award. These reports included a written report explaining how they used Siemens and Mentor software to document their design, evidence of iterative part design and evidence of progressive simulations of the assemblies. In short, the awards were granted to teams that demonstrated *and* communicated the most effective use of NX, Teamcenter, Simcenter and Mentor software.
The second place team did a great job demonstrating their use of the software to design, analyze and ultimately build a custom gearbox. They walked the judges through the process of hand-sketching the initial designs, to creating CAD drawings and using CAE/FEA to build the box. As a bonus, the team simulated the routing of coolant hoses and electrical wires, which allowed them to make the most efficient and effective use of space in the engine bay. The University of Washington did a great job and earned every bit of their $500 second place award!
McMaster University, our first place winners, successfully used Siemens and Mentor tools to execute a model-based design philosophy to streamline the design process. They provided excellent examples of their use of convergent modeling and made awesome use of Teamcenter to manage all of their data. They also used extensive simulation techniques to model their battery pack assembly. Taken together, their advanced modeling, simulation and data management sent them to the top of the list. Congratulations to the McMaster team on their $1000 Siemens PLM Software Excellence Award!
This article first appeared on the Siemens Digital Industries Software blog at https://blogs.sw.siemens.com/academic/mcmaster-marches-to-excellence-with-award-at-ecocar/