Lawrence Tech's Blue Devil Motorsports participates in FSAE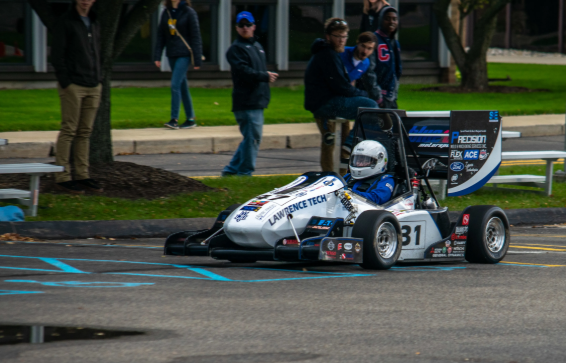 This past May 8th-11th, the Formula SAE Michigan competition heated up as teams from across the United States raced their finely engineered race cars at the Michigan International Speedway. Among these teams is the Blue Devil Motorsports team, the Lawrence Technological University's FSAE team .As a part of the academic partner program at Siemens Digital Industries Software, Blue Devil Motorsports has access to the most advanced engineering tools for student vehicle teams, including NX, STAR-CCM+, Fibersim, and Amesim along
2020 Internal Combustion car.with access to hundreds of e-learning courses. Over the past year the team started utilized NX and Simcenter STAR-CCM+ to design, manufacture, test and race a formula style racecar. The team also collaborated with Siemens to develop CFD content for FSAE teams, in order to further FSAE support teams.
This year's 2019 vehicle was the most technologically advanced car they've ever built. The power plant for the car included a 2018 Yamaha R6 engine cooled by twin radiators, paddle controlled pneumatic shifting for lightning fast shifts, and improved suspension design to accommodate a 10-inch wheels. All of this is bolted to a lightweight steel spaceframe with excellent stiffness. To top it all off, they implemented an improved carbon fiber aerodynamic package with the help of STAR-CCM+, providing them the extra grip they need for cornering on the track.
Tech Inspection.
See the video below of the team captain and technical manager of the Lawrence Tech Internal Combustion team, Shauna Wollmershauser, talk on Siemens impact in their project.
The team is made up of 25 students of various majors working to gain as much knowledge and experience about engineering as possible and of course… improve their ranking versus their peers. Shauna's team works together for about 9 months to build each racecar. Comprised of students from all grade levels (Freshman to Senior), FSAE provides an exclusive opportunity for students to put theory and practice to the test. It requires thousands of hours of work from the students just to make it through inspection and even more to stand on the podium. Blue Devil Motorsports attracts and builds up some of the brightest and most hardworking engineers and students in the world, forcing them to think outside the box, and gives them an opportunity to network with alumni and industry leaders.
The LTU Blue Devil Motorsports 2019 Team.The LTU Blue Devil Motorsports team ranked 71st out of 129 overall with a 58th out of 129 presentation result. Their best event was the Acceleration race where they place 31st out of 129 teams. To see a full list of results, click here.
To follow the Lawrence Tech FSAE team through their journey, check out their Facebook and Instagram.
Formula SAE is a student engineering competition that has its roots firmly planted at Lawrence Tech, where the first Michigan competition was held over 30 years ago.Originally founded by SAE International in 1976 as Mini Indy, Lawrence Tech has competed for more than 20 years. The Formula Student competitions scope has since grown to be a global event with competitionsin Germany, Austria, India, China, Spain, Italy, Hungary, Australia, Canada and even more countries. The largestN. American Formula Student (FSAE) event is held at the Michigan International Speedway every May withabout 120 teams from the U.S. Canada, Mexico and
Gearing up in the 2019 car.around the world, competing in two types of events: dynamic and static. While dynamic events consist of races evaluating the performance of a car for acceleration, skidpad, autocross, and endurance, the static events measure the team's design, marketing, financial, and management abilities. By judging on all these aspects, FSAE asks the best and brightest students to construct an innovative cutting-edge vehicle that pushes the technological limits further each year.
This article first appeared on the Siemens Digital Industries Software blog at https://blogs.sw.siemens.com/academic/lawrence-techs-blue-devil-motorsports-participates-in-fsae/