Insights from ASEE's 2019 Engineering Deans Institute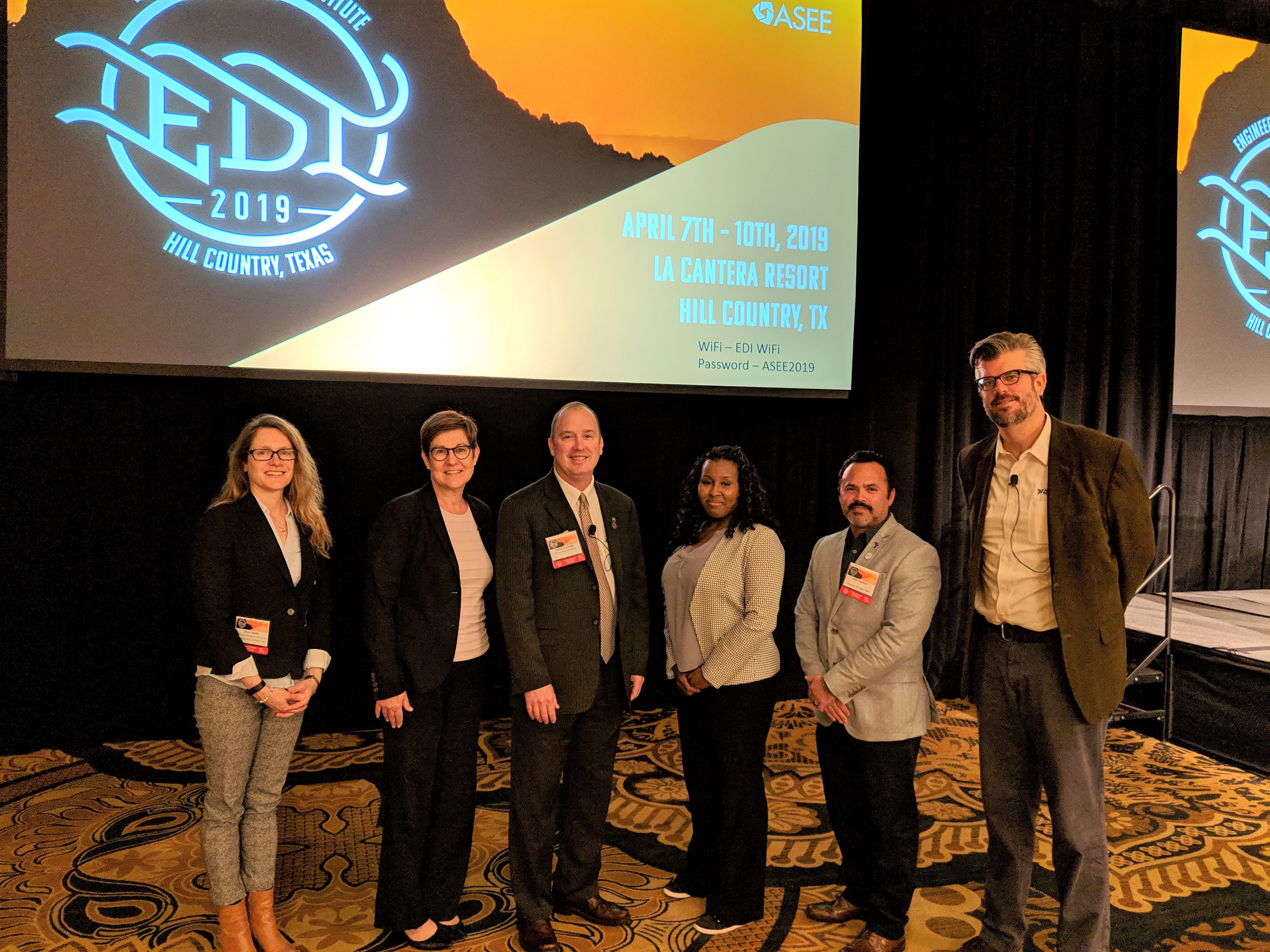 Recently engineering deans collaborated at the American Society of Engineering Education (ASEE)'s annual Engineering Deans Institute. They convened on merging physical, digital, and biological worlds – especially in key areas of digitalization like cybersecurity, artificial intelligence, machine learning and data analytics.
They discussed industry skills gap, micro-credentialing and the need to move beyond the traditional educational paradigm entrenched in theoretical research.
Looking Ahead
I served on "The Engineering Profession in the 21st Century" panel with other industry representatives from Northrop Grumman, National Instruments and MathWorks to discuss where the engineering profession is headed. We discussed knowledge skills and abilities that future engineers will need.
Our panel discussed emerging technologies like artificial intelligence, formal curriculum alignment to the multidisciplinary needs of industry, lifelong learning in megatrends and diversifying the profession to ensure a strong pipeline of talent.
I talked about innovation without boundaries and the multidisciplinary needs of industry. Siemens is in much the same boat as universities. We are a large institution facing digital disruption. We have many divisions, serving many sectors. Yet one thing is constant – the need for digital talent that understands the intersection of software, mechanical and electrical disciplines.
I shared the story of 17-year-old Ashley Kimbel with the deans. She designed a lightweight prosthetic to meet the needs of veteran Kendall Bane. While her multidisciplinary high school project is inspiring on its own, it was made possible in part by her teacher Chris Faust, who came from industry to upgrade Grissom High School's engineering and design curriculum. Outside the class, Mr. Faust has a very engaged industry advisory board with experts from multiple domains. Inside the class, he weaves into the curriculum guest lectures from local industry mentors across multiple disciplines. His course doubles in size each year.
Industry and Student-Centered Learning
We shared ideas with the deans on industry-centered learning and student-centered learning, and Mr. Faust mentioned what they saw at industry sponsored competitions which drove them to overhaul their curriculum. Schools should leverage students strong in extracurricular multidisciplinary competitions as teaching assistants to help them upgrade the classroom experience.
Industry has a pivotal role to play. I shared with the deans a collaboration we did with Northrop Grumman to introduce a systems engineering real-world project and environment for students at the Florida Institute of Technology. Key to the success of the program was the active involvement of Northrop engineers as mentors.
Our academic partners have access to several multidisciplinary courses and curriculum in Learning Advantage like a new model-based systems engineering course to mechanical, electrical, computer science, engineering technology, industrial engineering with industry coverage to assist aero, auto and marine programs.
Diversity and Inclusion
There were several compelling discussions on diversity at this event. Fellow panelist Tammy Stevens, corporate manager of University Relations and D&I initiatives at Northrop Grumman, spoke to the power of language to engage and encourage diverse students in engineering. Her own personal career path and experience highlighted the impact of just a single word by a professor, mentor or manager.
Sandra Evers-Manly, vice president of Global Corporate Responsibility and president of the Northrop Grumman Foundation, shared the company's strong belief that diversity, equity and inclusion are critical to innovation. The company has an amazing amount of diversity STEM initiatives to reach the labor force of the future. Their goal is to engage 350,000 students by 2032.
I was also very moved by Richard Tapia's keynote. He is a professor at Rice University, member of the National Academy of Engineering, and recipient of the National Medal of Science. He spoke to the dean's position and role in encouraging diversity and inclusion in engineering programs. He highlighted a diversity issue in higher education when the focus is on foreign vs. domestic-born minorities. Look for his book The Precious Few later this year.
Intriguing ideas
There were some great ideas and programs shared that made it clear many schools are embracing Academia 4.0. Here are just a few.


Texas A&M University's College of Engineering recruited 600 students from 24 universities worldwide to participate in their Invent for the Planet, a 48-hour intensive design experience that engages students to solve high-impact, global problems.




Thayer School of Engineering at Dartmouth designed it's five-year, two bachelor's program to ensure multidisciplinary thinking and collaboration. All engineering students have to ear a liberal art's degree as well. Classrooms are blended with students from all engineering disciplines – biomedical, mechanical, electrical, computer, materials, chemical.




Stonybrook launched Vertically Integrated Projects, a new program that develops multidisciplinary teams to work on long-term projects in innovation, research, design, and entrepreneurship.




Bucknell shared their involvement in KEEN to equip students with an entrepreneurial mindset.




Florida International University has a new school – called SUCCEED (School of Universal Computing, Construction and Engineering Education – focused on curricular transformation.




University of Buffalo now has an Office of Strategic Initiatives (OSI) – that focuses on support of cross-department, cross-disciplinary programs and projects.


There is a LOT of innovation happening in P12 engineering programs. I was impressed by University of Cincinnati's Engineering Your Future program that was developed specifically for schools that couldn't afford programs like Project Lead the Way. UT Austin has a similar Engineer Your World, a student-centered curriculum focusing on developing habits to think like an engineer. Cal Poly Ponoma Femineers outreach program seeks to inspire more females to pursue STEM.




ASEE's P12 Committee along with several schools developed Engineering for Us All through a NSF grant focused on democratizing engineering for every student.


On my way to this event, I received an email from ASEE noting the finalists of its 125th anniversary video contest. If the above doesn't get you excited for what's changing in engineering education, look ahead 25 years:
Let us know if you're attending any upcoming education or industry events so we can connect live and discuss engineering education in more detail.
In the meantime, check out the latest in our Academia 4.0 resources for students and educators.
– Dora
This article first appeared on the Siemens Digital Industries Software blog at https://blogs.sw.siemens.com/academic/insights-from-asees-2019-engineering-deans-institute/