Corporate
Innovation Off the Track: A look at the University of Pennsylvania's Electric Racing Team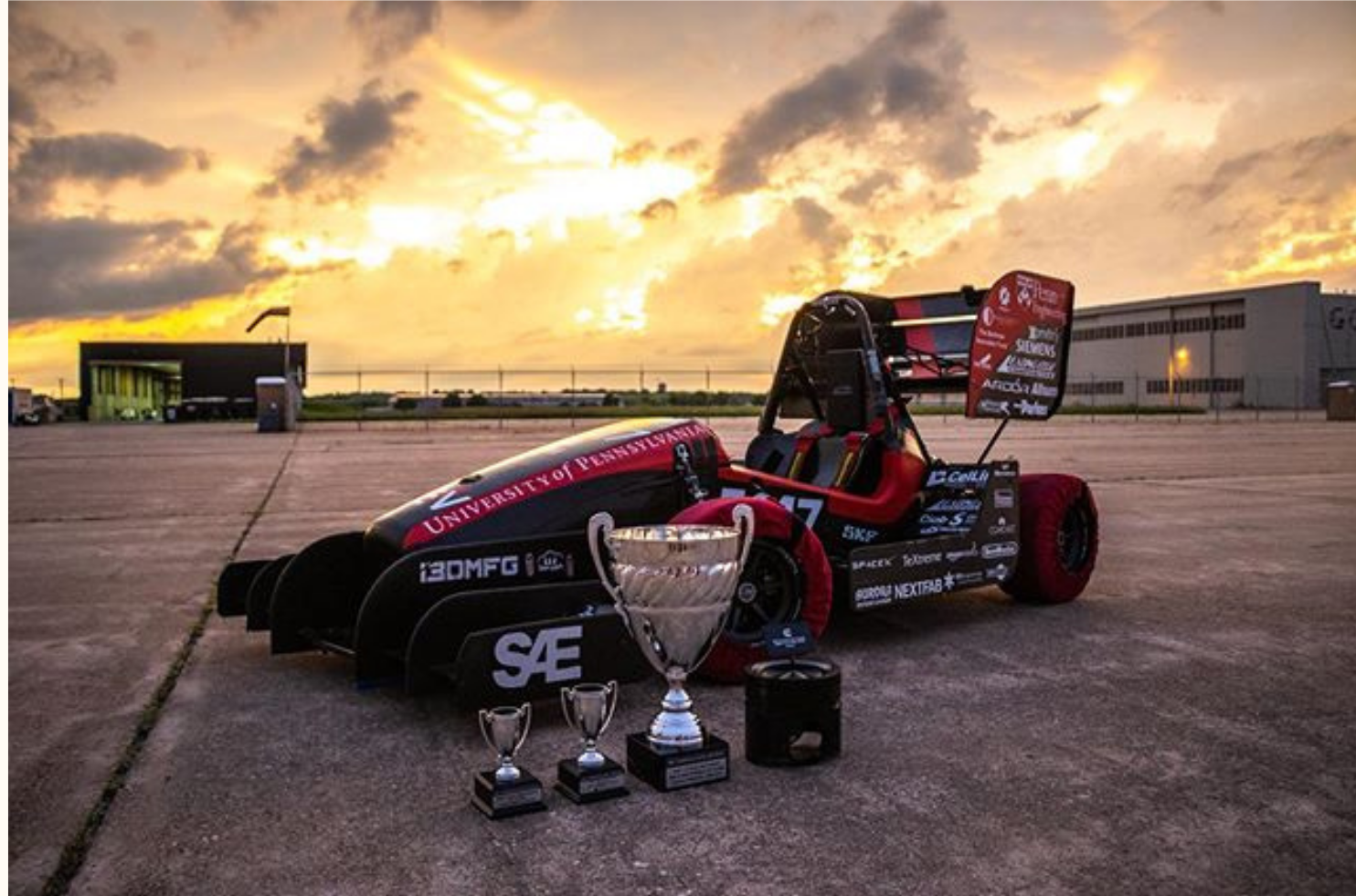 ---
If there are lessons to be learned from the ramifications of the COVID-19 global pandemic, resiliency is certainly one of them. Penn Electric Racing (PER) at the University of Pennsylvania knows this better than most. With a legacy that dates back to 1989, PER is the premier Formula SAE team on campus, known for their award-winning lineup of "fully electric racecars that aim to push the envelope, bringing together Penn's brightest engineers in the process," (PER).
Adapting to the New Normal
For the past year, PER has been forced to transition their programming efforts to online mediums. Normally, the Formula SAE (FSAE) competition series—in which PER competes—features dynamic, in-person conferences where teams from across the world compete head-to-head with their prototypes. Now, FSAE's online-only platform has limited the competition's focus to less tangible events such as design or presentation.
However, PER still managed to boast an impressive competitive track record in a season that has been anything but predictable. Placing 2nd overall in the Electric Vehicle division and 5th in the design competition at the 2021 FSAE competition, it's clear that PER has only continued to soar to new heights this year.
Innovative Excellence Using Simcenter STAR-CCM+
With the focus of competition shifted from tangibles to conceptualizations, PER reorganized their priorities during the past season. For example, this year they were able to heavily incorporate simulations into their design processes. This mimicked the real-world experimental testing they would normally have carried out on their prototype. To do so, the team incorporated Siemens' Simcenter STAR-CCM+ software into their simulation efforts. Mario Ferre, a rising junior and an aero lead on the team, described the impact that using simulation software like Simcenter STAR-CCM+ had on the team's performance during the 2020-2021 season:
We used STAR-CCM+ which was vital for us as we spent the entire semester doing analysis and simulations for various conditions for the car. It gave us the ability to take a step back and look at the Computational Fluid Dynamics (CFD) simulations on which we have an entire infrastructure. STAR-CCM+ really serves us well as we're able to design new parts and figure out the direction that we're going in. When we went to our virtual competition this year, I think the judges were very impressed by the amount of simulation and the level and fidelity of the simulation that we were able to impart on our car model which I think is due to STAR-CCM+ and Siemens software.

Mario Ferre
The team also incorporated simulations into their design processes, adding to the list of new innovations this year. These innovations paid off tenfold. At the FSAE 2020 North American Competition, PER placed 4th for the Siemens Digital Twin Engineering Excellence Award.
Inspiration off the Track
These impressive feats could not have been accomplished without the talent and skillset of the members, most of whom are enrolled in the School of Engineering and Applied Science (SEAS) at UPenn. Their determination to innovate demonstrates their commitment to engineering education and innovation both in and out of the classroom. For many students, their involvement in PER has even allowed them to find their niche within the engineering space. Take Bailey Carlson, a rising junior and mechanical co-lead on the team. She initially joined UPenn as a biomedical engineering major but later transferred to mechanical engineering:
I wasn't always sure that I was going to be an engineer…I joined PER, and I really enjoyed the work that I was doing on the team. Before coming to college, I really didn't know that much about automotive engineering. Being on the team has made me realize that I really like this field and led me to transfer to Mechanical Engineering.

Bailey Carlson
For students like Bailey, joining organizations like PER aren't simply ways for them to get involved on campus; they're opportunities for them to explore their interests and passion for engineering as budding professionals in the industry.
---
Siemens supports many student teams from around the world just like PER. For more information about how to get access to free Siemens Software for your team, click here.
Connect with other student experts and innovators like the PER team through our Siemens Software Student Connect LinkedIn group.
Want to see more academic innovation? Check out our Innovation in the Classroom Podcast series to learn from the leaders of engineering education.
---
This article first appeared on the Siemens Digital Industries Software blog at https://blogs.sw.siemens.com/academic/innovation-off-the-track-a-look-at-the-university-of-pennsylvanias-electric-racing-team/