Educating Work-Ready Students
By Jennifer Bradford • May 25, 2018 •
10
MIN READ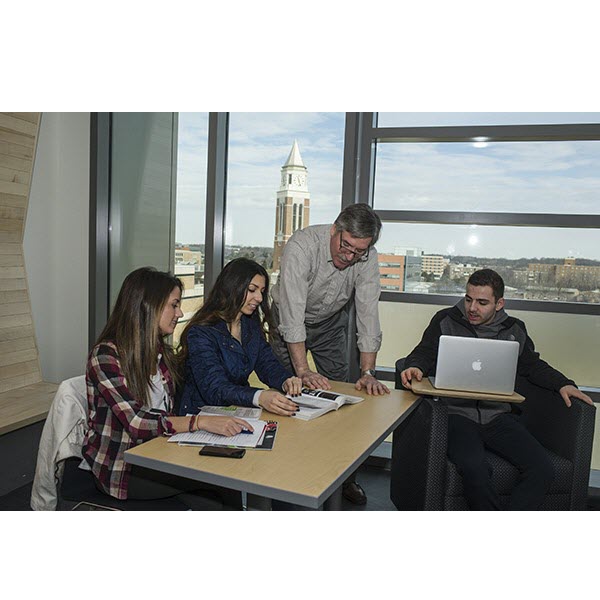 This article was written by Michelle Segrest and appeared in Efficient Plant Magazine on May 16, 2018
---
Educating Work-Ready Students
Michelle Segrest | May 16, 2018
Oakland University program works closely with local manufacturers to create a program that provides experienced workers based on industry needs.
In Southeast Michigan, within a 60-mi. radius of the Oakland Univ. Rochester, MI, campus, there are thousands of major manufacturing companies representing automotive, metals, machinery, food and beverage, plastics, rubber, bioscience, furniture, chemical products, energy, computer and electronics, and defense. These companies need industrial and systems engineers who are ready to go to work right out of college. Oakland's Industrial & Systems Engineering (ISE) Department is giving them what they need.
"Our program is all about educating engineers for a lifetime," said Robert Van Til, Ph.D., the school's Chair and Pawley Professor of Lean Studies, Industrial & Systems Engineering Department (oakland.edu/ise). "It's not about training someone to be super productive one day on the job. We are preparing engineers to be work ready right out of college."
Located in the heart of Oakland County's Automation Alley, the university offers 277 degree and certificate programs with nearly 20,000 students currently enrolled. About 4,000 of them are in the engineering program, with approximately 90 in the ISE undergraduate program and another 170 in ISE graduate programs. A public university situated on 1,443 acres, Oakland spans two thriving cities—Auburn Hills and Rochester Hills—in southeast Michigan.
For the ISE program, preparing students for the real world is not just a marketing slogan. For example, one ISE teaching assistant wrote his master's thesis about using plant simulation to model the emergency room of one of the local hospitals. He posted a description of it on his LinkedIn profile, then almost immediately received a cold call from a local OEM that was looking for throughput simulation engineers. He interviewed and was offered the job on the spot. It was the practical internship experience, working knowledge of digital tools, and hands-on project work that he received through the Oakland ISE program that impressed the recruiter.
"The company was so happy with his work readiness right out of college, seven of the next nine throughput simulation engineers the company hired came from our program," Van Til said.
Difference makers
Oakland's ISE program is preparing students for the workforce by working in close partnership with local companies who let the department know what skills are in demand, "These companies let us know what's going on," he said. "They come talk to our classes, and they lead senior design projects. There is a lot of day-to-day interaction going on with a lot of different companies. Students are getting both internships and full-time jobs, and the companies are getting qualified workforce."
One thing that makes a difference for the program is the integration of sophisticated digital tools.
"Companies are telling us they are not seeing students who have used these tools, or sometimes even heard of the tools," Van Til said. "This has affected and impressed a lot of companies. We promote year-round internships, which gives our students a level of work ethic and maturity that hiring companies really like. Our students also don't seem to leave here with a sense of entitlement. They want to work, and they want to learn." Van Til was part of the faculty team that developed the 10-yr.-old ISE program. Before it was established, there was an existing systems-engineering program with the focus on manufacturing.
The ISE program offers an undergraduate degree in industrial and systems engineering. Oakland is one of six schools in the United States with an undergraduate degree accredited in industrial and systems engineering. The program offers three master's degree programs—industrial and systems engineering, engineering management, and systems engineering. Engineering management provides access to some MBA courses for engineering students.
The ISE degrees have curriculums that focus on traditional industrial-engineering areas such as manufacturing, supply chain, and flow-type systems. The systems-engineering program has more of a product-development focus, involving requirements planning and project management. There is also a Ph.D. program in systems engineering for research.
"The inspiration for the ISE programs came from the fact that we were trying to run a manufacturing program under the title of systems engineering," Van Til said. "We tried that for several years, but this is just not a brand name. People in manufacturing just don't know what systems engineering is—few students would pursue it, few employers would hire from it, few HR departments were familiar with it. So finally, we decided to pick something that had better brand value. We looked at employment data and discovered there are a lot of industrial engineers in Michigan—almost twice as many as electrical engineers. We realized this made huge sense from a market-value standpoint. We are a mechanical and industrial engineering state."
Growth and evolution
The ISE degrees were launched in 2007, as well as taking over the existing engineering-management degree, which was revised and re-launched. In 2009, the undergraduate program (with only about a dozen students) was accredited. Marketing began in 2010, and the program has seen steady growth since then. There are now about 90 students in the undergraduate program. Once the program was accredited, it began to focus on product life-cycle management.
"The use of digital tools makes us unique," Van Til said. "We offer a lot in the digital domain. Today's students are into apps and animation and gaming. Many places are still trying to recruit by building robots and racecars but, to me, that's very 1950s and '60s. Students now are into computers and technology. This makes a lot of sense from the recruiting side and also from where the industry is going. We think we are on the cutting edge of moving into this digital domain. And we began this right as Industry 4.0 was really starting to catch on."
In 2011, the program joined the Siemens Corp. USA, Washington (siemens.com) GO PLM (Product Life-Cycle Management) program, which is the company's Global Opportunities in PLM academic program.
"This gave us access to the Siemens PLM tools," Van Til said. "We are primarily an industrial and systems engineering program so we don't focus on CAD and many tools on the product design side. We are more involved with the tools used for manufacturing—Plant Simulation, Jack, Process Simulate, and Teamcenter. That said, our new systems-engineering master's does have a product focus and we use Teamcenter in it. Siemens is nearby and works closely with us. They donated all the software. We are an entrepreneurial program, and not too set in our ways, so we have been able to be flexible and embed these tools into our programs."
Oakland introduces ISE students, as well as those in mechanical, electrical, and computer engineering, to the digital tools in a second-year course. "They start using tools like Plant Simulation and Jack to observe behavior and do simple analysis because they don't really have the skill set yet to do engineering work with the tools," he said. "But ISE students are also using them in our existing third- and fourth-year engineering courses, as well as graduate courses. The focus in these existing courses is not on the tools themselves, but on using them to enhance and deepen the concepts being taught in the particular course. For example, students in our ergonomics course will use Jack on several assignments. For each assignment, we give the students a script on how to use Jack for that assignment. The focus is not on Jack, but on how it can be used to complete the assignment."
"Upon assessing the use of these digital tools in existing courses, we received feedback from our students, graduates, and the companies hiring them that we should give the students the ability to do a deeper dive into any particular tool" Van Til added. So the ISE program developed half-semester elective classes that were more tool focused.
"Students can take the required ergonomics class and learn about Jack, for example," he said. "If they decide to go into ergonomics and want to learn more about Jack, we have a seven-week course on Jack titled PLM Applications—Ergonomics. You are with 16 students in the PLM lab and you'll learn Jack, but you will also do projects with it. I call it a mixture of training and education. The feedback we've received from students and companies has been extremely positive. In fact, we often get working engineers taking these courses on a non-degree basis for professional development."
The program has developed strong relationships with several OEMs and other companies through its ergonomics group in manufacturing. "One of them sent me an email saying, 'Keep doing what you're doing because no one else is doing this.' For example, they told us they interview students from many other universities and they will ask them if they've ever used Jack, and many of these students reply that they have not heard of it. They told us that our students have not only heard of it, but they understand how it works, and they know how to use it."
Connecting with industry
Oakland ISE students regularly participate in summer internships, and several Southeastern Michigan companies have begun to promote year-round internships.
"We kind of drifted into this dual-learning program that we are trying to formalize where a lot of our students will work 15 to 20 hours a week on an internship during the school year and full-time during the summer," Van Til explained. "They work year-round. Some smaller companies have told me they have switched from co-op programs to hiring our students because they like them being onsite all year. They tell me they get more value from them and also get a better feel for their capabilities. We are uniquely positioned for our students to take advantage of these year-round internships because of all the industry and manufacturing opportunities that surround our campus."
ISE faculty actively listens to industry concerns, and they partner with local companies. Several elective courses have been developed with the assistance of local companies.
"We have three half-semester PLM application courses using Teamcenter—one on product data management, the second on change management, and a new one on manufacturing process planning. Our partners from Siemens are part-time teachers of those courses. This is an application-outreach model—it's very hands-on, combining theory and application. In the fall we are offering a new course in functional safety, which is a growing area. We are working with a couple of alumni to help teach it. We view these as bridging classes between education and industry that have a heavy application component."
The master's programs are about twice the size of the undergraduate program. They contain mostly full-time working engineers. Courses are taught in the evening with some online offerings, so the 85% of working engineer-students can deepen their knowledge and education to upgrade their skill sets. The program has organically evolved, thanks to continuous industry feedback.
Senior-design projects
The ISE senior-design course has a focus on solving real-world design issues. Students are imbedded into local companies to work on specific projects, led by company personnel, that are dictated by industry need.
"In our initial senior-design classes, a company would come in and present a project for students to work on. The students worked mostly on-campus with maybe a few visits to the company, and at the end of the semester the students would present their results to company personnel," Van Til said. "Feedback we received from the companies noted that the student results were often unrealizable because they didn't full understand the various real world constraints."
"So, several years ago, we switched to running our senior-design projects onsite at local companies. We work closely with each company to set up a project and send a team of two to four students to work on it. The student team works onsite for an average of 10 to 15 hours per week under company supervision. We don't charge the company any money for these projects since we expect company personnel to be directly involved leading the student team."
"One nice outcome of moving senior-design projects onsite has been a big increase in the focus on soft skills—such as teamwork and communications. Now the students are working on realistic teams, and not just with other students in their major and other majors. They get to work with operators and finance people and other engineers who would normally work on a real-world project. They get immersed into the real world. They also get this experience from their internships."
It is not uncommon for students to leave their senior-design projects with job offers. It's also not uncommon for companies to hire students on internships during their, senior year. "Companies have been grabbing them really quickly," Van Til said.
What's next?
Van Til said he hopes the program can maintain what it is doing, but also continue to evolve. "We have worked closely with Siemens to integrate these digital tools into our programs, and are working to figure out ways to make this integration sustainable," he said. "It takes a lot of work to get these tools into the curriculum. But it is also a lot of work to maintain their use in the curriculum, such as updating assignments, maintenance of the software, and the introduction of new tools. We are working on developing a structure to build and maintain our own content by funding TAs [teaching assistants] to work with faculty on creating new assignments and related educational materials. So, for example, a professor could select from several digital models of systems, along with a related student software-instruction manual and use it in a class assignment. Once we develop a more sustainable model for developing new assignments and related classroom materials for ourselves, the goal would then be to make them available to other universities and colleges, and possibly even K-12 schools."
Van Til said that 99% of ISE graduates will be working engineers. "We are a relatively new university, and a very new ISE program, so we are not well known, but I don't see any reason why we can't be the best place to be educated for an industrial and systems-engineer career." EP
Michelle Segrest is president of Navigate Content Inc. and specializes in creating content for the processing industries. If you have an interesting efficiency/reliability story to tell, please contact her at michelle@navigatecontent.com.
What to read next:
Three World-Class Student Competition Teams Share Their…
March 21, 2022
Due to the pandemic, it's been very difficult for teams around the world to retain knowledge and to pass on…
Podcast Transcript: Bridging the Gap between Industry and…
June 7, 2022
What first comes to mind when you hear "experiential learning?" Experiential learning takes a more hands-on approach, with students "learning…
Podcast Transcript: Promoting Student Involvement and…
July 27, 2022
Overview What is the role of youth and student involvement in the future of academia and industry? And what more…
This article first appeared on the Siemens Digital Industries Software blog at https://blogs.sw.siemens.com/academic/educating-work-ready-students/