5 Things I Learned Interning for Siemens: Academic Partner Program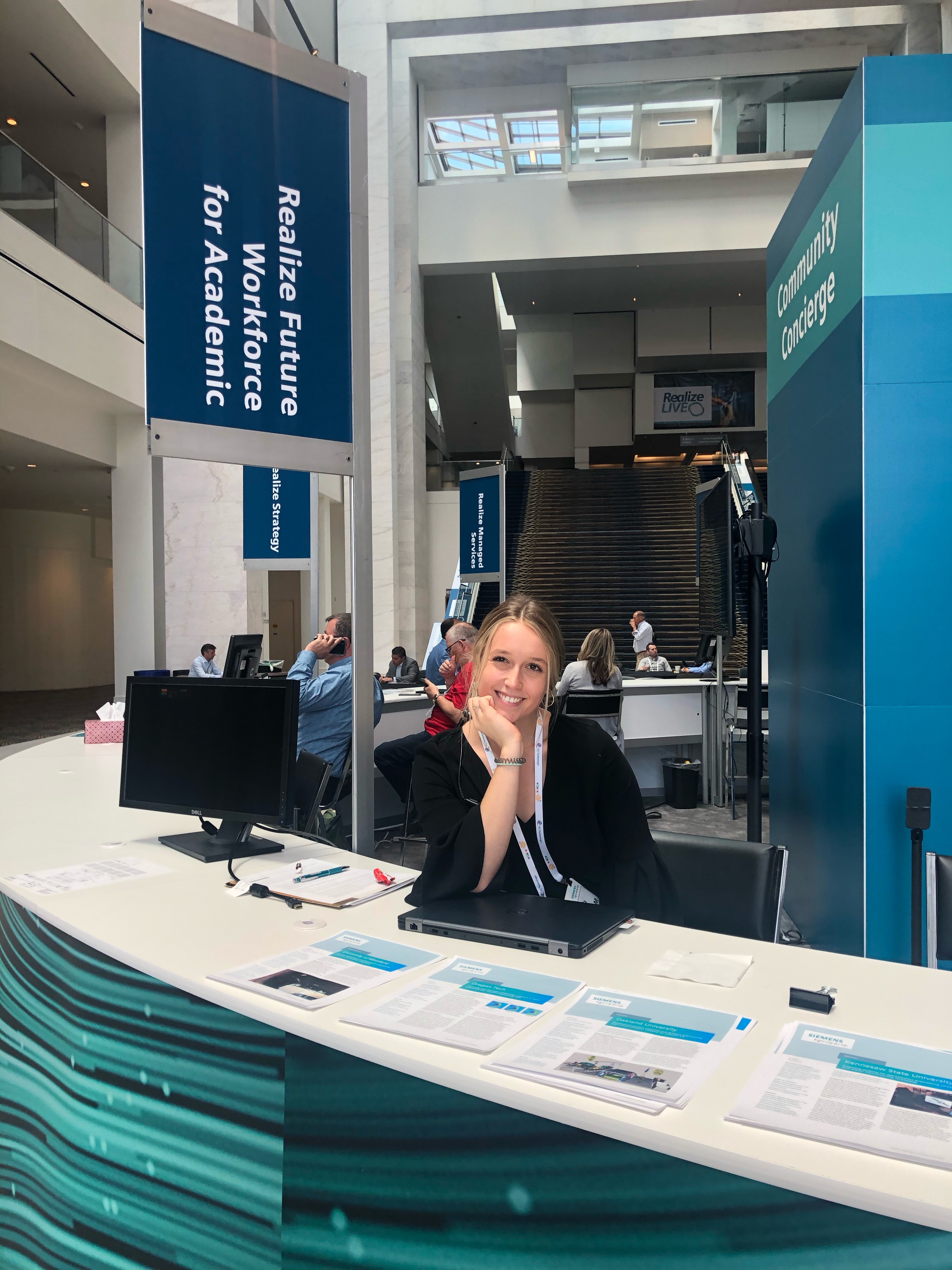 This past May, I was lucky enough to be considered for an intern spot on Siemens Digital Industries Software's Academic Partner Program. It would be my first ever internship, and I was the new marketing intern, tasked with aiding in promotion of the program. I had many questions and worries coming into the office that hot June morning, but standing here 3 months later, I can truthfully say that this internship was the best decision I could have made for myself. Although there were times I encountered some difficulty, the benefits far outnumbered the costs, and I feel that the experience has empowered me to discover more of what the world of technology has to offer and take it with me for the rest of my career. Here are a few valuable lessons I've learned with my time here at Siemens:
Ask questions
I must admit, on my first day, I was terrified of appearing unknowledgeable and inadequate to my boss and the people I was working with, so I just took direction and avoided asking any questions that didn't directly affect my work. However, after spending time with my team and getting into the groove of things, I realized that my internship was supposed to be a learning experience, and no one expected me to know everything! After asking so many questions and engaging in discussions related to my work that truly intrigued me, I was able to understand the world of tech and software so much more. I would have never been able to come across that knowledge without it. Just the simple act of asking a question could open the door not only to a better understanding of how to do my work well, but also discovering the perspectives of people that come from different backgrounds and have had different experiences.
Connect and network with other interns.
Not only was I the only intern selected on my team for the summer, I was also the only member of my team in the Milford office of Siemens. I found that the first couple of days were lonely- whilst I'm in this sea of college graduates and full-fledged adults, I felt like a little kid and completely out of place. However, the first few days became easier as I reached out to the other interns and co-ops on my floor and began to have regular contact with them. I also had the opportunity to attend Realize Live the second week on the job, and I was able to create a tight bond with my fellow co-ops and interns. I know I would have eventually fostered a close relationship with them, but because of Realize Live, I'm very grateful that I could call these people my friends in a short period of time. Connecting with the people around me helped me feel less like a small fish in a big pond and ultimately helped me stay on track with my work. We all are parts of different teams and I found it fascinating to talk about everything we were working on, and it helped with motivation. It made me feel more comfortable in my work space, and I knew if I ever had an issue I had multiple people to help me. I truly believe I gained some true friends out of the experience.
Being new makes you valuable.
Coming into this internship with little to no knowledge of computer science or software terms such as CAD, IoT, and names of our software such as NX or Teamcenter, you could say I felt a little overwhelmed and underqualified. Although I was confident in my marketing and writing skills, how was I supposed to communicate these ideas to people when I didn't even know what I was supposed to be communicating? I wanted to be taken seriously in the workplace and I became nervous that I would seem like a rookie. But that's the thing. Being a newbie in this space is what made me qualified for this internship. My team soon assured me that all my knowledge I was bringing to this company was ultimately going to help them grow and change because I had a fresh perspective on the world. Yes, there was a learning curve and I quickly became acquainted with the programs and tools that Siemens deems so valuable. I found myself being an asset to my team as opposed to a burden. My boss wanted to know my perspective on projects because she knew I wouldn't just say the right thing and know the right answer. I was a catalyst for change in the company, as is every intern that walks into the corporate world. The idea for one of my biggest projects I worked on this summer was created in a brainstorming session with my boss, who wanted to utilize the remainder of our budget for a worthwhile avenue of promotion. And since then, I've been recording podcast episodes with students and leaders in academics to truly capture our Academic Partnership Program in a conversational space. Podcasts are a platform that I am very familiar with and I ultimately helped pave the way for a project I know will continue after my time here at Siemens is done. This is only one example of the amount of realization I had being a valuable member of my team and it made me more excited than I'd ever been to walk into work each morning.
Prioritize, prioritize, prioritize!
During my time interning for the Academic Partner Program, I had many tasks that required different amounts of my time and expertise. Whether it was writing articles for the Academic News blog on STEM competitions or highlighting some of our partner schools or coordinating with Human Resources and other students and employees on establishing an ambassador program, I had a lot on my plate. In my initial weeks, I just wrote everything I needed to do down on a bunch of sticky notes and placed them above my desk. This system reminded me of different projects I was working on and different tasks I needed to fulfill to move forward on them. I soon learned with my projects that prioritization is everything! I became the most organized I've ever been with scheduling meetings with students and team members on Outlook Calendar, to creating a full drafting and publishing schedule for myself when I got an editorial assignment. I made sure to utilize my time efficiently so that I would be able to get things done, and ultimately make my boss happy. That's the most important thing, right?
Seize every opportunity
This internship has taught me many things, but if I had to choose one, it would be to go for every opportunity you are given. This internship itself was an opportunity I couldn't pass up, but it didn't end there. My first couple weeks on the job proved to be the most impactful to me including going to Realize Live and getting to interview top executives in the company about why our partner program was important in transitioning students into the workforce. I got to talk with Brenda Discher, the SVP of Marketing for Siemens Digital Industries Software about her passion for Robotics programs in schools. I got to talk with executives from Mentor Graphics about the need for technology curriculum in schools. And I even had the privilege of talking with the CEO of Siemens Digital Industries, Tony Hemmelgarn about how schools need to be teaching students how to adapt to the changes happening in technology every day. Being able to have a conversation with a top executive about my branch of the company blew my mind. Although it was terrifying at first, it left me with a feeling of pride for my team and all that they are trying to implement with the Academic Partner Program. Any opportunity I could take to help further the knowledge of the company is valuable. This could even relate to taking on a new project that seems daunting or asking a hard question. I learned to take advantage of all opportunities to not only improve my own knowledge, but to guarantee success of my team.
But alas, my time at my desk at the top floor of the Milford office has come to an end. I'm proud to say that I have a couple new friends and a whole new breadth of knowledge under my belt about the world of technology and innovation, especially in academics. But most importantly, I have a newfound love of Siemens and their exciting environment that will continue to encourage me to take advantage of my ingenuity and to create positive change wherever I go.
This article first appeared on the Siemens Digital Industries Software blog at https://blogs.sw.siemens.com/academic/5-things-i-learned-interning-for-siemens-academic-partner-program/