Siemens Wins International 3D Printing Industry Award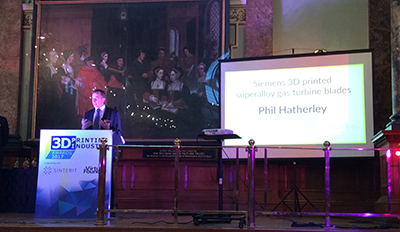 Siemens was recently honored for the worldwide first successful test of gas turbine blades manufactured with Additive Manufacturing (AM). The prize was handed over to Siemens representatives by Michael Petch, editor-in-chief at '3Dprintingindustry.com', at the award ceremony in London, United Kingdom, in the presence of international experts from the AM industry.
Earlier this year, Siemens announced a breakthrough in 3D printing: an international project team with contributions from Siemens engineers in Finspång/Sweden, Lincoln/UK and Berlin/Germany together with experts from Materials Solutions in Worcester/UK successfully finished performance testing under full-load conditions of the first gas turbine blades ever to be produced using AM. In the last weeks, readers of '3Dprintingindustry.com', a leading online news source in the industry, voted this achievement in one of the most challenging areas of AM to be the best 3D printing application of the year.
"We are very glad to receive this award for our printed turbine blades and we are especially proud as the votes stem from members of the Additive Manufacturing community," said Phil Hatherley, General Manager Materials Solutions – A Siemens Business. "With this award we show that Siemens as a technology driver can play a decisive role in the future of Additive Manufacturing. And we are ready to take the next steps in this development."
Additive Manufacturing has the potential to become a key technology in the production of gas turbine components. Siemens has been investing in this innovative technology right from its inception, and is now driving the industrialization and commercialization of these processes. Besides the awarded turbine blades, Siemens is using the innovative technology to produce burner tips, burner nozzles and to repair burner heads. The international team of experts with the innovation centers located in Sweden, Germany and the United Kingdom are transforming the new design possibilities into specific solutions for Siemens' customers.Follow this link to the press release and other information about additive manufacturing.
Siemens wins the award in the category "3D Printing application of the year" for the world's first successfully tested 3D printed gas turbine blades. Phil Hatherley, General Manager Materials Solutions – A Siemens business, gives his acceptance speech at the award ceremony in London.
This article first appeared on the Siemens Digital Industries Software blog at https://blogs.sw.siemens.com/nx-manufacturing/siemens-wins-international-3d-printing-industry-award/