New release of Femap 10.1.1
Last week, Siemens announced a new release of Femap – version 10.1.1. It is the latest in a series of more than 30 successful product releases for the product. Thanks to my colleagues from Germany @SiemensPLM_DE who tweeted this out last week.
Driving the Femap 10.1.1 release is the inclusion of the latest version of our flagship simulation solver, NX Nastran 7. On the graphics and modeling side, Femap 10.1.1 continues the visualization theme of the previous 10.1 release, enhancing visibility control of solid parts, as well as adding the following capabilities:
New bearing load definition
Enhanced entity selection with keyboard shortcuts
Text based filtering for selection of titled entities
You can find more details about Femap 10.1 and 10.1.1 from the Femap web site.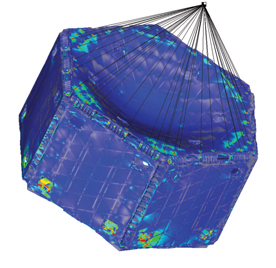 How our customers use our products never ceases to fascinate me, and proving to be no exception to that rule is SpaceWorks, a company that designs satellites. Challenged with developing off-the-shelf structural modules for fast satellite assembly (plug-and-play style), SpaceWorks worked with the consultant firm Predictive Engineering to gain insight into the satellites performance using Femap with NX Nastran. Using a hybrid modeling approach, the large and complex satellite design could be simulated efficiently, giving good correlation with experimental results, and in very fast solution times.
Read the SpaceWorks case study to find out more.
This article first appeared on the Siemens Digital Industries Software blog at https://blogs.sw.siemens.com/news/new-release-of-femap-10-1-1/