Thought Leadership
Freescale Technology Forum
Nowadays, there is a perception that the higher end embedded CPU is dominated by ARM. Obviously, these devices are very popular, as evidenced by the various ARM Tech Con events around the world. However, I remember the world before ARM, when "embedded 32-bit device" meant Motorola 68000 family. Motorola Semiconductor became Freescale, who are still a force to be reckoned with.
Freescale's popularity and importance in the world of embedded systems is clear if we look at the Freescale Technology Forum …
This years FTF, in San Antonio, Texas on 18-21 June, looks to be the best ever, with a very strong technical program. Mentor Embedded is making a great contribution with conference presentations by Dan Driscoll, Andrew Patterson, Jon McDonald, Chris Hallinan and Andrew Caples, along with panel participation by Mark Mitchell. You can find full details here. If you want copies of any presentations, please email me.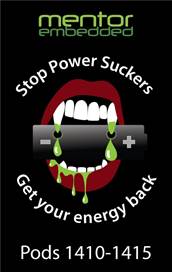 A key theme for Mentor Embedded at the show is around low power, which will feature as part of a very exciting technology announcement associated with Nucleus RTOS. Historically, power consumption was viewed as purely a hardware issue, but a demo of Nucleus on i.MX28 will illustrate the significance of software on minimizing device power.
If you are attending the show, do stop by our booth [pods 1410-1415] and say Hi to my colleagues [as, sadly, I am unable to attend] and enter a drawing to win an electric motorcycle.
This article first appeared on the Siemens Digital Industries Software blog at https://blogs.sw.siemens.com/embedded-software/2012/06/11/freescale-technology-forum/