Record-breaking Engineering Career Fair
The annual NCSU College of Engineering Career Fair was the place to be on September 30. Held specifically for engineering students, this event was held at the North Carolina State University campus in Raleigh. This college fair is particularly unique in that it is open to all students around the country.
Each year, the event attracts thousands of engineering seniors. New and soon-to-be graduate students and more pack the halls and every conference room of the McKimmon Center on the NCSU campus for one of the largest engineering career fairs in the country.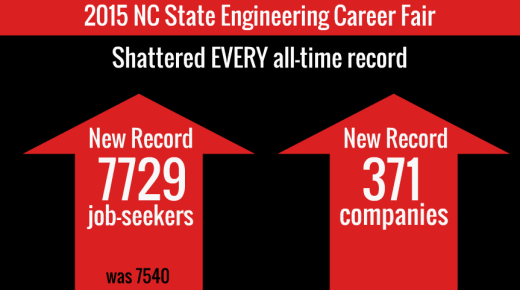 Highlights
7,729 job-seekers setting a new record by surpassing 7,540 achieved last Fall of 2014
371 companies (another NC State "all-time" record!)
The students arrived, registered, and stood in some very long lines to get their moment to meet with and talk to prospective employers. Dressed for success with polished resumes in hand, they came seeking full-time jobs, co-op, and even internship opportunities.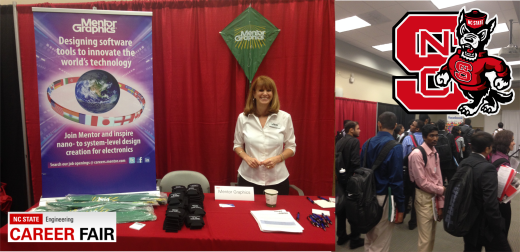 I had the privilege of talking with students from all over the U.S. Some traveled all the way from the west coast and everywhere in between to get the opportunity to connect with companies like Facebook, Apple, and of course Mentor Graphics.  I spoke to dozens of candidates looking for for jobs ranging from functional verification to IC design to PCB, IT, and more. The candidates were anxious to talk about their career goals, favorite projects, and their lifelong accomplishments. Very impressive!
The NCSU Dean, Louis Martin-Vega, stated that, "The engineering career fair at NC State connects some of the nation's brightest engineering students with innovative companies and government organizations. There is no better place for employers to meet the leaders who will engineer a better tomorrow."
A BIG shout-out to all the NC State School of Engineering student volunteers, staff, event organizers and food service individuals. The hospitality and food was excellent, as always!
Go Wolfpack!    John
This article first appeared on the Siemens Digital Industries Software blog at https://blogs.sw.siemens.com/electronic-systems-design/2015/10/07/record-breaking-engineering-career-fair/