University of Manchester Soars to First Place at 2018 CanSat Competition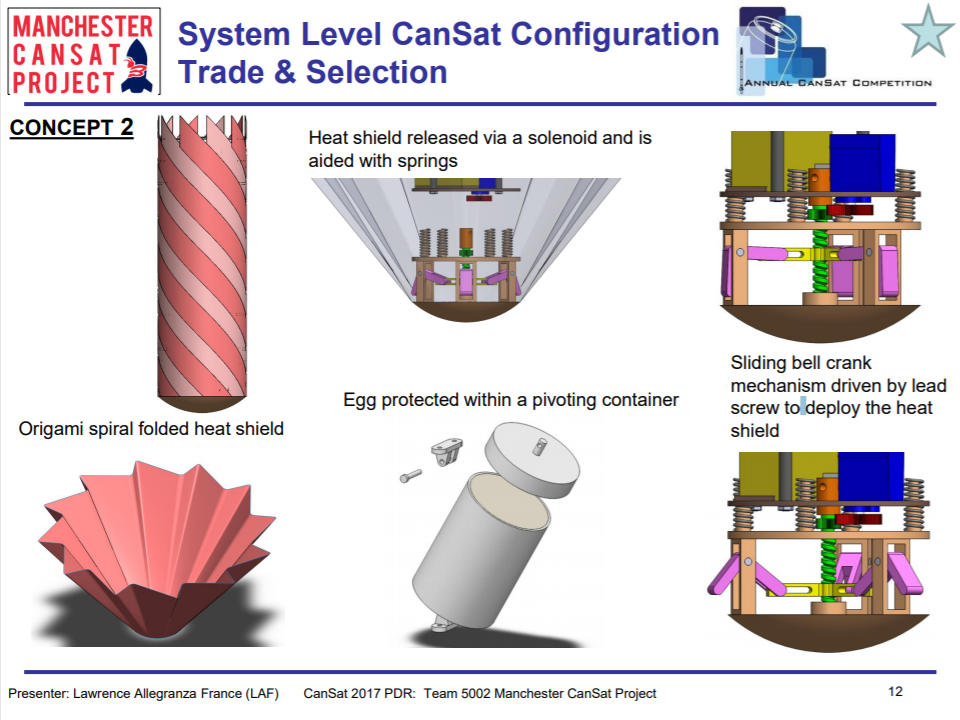 What do origami, a large chicken egg and atmospheric probes have in common? Well, on a very hot, sunny June weekend in a field near Stephenville, Texas, hundreds of engineering students from 30+ teams from around the world could have told you that the answer is the 2018 CanSat Competition organized by the American Astronautical Society.
Each year this competition draws top student engineering teams from around the world to design and build a space-type system, following the approved competition guide. Rockets are provided but teams are responsible for funding the construction of their CanSat and all travel/lodging expenses.
The 2018 mission simulated a space probe entering a planetary atmosphere. Each team's probe carried a single large hen's egg, which was required to survive all portions of flight. The operation sequence was:


The probe was launched to an altitude of 670 meters to 725 meters and then deployed from a rocket. Orientation of deployment is not controlled and is most definitely violent.


Once deployed, the probe opened an aero-braking heat shield. The descent rate was to be kept at 10 to 30 meters/sec. The aero-braking probe was required to maintain a stable orientation with the heat shield facing the direction of descent during descent. Tumbling was not allowed. Active control surfaces or other non pyrotechnic mechanisms could be used to maintain orientation.


At an altitude of 300 meters, the probe releasee the aero-braking heat shield and simultaneously deployed a parachute to reduce the descent rate of 5 meters/sec.


The probe landed leaving the egg in-tact.


The probes included sensors for tracking altitude using air pressure, external temperature, battery voltage and GPS position. A compartment was included to hold a large hen's egg. The egg simulated a delicate instrument.
CanSat competitions are held around the world for the purpose of giving students real-world experience in the entire lifecycle of a space project.
The name comes from the fact that the payload for these competitions must fit within the volume of a typical soda can!
This year's winning team from the University of Manchester, UK, used an innovative origami spiral fold design for their heatshield. Too bad nobody looked to see if they managed to make the perfectly soft-boiled egg in the process!
Did you participate in a CanSat competition this year? What were your big take-aways? Tell us in the comment section below!
This article first appeared on the Siemens Digital Industries Software blog at https://blogs.sw.siemens.com/academic/university-of-manchester-soars-to-first-place-at-2018-cansat-competition/