University of Edinburgh Hyperloop Team Wins a Technical Excellence Award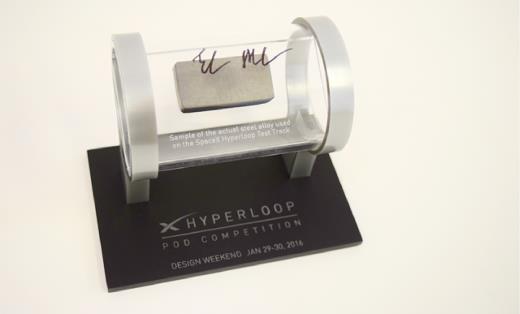 An enthusiastic team of 11 students crossed the Atlantic to bring their team's vision of a Hyperloop pod of the future to Design Weekend in College Station, Texas. In September, Edinburgh HypED team started with a couple of friends excited about the proposed Hyperloop idea and the possibility of actually building it. Today, 30 students from different disciplines ranging from Product Design to Engineering are working to make the Hyperloop transportation of the future come true.
All the subsystems used in HypeED's pod design were designed using Solid Edge software. This allowed for quick information exchanges inside the team and gave students the ability to easily present ideas to others.
As Gabrielis Cerniauskas, Vice-Captain, Head of Chassis and Integration, explains, "Our team modellers really liked synchronous modelling technology embedded into Solid Edge as it allowed us to quickly edit features and dimensions without knowing the initial way the part was created. Also, editing models coming from different CAD systems was not a problem as all the final designs were adjusted and put together in Solid Edge synchronous environment. This saved a lot of time when finalizing the overall design of the pod."
FEA of Pod Structure using FEMAP
The main pod structure was modelled as space frame chassis and FEMAP was used to analyse the structure and optimize it for the lowest weight while keeping its structural rigidity.
Design of Pod Chassis Using Solid Edge
"Also, integrated KeyShot features helped our Product Design team render 3D models which were used in the Pod Design Weekend presentations at Texas A&M University. With the help of Siemens software, HypED received the Subsystem Technical Excellence Award for our modular passengers section."
Rendered image of Award Winning Pod Design
The team wanted to show their university the importance and sophistication of the competition.As Gabrielis explained, "We asked all participants to sign our poster in order to show how many different representatives within industry and university associations took part in this complex project."You couldn't walk past their booth without noticing and signing their Hyperloop poster for a show of support.
As the Design Weekend came to an end with a Subsystem category win, the team's next step is trying to work out how to contribute to the other teams moving on to the build phase of the competition. At The University of Edinburgh, the students are setting up a Hyperloop Society to bring like-minded people together and prepare for the next Hyperloop competition.You can follow their team's progress through the Edinburgh's School of Engineering.
To learn more about other Hyperloop teams using Siemens PLM software, click here,
This article first appeared on the Siemens Digital Industries Software blog at https://blogs.sw.siemens.com/academic/university-of-edinburgh-hyperloop-team-wins-a-technical-excellence-award/