Corporate
The best things in life are free: Experience LMS Imagine.Lab Amesim Student Edition today!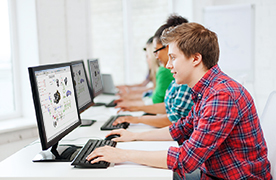 Everyone remembers the day they got their first job. And all the training courses that followed? But what if you could jump right in and start doing the engineering work you've been dreaming of? What if you already had a head start and really knew the ins and outs of world-class industrial technology like LMS Imagine.Lab Amesim™ software?
Sure, hands-on experience look good on a CV, but it also tends to help land that dream job and get you going on a top-notch career path. This is why the Siemens PLM Software team is thrilled to launch the new LMS Imagine.Lab Amesim Student Edition.
Not only is the software free for students around the world, it is an excellent way to integrate one of the most common model-based systems engineering (MBSE) tools into the world of academic engineering.
Just connect the components
Using the LMS Amesim Student Edition is an easy way to simplify multi-domain system integration. Instead of trying to program and create their own approaches, students simply select and connect validated components from dedicated libraries. It's a bit like virtual LEGO®. The LMS Amesim Student Edition includes mechanical, signal, hydraulic, pneumatic, thermal and electrics libraries. Every library component is an analytical representation of physical phenomena and can be directly executed using LMS Amesim solvers.
"It has an intuitive interface that helps you easily understand the main functions of the software," states Gabriele Tafuni, a student at the Politecnico di Torino in Italy.
The package is easily accessible and the Siemens PLM Software team has provided an entire treasure chest of information to get students started from LMS Amehelp, the online help feature, integrated directly in the software package, to the online LMS System Simulation Solutions Forum, loaded with helpful hints, great tutorials and demos.
"It is very easy to get started with LMS Amesim," says Liao Yinshuang, a student at Nanjing University in China. She adds, "What I like the most about LMS Amesim is its strong visualization capabilities."
For those of you not familiar with LMS Amesim, those "strong visualization capabilities" include comprehensive sets of methods, representations and animation features to help analyze a possible system.
Moreover, the LMS Amesim Student Edition comes with a full set of analysis tools to help explain system behavior and highlight dynamics.
"What I really appreciate about the software is that it allows us to easily perform different analyses of multi-domain systems with the level of details we want," adds Bernardo Sidou, an engineering student at the Federal University of Rio Grande do Sul in Brazil.
"To stand out, engineering students must prepare themselves as best as possible," says Patrice Montaland, Business Developer in charge of the LMS Imagine.Lab academic program. "With LMS Amesim, students can concentrate on their innovative projects and gain solid engineering experience."
Ready for the future engineering challenges
The next generation of engineers will continue to face a paradigm shift where the mechanics, electronics and software in a new design are simultaneously optimized as an integrated mechatronics system. Already today engineering students around the world are gaining valuable experience with programs like the Formula Student competition where LMS Amesim helps them reduce the number of prototypes, as well as project development time and costs.
"All models we create with LMS Amesim are like goldmines for the next generations of students," says Marc-Antoine Salmon, engineering student at École Centrale de Lyon, a well-reputed French engineering school that participates in the Formula Student competition. "Since the project must be done in a year, the team does not have too much time to perform testing on real-life systems. This lack of time is being alleviated thanks to MBSE. Moreover, LMS Amesim has helped us increase and optimize the quality of prototypes at every design stage." Check out this video to learn more.
Attention professors and university staff
In addition to the LMS Amesim Student Edition, Siemens PLM Software offers the LMS Imagine.Lab Amesim Educational Bundle, designed for classrooms and laboratories. Conceived for universities, it delivers an even wider range of LMS Amesim features so that educators can focus on teaching engineering and design, and not on how to use the simulation platform.
This article first appeared on the Siemens Digital Industries Software blog at https://blogs.sw.siemens.com/academic/the-best-things-in-life-are-free-experience-lms-imagine-lab-amesim-student-edition-today/