Siemens @ Develop 3D Live, UK!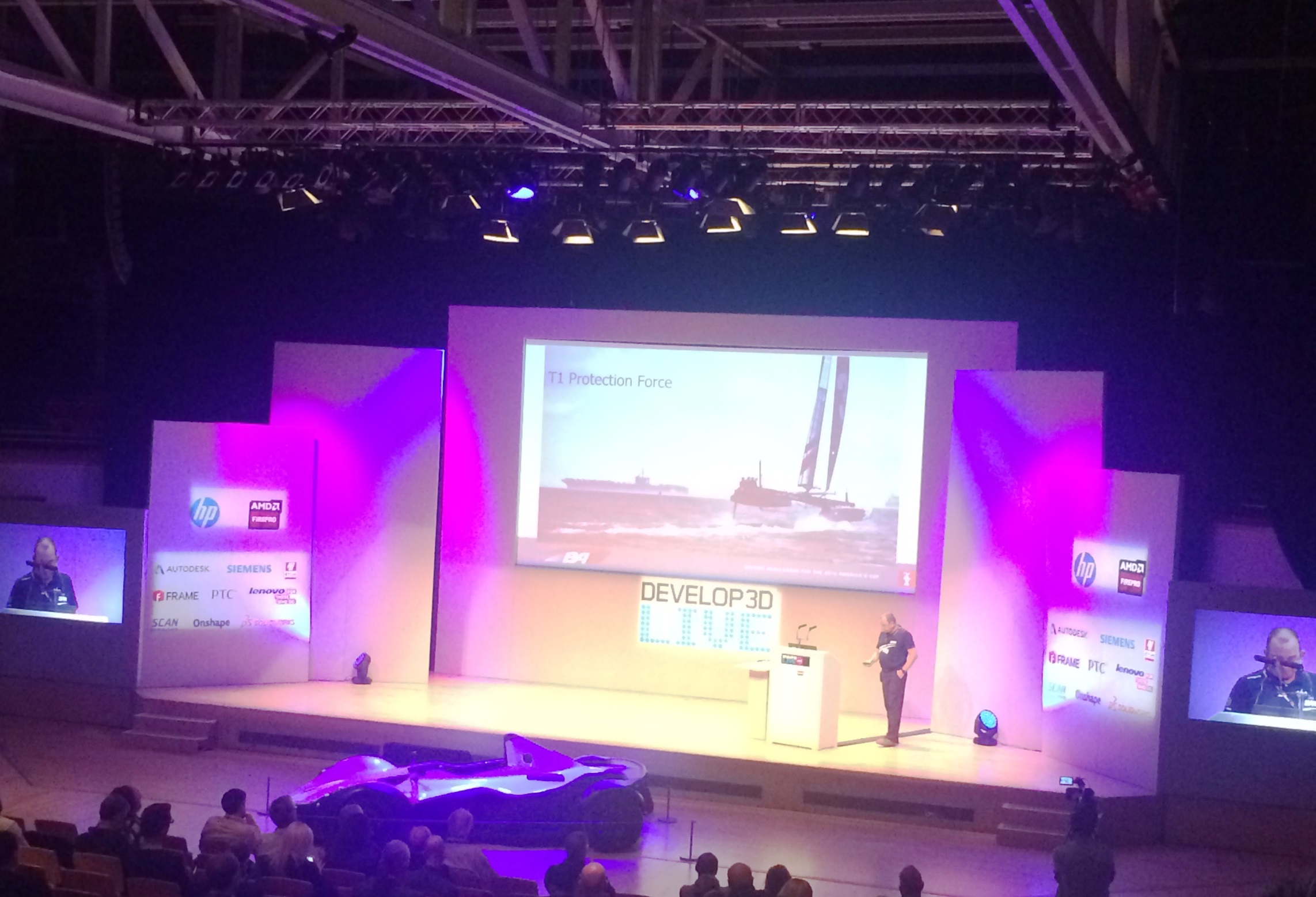 Siemens PLM Software were well represented at the annual Develop 3D Live conference held at Warwick University Centre for Arts on Thursday 26th March, with three individual speaking slots, we had keynote presentations from customer Ben Ainslie Racing and Dan Staples from the Mainstream business Siemens PLM, this was accompanied by a 3rd presentation in one of the breakout tracks from customer RML.
Develop 3D is a print magazine and digital resource which tracks the essential technologies used throughout the entire product development process. Develop 3D Live is the annual event associated with the print magazine, a conference and exhibition dedicated to design, engineering and the very latest in product development technology. The conference agenda includes executives from the main CAD/PLM vendors, as well as keynote speakers from industry and thought leaders.
Technical Director Andy Claughton from Ben Ainslie Racing (BAR) took to the stage first to tell the audience what they are trying to achieve with the help of Siemens PLM Software and channel partner Majenta. Created by 4 times Olympic Gold medallist Sir Ben Ainslie, BAR are a challenger for the 35th Americas Cup, the oldest sporting trophy in the world. Sir Ben has a team of 50 people working to design and build the best racing catamaran to aid them in their quest of winning the cup and bringing it home to the UK where the competition 1st began way back in 1851 on the Isle of Wight. BAR are utilizing many of NX's capabilities including naval architectural shapes and making use of its surfacing functionality which are particularly important to consider when designing in this type of competitive environment. Teamcenter is being used not only as a CAD vault but also more importantly to ensure traceability (to comply with competition rules) and to enable the team to work collaboratively so all parties have visibility to any changes in terms of design, BOM management and component life. Andy shared some great visuals of the team working to create their catamaran down in the Solent, with some great snaps of the hydrofoils which lift the boat out of the water to decrease drag and thus allowing the boats to travel much faster. The 62ft wing foiled catamaran must be ready for launch in January 2017.
Later in the morning we heard from Dan Staples (Vice President, Mainstream Engineering). Dan highlighted key technology trends, implications and challenges that face mainstream engineering companies. Dan also talked about how Siemens are addressing the continuing concern of an aging population of engineers and the increasing lack of graduating students available to fill this widening void. He shared some figures from Engineering UK reporting that yearly in the UK there is a requirement for 107,000 engineers and there only 82,000 trained per year. With this in mind Dan talked about the advantages of taking part in Greenpower, an educational trust aimed at primary to university and beyond students who can work in teams to design, build & race their own cars. Siemens UK are the main sponsor of this initiative and Siemens PL sponsor any high school teams who wish to participate with software to design their cars. Dan then invited David Cullimore to join him on stage, David is the reigning champion of the Greenpower F24+ International race (in fact he has won for the last 3 years!), by competing in this race David managed to secure himself an internship at Infiniti Red Bull Racing a dream come true for any aspiring engineer. David spoke confidently with Dan about his love of all things engineering and motor sport and how taking part in extra curricular activities such as Greenpower has led to where he is now.
Here's David with his winning Greenpower Race Car& listen to Dave talking about his participation in Greenpower when he was competing a couple of year ago:
Finally, Arnaud Martin, Director of Powertrain, RML Group, (customer of channel partner TEAM Engineering) one of the leading high performance automotive engineering companies in the world presented in the 'Product Design & Engineering' track. Through their use of 3D technology, Arnaud highlighted how they have overcome the technical challenges in delivering Touring Car, GT, Sports Prototype and Rallying programmes in major motorsport series. Having won multiple World Championships for their partners and have a winning pedigree in every series in which they have competed, Arnaud described how RML applies a nimble and winning mind-set to developing high performance road car derivatives and advanced automotive technology.
The remainder of the day at Develop 3D Live was filled with many presentations from all walks of design and engineering life listened to by an audience of students, educators, hobbyists, start-up companies and industry.
This article first appeared on the Siemens Digital Industries Software blog at https://blogs.sw.siemens.com/academic/siemens-develop-3d-live-uk/