Corporate
NX CAD training prepares Westminster Christian Academy students for future success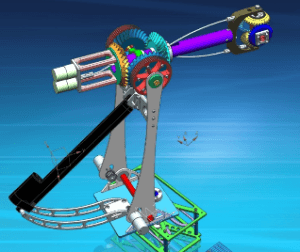 Westminster Christian Academy uses NX in a high school CAD course that is taught by a Siemens PLM employee Jeff Shultz. The school published an interesting article on the value of learning NX in high school.


"For students who are considering engineering as a career, exposure to NX in high school is an incredibly marketable skill," said James Zandstra, sophomore at Missouri University of Science and Technology. "The reason for this is that NX is not typically available to high schools even for educational purposes. The fact that Westminster has a 3D modeling course specifically using NX gave me a competitive edge when I was a student."


"I have used NX extensively on the Mars Rover Design Team," said Bopp. "My freshman year, I designed many components including the suspension, soil extractor, quick-release mechanisms, and a science bay. My sophomore year, I designed a robotic arm and gripper. NX gives me the freedom to design anything I can think up."


"Participation on the school's FIRST Robotics team really puts you ahead," said Zandstra. "I was able to easily secure several paid internship offers based solely on my participation on Westminster's robotics team and my experience with Siemens NX." By not knowing NX software before college, I have seen how important it is for engineering," she said. "To learn NX in high school allows students to enter college with greater opportunities. NX is undoubtedly a valuable asset to projects students will encounter throughout college and beyond."


All three alumni would agree that early exposure to NX software is important, not only to help students excel in the engineering field, but also in developing effective problem solving skills. De Groot, sophomore at Missouri S&T, who did not take Westminster's CAD course while in high school, says in hindsight, she wishes she would have.
Several of their graduates go to Missouri S&T (Rolla) and now use NX in college on their Mars Rover Design Team and placed 2nd in the world last May. Previously we blogged about Jonathan's use of NX
Here are two links from KPLR11 and KSDK to stories about Westminster's partnership with Ranken Jordan delivering modified cars to young patients.
Here's school's announcement regarding their competition in Little Rock:
Congratulations to WCA's FIRST Robotics team on their success at the Arkansas Rock City
Regional in little Rock this past weekend!In a field of 54 teams, Westminster reached finalist
status and received a regional award.After qualifying rounds, the Cyborg Cats were selected to compete in an alliance with teams from Ladue and Lee's Summit.The alliance advanced through quarter and semi-finals, but were defeated in the finals.At the closing ceremony, Westminster's team was named the recipient of the FIRST Robotics Entrepreneurship Award.This award recognizes the team that has developed and implemented the most comprehensive business plan to scope, manage, and achieve team objectives.The Cyborg Cats will next compete at the St. Louis Regional on March 20 and 21.The event is free and open to the public. Come to Chaifetz Arena to see the Cats in action!
This article first appeared on the Siemens Digital Industries Software blog at https://blogs.sw.siemens.com/academic/nx-cad-training-prepares-westminster-christian-academy-students-for-future-success/