Corporate
GreenpowerChina teams participated in Gathering of Goblins 2017 in UK.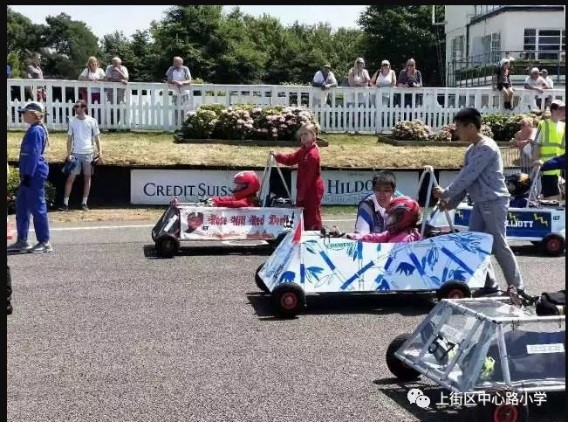 This year the Gathering of Goblins saw 82 teams of 9-11 year olds from 57 Primary schools from the UK, Spain and China compete in three 'on track' events during the day, including a slalom, drag race and chicane sprint event. The 'Best Global Team' award was presented to the Greenpower China team that travelled all the way from Beijing to compete in the event.
Jeremy Way, CEO of Greenpower Education Trust, commented on the event, 'Each year we're impressed at how far teams travel to attend the event. Nationally, we have teams from Cornwall all the way to Staffordshire who make the long trip to West Sussex for the event, but this year with the addition of two teams from China and a team from Spain, it takes the event to the next level. Without the support of our partners, Siemens, The IET, Silverline Tools and BMW i, we wouldn't be able to inspire so many young people about STEM (Science, Technology, Engineering and Maths) subjects.'
GreenpowerChina brought 3 China schools and 2 Goblin teams to this year Gathering of Goblins 2017 event. The China schools are from Beijing ShiJia Branch Primary, Beijing Xizhongjie Primary and Zhengzhou City Central Road Primary. 4 teachers (including a school Vice-Principal), 11 young students (ages 10 to 11 years old) and 2 GreenpowerChina staff flew 12 hours from Beijing, capital of China, to London, United Kingdom and travelled all the way to Greenpower Center at Arundel. The Greenpower Goblin kit cars and components are air flown from Beijing to Greenpower Center in Arundel.
The young students, under the supervision of their teachers and GreenpowerChina staff, have spent two full days to assemble and setup the Goblins cars in Greenpower Center.
The delegation also travelled far to visit other Greenpower schools like Arthur Terry School and Bromsgrove School in Birmingham City, to learn about STEM concepts and past experience of building a Greenpower car. They are very impressed with the past Solid Edge designs of Greenpower cars and also new features of Solid Edge ST10 which includes Reverse Engineering and excellent Additive Manufacturing capabilities!
They are already planning to 3D Scan their existing Goblin cars, convert to Solid Edge format and try to improve the design of their Goblin cars when they are back in Beijing! The staff and teachers are very impressed by the diligence and dedication that the students have put in to setup the cars and extremely grateful to Siemens for introducing such a wonderful STEM program to China. Plans are discussed to implement Solid Edge and Greenpower program into more China schools as the program quickly picked its momentum over past 12 months and attracted support from various authorities and organizations. By end of 2017, there will be an estimated 100 Greenpower schools, ranging from Primary (Elementary), Secondary (Middle), Colleges (Technical and High schools) and Universities embarking on Solid Edge – Greenpower STEM program
The month of July 2017 promises to be an unforgettable experience for these China students and teachers!
For video coverage of this GreenpowerChina event, please click on below link:
https://www.youtube.com/watch?v=_OyfVr-xd3Y
For more information on Siemens global academic program, and STEM curriculum visithttps://www.plm.automation.siemens.com/en/academic/index.shtml
This article first appeared on the Siemens Digital Industries Software blog at https://blogs.sw.siemens.com/academic/greenpowerchina-teams-participated-in-gathering-of-goblins-2017-in-uk/