Corporate
Greenpower Races to Rockingham for the 2017 Finals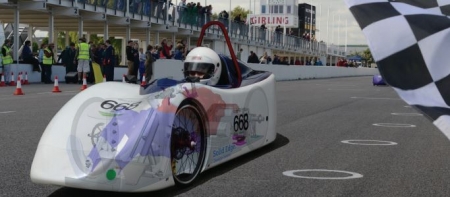 Greenpower 2017 International Finals took place at the Rockingham Race track on October 7the and 8th.
More than 300 teams representing the UK, Belgium, Poland, and Portugal competed in this year's race. Many of the teams have competed in the past and returned with new and improved models, and a few new teams joined this year's competition.
Team VDAB from Belgium competed for the first time, and loved every minute of it! Greenpower Belgium started 30 teams in 5 different regions this year, and organized races locally to prepare for the Greenpower International final. VDAB were the winners in their home country, which afforded them the chance to attend the finals at Rockingham. VDAB is a government organization in Belgium that provides job training skills for underemployed young adults, age 16-26.
Team PSEM from the University of Lisbon, Portugal, returned with a fully carbon fiber monocoque, and for the third consecutive year, they won Siemens Engineering and Design Award, in the F24+ category.
The diversity of the Greenpower program is expanding far and wide, with all girls' teams, teams for disabled youths, and teams for teens at risk making more prominent showings each year. Greenpower really has something to offer for everyone!
This article first appeared on the Siemens Digital Industries Software blog at https://blogs.sw.siemens.com/academic/greenpower-races-to-rockingham-for-the-2017-finals/