Corporate
Excellence in Racing: University of Michigan Solar Car Team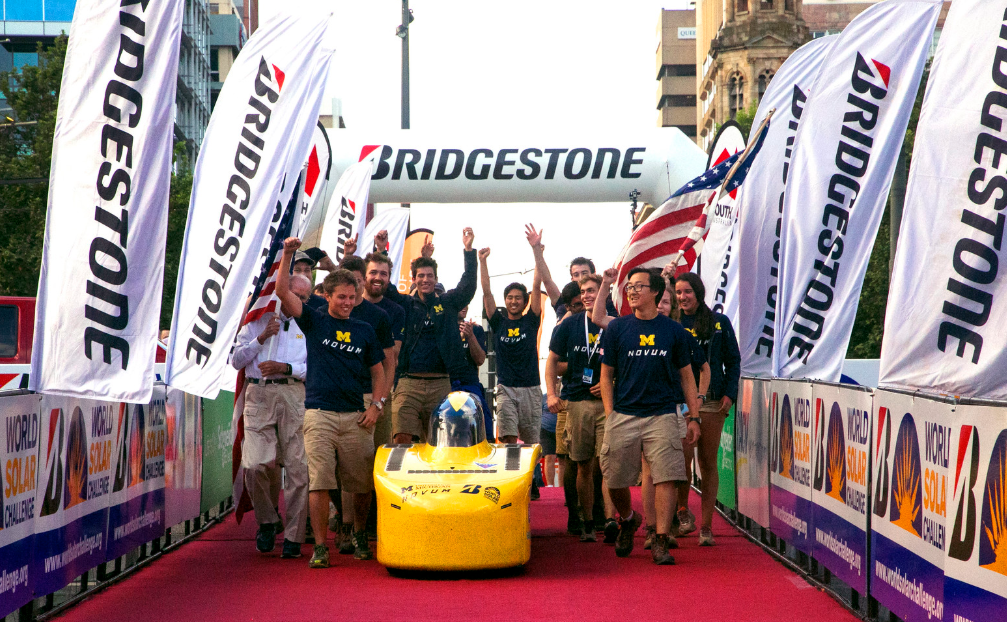 Since 1989, the Siemens-sponsored University of Michigan Solar Car Team has been designing, building, and racing America's best solar vehicles.
Novum in action.For over 20 years, this entirely student run project team has designed, built, and raced the world's fastest solar vehicles. With four engineering divisions; mechanical, electrical, aerodynamics, and strategy, as well as operations and business divisions, our team brings together students from a multitude of backgrounds and disciplines to work together towards a common goal: build the best solar vehicle possible.
The team competes at both the National and International level, and since their establishment in 1989, they have built 14 vehicles, with the most recent being named Novum. Novum is so well known that they are featured in a blog for Car and Driver Magazine. They have won the American Solar Challenge nine times, placed third in the Bridgestone World Solar Challenge five times, and won their first international championship in the 2015 Abu Dhabi Solar Challenge. In 2017 they had their best World Solar Challenge finish yet, placing second. They look forward to building on the team's legacy this October as they race to claim the title of best in the world.
Team huddle going through tech inspection at the 2019 Bridgestone World Solar Challenge.UM Solar recently revealed the name of their newest car, Electrum, this past July 19th. With this vehicle, the team will race Electrum across the Australian outback in October of 2019 Composed of mechanical, electrical, aerodynamic, and strategy engineers and sponsorship, marketing, and operations members, this Race Crew will race for a victory in the 2019 Bridgestone World Solar Challenge.
A pivotal member of this team, Abby Siegal is the Business Director for UM Solar. With an Economics degree, Siegal came to college with no intention of getting involved with an engineering project team, but after hearing about an opportunity to join the Business Division and help fund the project she fell in love with the environment. After working on the team for a majority of Novum's cycle, Abby was excited to return to the team as the Business Director for Electrum's cycle. As Business Director, Abby is responsible for ensuring that the team has the best tools and materials at their disposal. Her favorite part of her job is supporting the Engineering Division in making the car as fast as possible. A recent graduate of the University of Michigan , she is excited to travel to Australia for the Bridgestone World Solar Challenge this fall before starting work in January.
See the video below where Abby talks about her experience at the Realize Live 2019 Conference, standing beside Electrum.
The team is constantly striving to achieve personal development goals in addition to their engineering efforts. To accomplish this, they are also part of many community outreach projects such as giving younger kids an inside look into how their team works and the fundamentals of building a car. They strive to educate their community on alternative energy's potential, spread the usage of solar energy, and to inspire the youth in their communities to pursue STEM careers and gain exposure in the fields.
Novum leading the team to victory.Siemens is a long time sponsor of the University of Michigan's Solar Car Team providing software programs such as NX CAD and Teamcenter to aid the team in their creation of cars. In this blog post, the team discusses how crucial the industrial-strength tolerancing available in NX was in the creation of Aurum, the 2017 solar car that won the University of Michigan its ninth American Solar Challenge title. Thanks to Siemens, UM Solar continues to put its best foot forward before it even hits the road.
To follow the team along on their 2019 competition season, keep up with them via Instagram, Twitter, and Youtube. Make sure and check out all of Siemens advanced engineering tools for student vehicle teams.
This article first appeared on the Siemens Digital Industries Software blog at https://blogs.sw.siemens.com/academic/excellence-in-racing-university-of-michigan-solar-car-team/