Corporate
Design your future with Siemens PLM Software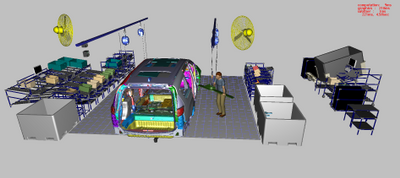 There are many existing news and stories happened in past months, here is mix of stories/news on how students design their future with Siemens PLM Software.
David Cullimore always wanted to be an engineer. The Greenpower Challenge enables him. Eureka Magazine interviewed him to learn more of his story. "My Greenpower journey started at school when I was 17," said Cullimore. "I was part of a team who designed, built and raced the car, but at the end of the year I still felt that there was more for me to learn in Greenpower. So in 2012 I set up Cullimore Racing as an independent team. By independent I mean that I wouldn't be associated with a school, college or corporate team and that I would design and build a car and race with the help of my friends and family." There are many stories like Cullimore's from students who leverage Siemens software to compete in real-world competitions.
Cullimore found success building his car which culminated in the Jet II
Andrew Huster, a second year electrical engineering graduate student from the Ohio State University (OSU), as member of OSU's EcoCAR team, he says, "EcoCAR taught me a lot of technical skills and how to apply them along with how to work with and manage groups of people. I don't think I would have gotten this far without that experience."
OSU's EcoCAR team gets a crash course in real-world engineering disciplines, including advanced testing. Image Courtesy of The Ohio State University.
Read about how the University of Michigan is taking a more aggressive approach preparing for the next Solar Car Challenge through systems engineering, as well as NX software to model designs and perform structural analysis.
Building off lessons learned from the Aurum vehicle, UofM¡¯s Solar Car team is taking a more aggressive systems engineering approach with its latest design. Image courtesy of Michigan Engineering.
With a focus on education for the digital age, Oakland University introduced PLM tools in several of their courses. Plant Simulation, Jack, Process Simulate and Teamcenter software, training and support were integrated into existing courses to share the latest tools and techniques from real-world applications; Oakland University prepares students for Industry 4.0.
LANIT, channel partner of Siemens PLM Software, launched a series of educational sessions for Bauman Racing Team, the Formula Student engineering competition participant from Bauman Moscow State Technical University,with an introductory workshop. During the workshop, students learned how to use state-of-the-art product lifecycle management solutions and modern techniques for organizing a digital process. The skills acquired will let students improve the optimization of the car components and reduce production time.

Seabrook, channel partner of Siemens PLM Software, sponsored Cork Educate Together National School's entry to the Vex IQ Crossover Challenge finals. The students were tasked with designing and building a robot to play against other teams from around the world. More than 10,000 teams from 32 countries play in over 750 game-based engineering tournaments. This was an invaluable opportunity for primary school children to put classroom STEM concepts to the test.
Engineers Week gave us an opportunity to discover the value of engineering education and careers. Tony Hemmelgarn, president and CEO of Siemens PLM Software, Dr. V.C.Rao Komaravolu at Michigan Technological University, and Dr. Thomas Bradley at Colorado State University shared their career experience in engineering
Find new view case studies about how Siemens PLM Software brings digitalization to life in different industries:
Renault Sport Formula One Team
Check out some recent press releases from new academic partners:
Alfred University received in-kind software grant from Siemens PLM Software, it includes Siemen's NX™ software; David Crenshaw, Director of the Fabrication Center at Alfred University. "This grant is exceptionally valuable because it helps us train our students for tomorrow's jobs using one of the best engineering design software solutions available," said Crenshaw.
Connecticut State Colleges and Universities (CSCU) has received state-of-the-art manufacturing and product design software; This in-kind grant of NX™ software is being incorporated into day-to-day student coursework and projects related to computer-aided-design, engineering simulation, industrial design, digital manufacturing and manufacturing management.
Hanbat National University and Siemens PLM Software sign an agreement of cooperation, the purpose of this agreement is to foster and supply smart factory engineers in line with the market changes due to Fourth Industrial Revolution. Both parties have agreed to work on development of training programs, facilities, and ways of cooperation. Developing the next generation workforce requires real-world experience with leading-edge software, which will prepare engineers for the digital enterprise.
One more exciting piece of news, student and teachers can prepare for the Solid Edge Certification online exam now with a new free training resource.
For more information, please visit our community and academic homepage.
This article first appeared on the Siemens Digital Industries Software blog at https://blogs.sw.siemens.com/academic/design-your-future-with-siemens-plm-software/