Corporate
2018 Regional Connections: PLM World Regional Users Group Meetings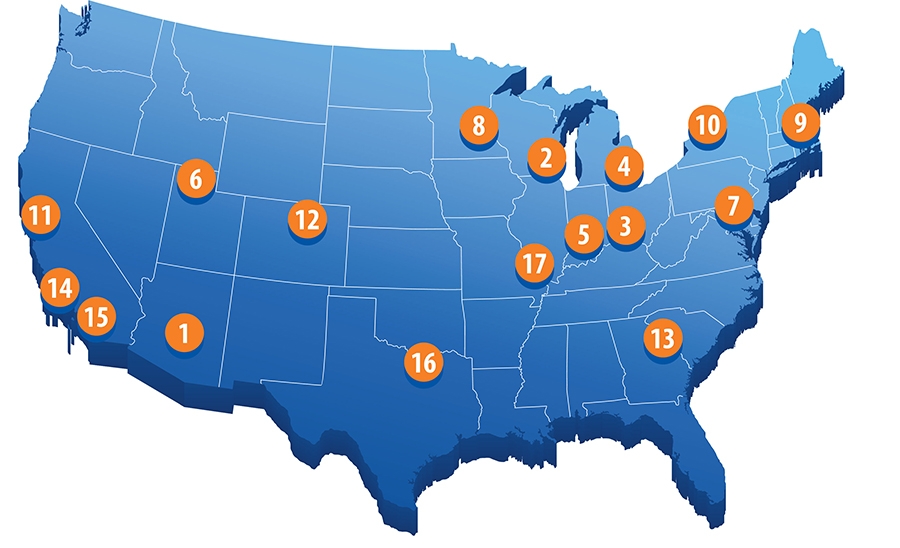 Dear academic partners:
We know most of you are back to school now and engaging your students in engineering and digital manufacturing this semester. We'd like to encourage you to check out the schedule of upcoming Regional User Group events. If there is one near you, consider a field trip to the event.
It is a chance to connect with Siemens PLM Software customers near you. Some events are held at manufacturing facilities and include plant tours. Learn about the latest in PLM technology. Take this opportunity to network with the Siemens PLM Software community offline. Solicit real-world challenges for the classroom. Students may find internship, co-op and future job opportunities….
| | | | | |
| --- | --- | --- | --- | --- |
| Pin | RUG event | Website | Date | 2018 Location |
| 1 | Arizona | http://www.plmworld.org/arizonarugevent | 11/1/2018 | Tempe, AZ – Arizona State University |
| 2 | Chicago/Wisconsin | http://www.plmworld.org/caugwugrugevent | 10/16/2018 | Gurnee, IL – Holiday Inn |
| 3 | Cincinnati | http://www.plmworld.org/cincinnatirugevent | 10/23/2018 | Springboro, OH – Heatherwoode Golf Club |
| 4 | Detroit | http://www.plmworld.org/detroitrugevent | 10/11/2018 | Troy, MI – Marriott Troy Hotel |
| 5 | Indiana | http://www.plmworld.org/indianarugevent | 11/8/2018 | Indianapolis, IN – Andretti Racing |
| 6 | Intermountain | http://www.plmworld.org/intermountainrugevent | 9/25/2018 | Ogden, UT – Comfort Inn and Suites |
| 7 | Mid-Atlantic | http://www.plmworld.org/mid-atlanticrugevent | 10/18/2018 | Linthicum, MD – Maritime Institute |
| 8 | Midwest | http://www.plmworld.org/midwestrugeventp | 10/4/2018 | Maplewood, MN – 3M Corporation |
| 9 | New England | http://www.plmworld.org/new_englandrugevent | 11/6/2018 | Framingham, MA – Sheraton Framingham Hotel and Conference Center |
| 10 | New York State | http://www.plmworld.org/new_yorkrugevent | 10/2/2018 | West Henrietta, NY – RIT |
| 11 | Northern California | http://www.plmworld.org/n_californiarugevent | 10/9/2018 | Fremont, CA – Siemens office |
| 12 | Rocky Mountain | http://www.plmworld.org/rocky_mountainrugevent | 9/27/2018 | Boulder, CO – Ball Corporation |
| 13 | Southeast | http://www.plmworld.org/southeastrugevent | CANCELLED | |
| 14 | SoCal – Los Angeles/San Diego | http://www.plmworld.org/socalLArugevent | 10/31/2018 | Cypress, CA – Siemens office |
| 15 | Southwest | http://www.plmworld.org/southwestrugevent | CANCELLED | |
| 16 | St. Louis | http://www.plmworld.org/stlouisrugevent | 11/15/2018 | Emerson Corporate Office |
This article first appeared on the Siemens Digital Industries Software blog at https://blogs.sw.siemens.com/academic/2018-regional-connections-plm-world-regional-users-group-meetings/