Thought Leadership
Virtual aircraft integration with MBSE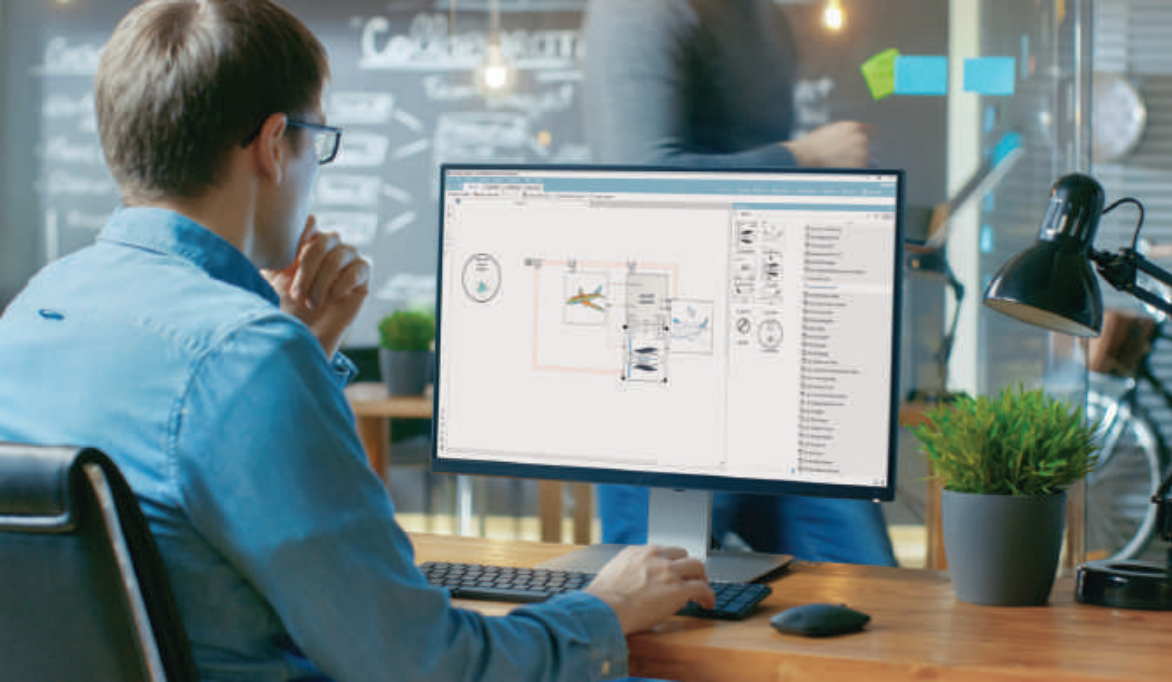 Aircraft have come a long way in a short period of time and for the most part, the development process has kept pace. But the complexities new designs are bringing to the development process are making engineers and OEMs alike question how they will make it happen while dealing with external pressures all around. Much like the automotive industry, aerospace is experiencing demand from regulators for environmental standards, requests by passengers for increased connectivity and competition from technology companies in integrating the software of tomorrow's aircraft. Unfortunately, all these problems are interconnected and cannot be approached in a siloed manner effectively.
For the most innovative companies, this will not be a breaking point, instead it is an opportunity to harness the complexity and deliver the aircraft of tomorrow faster than ever before. But that requires model-based systems engineering, the right planning and a comprehensive digital twin to handle the growing reservoir of data collected from models, virtual testing results and suppliers. The system needs to be optimized not for one parameter, but all of them to get the best aircraft. This cannot be captured in the traditional document-based systems engineering found throughout the aviation community.
On the systems and structural engineering level, scalable multi-domain engineering tools simulation solutions can be used to implement a model-based design approach and capture the complexity of aircraft systems from the component level to the aircraft system level. Engineering a system is about understanding the interconnections of physical phenomena under normal operation and edge cases. With more electric and electronic systems in todays aircraft, it is essential to understand how these systems could interact with their surroundings. In a desktop computer, interference can be a nuisance, but in the air it can be a serious problem.
As aircraft move away from the more traditional designs to futuristic quadcopter urban air vehicles and flying wings to specialize flight types, it will be critical to understand the flight dynamics of the new designs. Virtual iron bird and hardware-in-the-loop technologies are crucial additions to an engineer's toolbox – both because they limit dependence on expensive wind tunnel testing and results can be gleaned earlier in the development cycle. The value of virtual aircraft integration is only just beginning to be understood to its fullest extent.
Electrical propulsion systems represent the last major trend pushing aerospace companies into more complex design spaces. Batteries still have not reached the energy to mass ratio provided by petroleum fuels and combustion engines. Balancing the equation of propulsion, carrying capacity and aircraft weight will require tight engineering domain integrations, along with a myriad of other complex equations of how to implement different subsystems.
There may be hurdles, but aerospace has never been free of those. The good news is that there are tools out there to help the industry initiate the model based systems engineering methodology shift; tools that will let engineers represent all the physics in an aircraft – structural, mechanical, fluid, electrical, thermal – and simulate their dynamic interactions. These tools address the component level up to system level, and can be integrated into a PLM process. As the projects evolve so to will the methodology, software helps control the resultant dissonance. For more information on the virtual integration of aircraft systems, read the whitepaper on the topic.
---
Siemens Digital Industries Software is driving transformation to enable a digital enterprise where engineering, manufacturing and electronics design meet tomorrow.
Xcelerator, the comprehensive and integrated portfolio of software and services from Siemens Digital Industries Software, helps companies of all sizes create and leverage a comprehensive digital twin that provides organizations with new insights, opportunities and levels of automation to drive innovation.
For more information on Siemens Digital Industries Software products and services, visit siemens.com/software or follow us on LinkedIn, Twitter, Facebook and Instagram.
Siemens Digital Industries Software
– Where today meets tomorrow
This article first appeared on the Siemens Digital Industries Software blog at https://blogs.sw.siemens.com/thought-leadership/2021/03/19/virtual-aircraft-integration-with-mbse/