Industrial-scale additive manufacturing (Part 3) – breaking barriers
When information is segregated into specific silos, knowledge isn't as accessible as it should be – threatening the integrity of your product and your process. But there are big opportunities in collaborative business models starting to emerge in the additive manufacturing field that break down barriers and allow teams to develop together.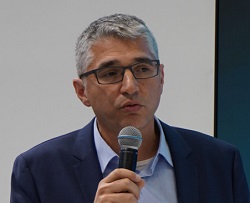 In "Jumpstarting ISAM with the Siemens Additive Manufacturing Network," the third encore podcast in our Is Your Company Ready for Industrial-Scale Additive Manufacturing? series, our resident expert, Robert Meshel, director of the Siemens Additive Manufacturing Network initiative, discusses the need for greater collaboration to consolidate ideas in a central location.
Part of this discussion revolves around the benefits of industrial-scale additive manufacturing, also known as ISAM, and how service providers can improve and learn to provide better service to their customer with this technology.
"Any place that can help [service providers] to continuously improve and provide better service, this is the place where they want to be," says Meshel.
This third podcast addresses additive manufacturing misconceptions that many companies have, including the belief that it's a separate domain. This line of thought can be addressed by thinking about a holistic manufacturing process and not separating the additive manufacturing process into another set of practices. By using a hybrid approach, manufacturers can accommodate both a prototype business and service production business.
The full encore podcast series is available on Soundcloud, Stitcher, and iTunes.
Also, listen to podcast01 and podcast02 from this encore series.

Click here to read more about additive manufacturing.
This is the third podcast in an encore series of four on "Is Your Company Ready for Industrial-Scale Additive Manufacturing? " – a part of the Siemens Digital Industries Software suite of Xcelerator solutions, where today meets tomorrow.
About our expert
Robert Meshel is the Director of the Siemens additive manufacturing network, an online collaborative platform designed to accelerate the use of additive manufacturing in the global manufacturing industry. This initiative was born under his previous role, where he re-joined Siemens Digital Industries Software as the director of the strategy for the manufacturing Engineering Software unit. Driven by the passion for innovation in technology and business models, Robert was relentlessly pursuing new strategic opportunities developed within the organization or by partnering with external ambitious startups that are seeking to make a significant impact. Robert originally joined Tecnomatix in 1996, where he served in various technical management capacities, including head of portfolio management, director of product management and business consulting.
This article first appeared on the Siemens Digital Industries Software blog at https://blogs.sw.siemens.com/thought-leadership/2020/03/23/podcast-series-industrial-scale-additive-manufacturing-part-3-breaking-barriers/