Thought Leadership
Increasing innovation in engineering education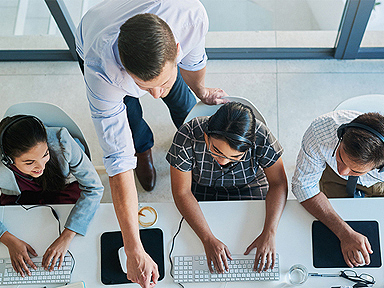 When you think of academics, it should not be limited to the classroom.
The idea of self-teaching via online learning, mentoring or even mass customization of education is a concept not new to academia. Moreover, for corporations like Siemens in merging with Mentor Graphics, it is moving out of the classroom through the speed-of-trust.
This trust issue can relate to behaviors in team meetings or how you strengthen yourself and your team. Your credibility is conveyed in two areas: competence – which is regular ongoing learning opportunities, and character – looking for ways, especially in a team dynamic, to build a character connection.
Conceptually, it is ideal for the educator to be on the sidelines in the classroom, while the student is self-teaching via blended learning.Then you leverage the professor as a mentor and transition into the idea of mass customization for academia. This structural concept is dynamic – a work-in-progress.
However, the mindset of disrupting the status quo classroom structure is an encouraging prospect. Bringing education outside conventional methods encourages students to learn subjects like engineering in a manner which translates to the contemporary environment.
Bringing engineering into the modern classroom
Engineering is a broad topic with exciting opportunities for career advancement in an ever-changing landscape of technological innovation. How do we prepare students for the future? Also, what needs to change in how students learn?
Listen to the podcast series about this compelling topic from, Alex Alison, Enterprise Account Orchestrator, interviewing Dora Smith, Senior Director of Global Academic Partner Programs at Siemens Industrial Software as they discuss several academic concepts and trends:

Partnering with educational institutions
What's top of mind with engineering deans
Multidisciplinary engineering education
Experimental learning
Educator upskilling
The digitalization skills gap, curriculum and global expansion
Best practices in educational engineering
Siemens enriches academia by collaboration with educational institutions at every grade level, for integrating and exposing students to innovative software technology. This global program is far-reaching to empower the next generation of digital talent. Siemens, along with colleagues around the world, consult with schools to reform engineering education through comprehensive software and curriculum and real-world applications.
The result is a future-proof workforce.
Whether helping to build the next software engineers or sparking innovative thinking, Siemens' educational programs help to move the classroom to the next level of advanced technological learning.
Listen to the full podcast on SoundCloud.
This concludes part one in a series on the Siemens Academic Program. Our second blog will present a portion of this podcast conversation via transcription. Learn how new advances in academics is providing new solutions for where today meets tomorrow.
About the authors:
Dora Smith is the senior director of the global academic program for Siemens PLM Software. The program empowers the next generation of digital talent through project-based learning, STEM competitions and industrial-strength software and curriculum to support students and academic institutions worldwide.
Alex Allison is an account orchestrator with Siemens PLM Software and has been with the company since 2013. In his current role, he is responsible for maintaining relationships with electronics and high-tech companies on the Eastern seaboard. Alex began his career in the semiconductor industry, specializing in manufacturing systems. He has experience around OCM, managing complex enterprise system architecture, and ensuring customers have the right solutions and processes that will result in transformational efficiencies throughout their business.
This article first appeared on the Siemens Digital Industries Software blog at https://blogs.sw.siemens.com/thought-leadership/2019/07/31/increasing-innovation-in-engineering-education/