Thought Leadership
Better engineering curriculum for future-ready graduates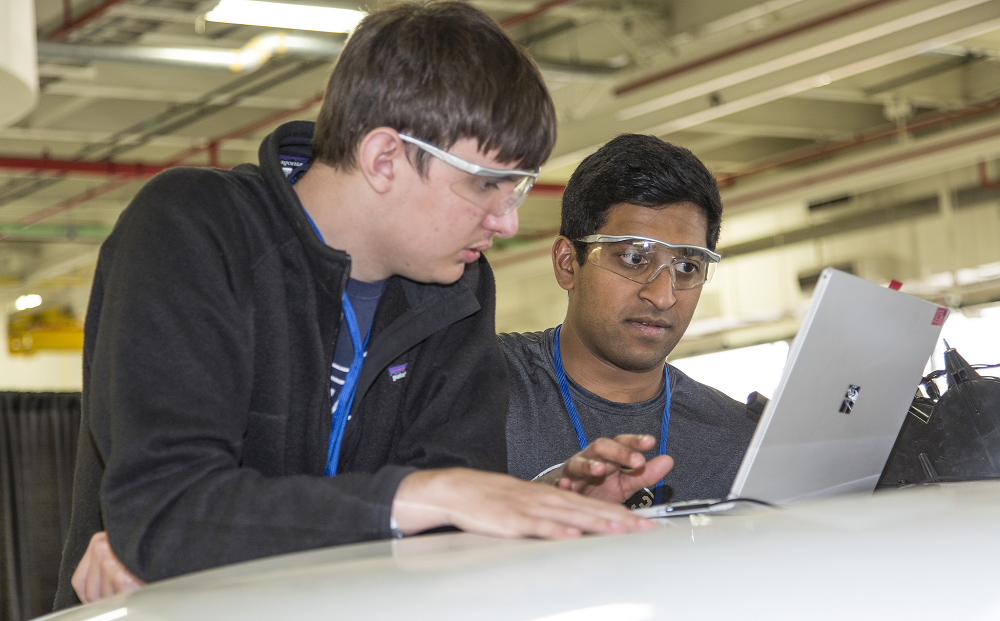 Engineering companies are having trouble filling their open jobs. They're experiencing a jump in open positions, and the demand to fill these positions is only going up. Most can't be filled because most candidates don't have the necessary skills, and not filling these positions could have a big impact on who will lead the global, digital economy.
Why so many jobs are open, and why there's a gap between what companies need and candidates' skills, is the focus of our series. In part one, we examined what's leading to this engineering skills gap. In part two, we discussed academia's role academia in contributing to the gap and how engineering curriculum must change so graduates can help shrink the global skills gap.
Here, we discuss some of the work Siemens PLM Software is doing with competitions and curriculum to help academia implement these changes more easily.
Siemens PLM Software has been collaborating with leading companies and universities to give academia the tools it needs to increase students' success in finding, and exceling at, jobs in this new economy – and to ultimately close the skills gap.
Siemens PLM has extended its outreach program through competitions and curriculum. When combined, these two elements have the power to transform students' college educations and give them the real-world experience they need to succeed.
Competitions. Competitions are a major part of Siemens PLM's outreach strategy in helping universities provide their students with real-world experience.
Some of the most successful programs we have seen take industry-led and government-led competitions and embed them into engineering curriculum. One of these competitions is the Advanced Vehicle Technology Competitions (AVTCs), which Siemens PLM has sponsored over the past decade. These competitions are unique in how they bring together government, industry and academia to solve real-world problems.
The latest AVTC is EcoCAR 3, sponsored by the U.S. Department of Energy, which challenges 16 North American University teams to redesign a Chevrolet Camaro over the course of four years to not only reduce its environmental impact, but still maintain the muscle and performance the public expects from this iconic car. GM provides teams with a Camaro and its NX CAD file, while Siemens provides its NX and Teamcenter software and training for using each throughout the competition.
Part of what makes EcoCAR unique is that students work on a real vehicle with real digital data behind it, giving them the chance to work with the processes and tools they'd use after graduation.
This isn't something most universities provide students in their engineering programs, but competitions such as this will show universities the benefit of offering these kinds of opportunities to students throughout their whole education rather than only later.
According to impact reports from multiple universities that have participated in the EcoCAR competitions, graduates who participate earn 30 percent more in starting pay than non-participants, and 100 percent of participants have been able to secure employment upon graduation.
Students who participate in EcoCAR competitions don't just gain real-world experience for their degree: they're more likely to earn a higher starting pay than their peers.
Curriculum. These kinds of competitions are a great, but the harder part for Siemens PLM and for universities is the actual curriculum behind this new approach to engineering programs. As product complexity continues to dramatically increase, many universities have trouble updating their engineering curriculum so that it accurately reflects current industry problems, situations and tools students will work with after they graduate.
What these universities need is a package of methodology and practice they can easily incorporate into their curriculum and programs. Updating curriculum was a main factor in what educators needed most to improve their engineering and manufacturing education, according to CIMdata's research on academia's role in creating engineering graduates with the skills employers want.
One of Siemens PLM's key academic commitments is comprehensive cross discipline curriculum to enable universities to quickly adopt new technology and to teach in the context of industry best practices. This gives students the education and experience they need regarding the tools and solutions companies use in their business.
Siemens PLM provides academic partners free access to Learning Advantage, its e-Learning portal that provides comprehensive learning material across design, manufacturing and lifecycle management disciplines. This interactive tool provides thousands of courses and assessments to augment classroom and lab experiences in a project-based learning environment.
In addition to this strong foundation of learning, Siemens academic partners will soon have access to a comprehensive curriculum for model-based systems engineering. This open and modular methodology fully integrates modeling and simulation to predict product and process performance across a number of disciplines and domains, including mechanical, electrical, software and controls. It's becoming a critical methodology for companies, so students need the right experience with it.
The curriculum will cover these topics in the context of an industry project:
• system architecture;
• system engineering;
• requirements definition covering business/functional/technical and component levels; and,
• simulation of system variations.
The most talented engineers have a strong foundation and firm understanding of the physical world and the virtual, simulated world. Students become more employable when they understand limitations in both domains, so they can leverage the strength of both to solve the most challenging engineering problems today and in the future.
Siemens PLM is dedicated to helping students, academia and companies close the skills gap, and we're working to ensure our customers are ready for the future with the most experienced talent.
This concludes our introduction to academia's role in preparing the future workforce. We will share more details on curriculum in subsequent posts. Stay tuned to our academic community for the latest resources to improve engineering education.

About the author
Dora Smith is the senior director of the global academic program for Siemens PLM Software, a business unit of Siemens Digital Factory Division. Under Dora's leadership, the global academic program is now a company-wide strategic initiative for the company. The program empowers the next generation of digital talent through project-based learning, STEM competitions and industrial strength software and curriculum to support more than 1 million students and more than 3,000 institutions worldwide. Dora is an accredited business communicator with more than 20 years of experience. Previously, she held executive management positions at CAD Potential (now part of Tata Technologies), where she developed the company's first academic and certification programs. Prior to that, she directed the Unigraphics Users Group (now PLM World) an independent, not-for-profit organization supporting the engineering community. She also served as president on the board of directors of IABC St. Louis. Dora earned her bachelor's degree in journalism from the University of Missouri-Columbia and a master's degree in business administration from Washington University.
This article first appeared on the Siemens Digital Industries Software blog at https://blogs.sw.siemens.com/thought-leadership/2017/07/31/better-engineering-curriculum-for-future-ready-graduates/