Autonomous flying cars: coming soon to a sky near you?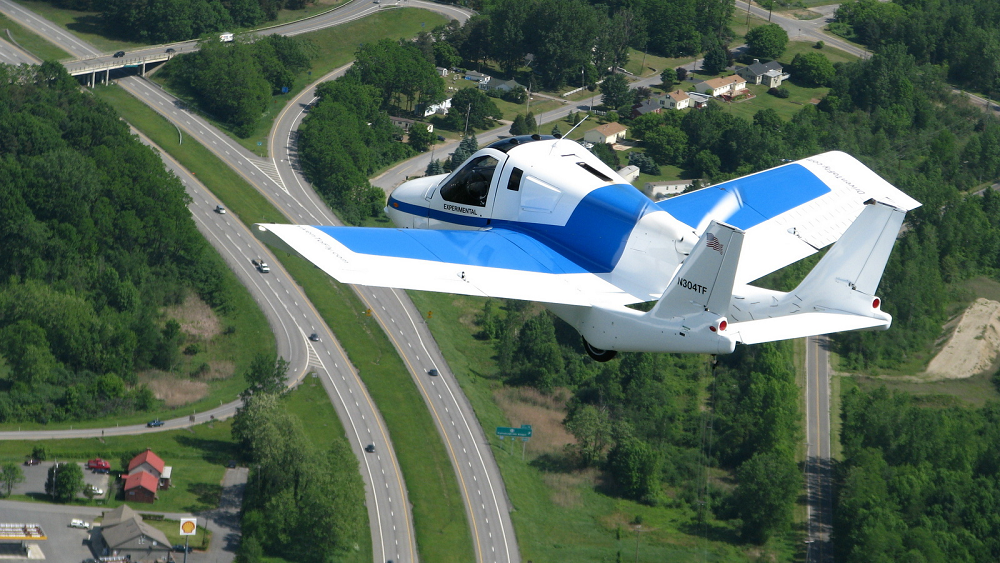 Automakers are at an interesting crossroads as autonomous capabilities gain ground in the industry. Autonomous capabilities are forcing automakers to push for new innovation, and these capabilities are now a major factor in automakers' decisions about how they want to participate in future markets and stay relevant to their customers.
There are a number of possibilities that come with autonomous capabilities as they gain ground in the industry, but one of the most interesting possibilities is something that hasn't received much attention – yet: autonomous flying cars.
Flying car technology isn't as far-fetched as you think. You probably think of how flying cars are seen in old cartoons like The Jetsons, but as you read this right now, there are a lot of people and companies working to bring fully functional autonomous flying cars to the market.
One person who's seen the potential of flying car technology is John Bourneuf, a mechanical engineering consultant who has worked with Pratt & Whitney, Wyatt-Gordon, Belcan Engineering, GE Aviation and, most recently, Terrafugia.
Terrafugia is a Massachusetts-based company that's working to develop practical autonomous flying cars for the market. John's experience in design, marketing, profit and loss ownership, sales and project management drew him to the company.
Bourneuf is a mechanical engineering consultant who's worked with a number of companies throughout his career, including Pratt & Whitney, Wyatt-Gordon, Belcan Engineering, GE Aviation and Terrafugia.And, he's always loved cars: "If you're a mechanical engineer, you're fascinated by anything that moves, and machinery."
While at Terrafugia, John used his engineering and technical background to build strategic partnerships with large corporations to raise money for this development. I spoke with him about what he sees happening in the auto industry today and how flying cars could fit into the future of transportation.
ED BERNARDON: If you look at the automotive industry, there's all sorts of fascinating changes happening, even for cars that are on the ground. Based on changes you see happening in general in the automotive industry, how do you think autonomous flying cars will fit into the future of the automotive industry, and how we use cars and transport ourselves?
JOHN BOURNEUF: You know, there's a lot of people that think maybe I'm crazy, but I don't think I am. I think for the last couple years, there hasn't been a day that's gone by without somebody really getting engaged in flying cars, and they get it and you can see it happening.
How I see a flying car playing into this world of future transportation is, I kind of jokingly say it, [it is] so much easier to imagine vehicles operating over our heads and in space. All you have to do is look up and just imagine the volume of space that's up there versus the 2D-space that we drive on.
Autonomous vehicles, autonomous cars, self-driving cars, have to navigate their way around—it's a complete infrastructure change. You have to navigate your way around crosswalks and pedestrians and busses and trains, and everything has to be interlocked, so the infrastructure is not really ready for autonomous cars and driverless cars.
But as soon as somebody pushes the green light and pushes the button to say, "We are going to have flying cars," there is no need for a grid infrastructure in the atmosphere.
Autonomous flying cars may seem like a thing of the distant future, but a number of companies, including Terrafugia, are working to make practical flying car technology. (Photo courtesy of Terrafugia)
(Photo courtesy of Terrafugia)There's no need for roads, there's no need for orthogonality, there's no need for stoplights. You've got vehicle-to-vehicle communication, the same kind of technology that's there today with next-gen architecture with driverless cars.
So I think it is a much more logical step, but what you have to do is you [have] to get through the regulatory space, you have to get past the FAA.
[Terrafugia was] asked to come and make a presentation to the Center for Automotive Research, which puts on one of the biggest automotive conferences every year. They were blown away at the idea of what a flying car could be.
They can see it happening. They're just not ready for it.
The response I got back from all the majors is: we love it, we think it's going to happen (not sure when), but we have so much going on with electric and autonomy that we can't really accommodate the flying car, so come back to us in some period of time and let's talk further.
I think that Detroit can see it happening. I think that there are some big names that are involved in flying cars today, from Airbus and Italdesign. They're working together [on] a vehicle called Vahana. Larry Page has $100 million of his own money invested in Zee.Aero. Uber is a player.
When will there be a large number of flying cars? I'm not quite sure what the timing is going to be, but there [are] a lot of people [trying]. You look at what Amazon is doing in terms of their own determination to autonomously deliver packages with or without the FAA's authorization. It takes that kind of disruptive mindset to make it happen. I think it's going to happen and it's inevitable.
The timing is kind of an unknown, but just look at who's out there launching today: PAL-V, and AeroMobil, a Slovakian company launching this year.
I think the car guys get it, and there's plenty of people pushing for it. That's what disruption is all about.
This concludes part one of my conversation with John. In part two, we discuss how companies developing autonomous flying cars will need to collaborate with different levels of government to create an infrastructure to support this flying car technology.
About the author
Edward Bernardon is vice president of strategic automotive initiatives for the Specialized Engineering Software business segment of Siemens PLM Software, a business unit of the Siemens Industry Automation Division. Bernardon joined the company when Siemens acquired Vistagy, Inc. in December, 2011. During his 17 year tenure with Vistagy, Bernardon assumed the roles of vice president of sales, and later business development for all specialized engineering software products. Prior to Vistagy, Bernardon directed the Automation and Design Technology Group at the Charles Stark Draper Laboratory, formerly the Massachusetts Institute of Technology (MIT) Instrumentation Laboratory, which developed new manufacturing processes, automated equipment and complementary design software tools. Bernardon received an engineering degree in mechanical engineering from Purdue University, and later received an M.S. from the Massachusetts Institute of Technology and an MBA from Butler University. He also holds numerous patents in the area of automated manufacturing systems, robotics and laser technologies.
This article first appeared on the Siemens Digital Industries Software blog at https://blogs.sw.siemens.com/thought-leadership/2017/06/19/autonomous-flying-cars-coming-soon-to-a-sky-near-you/