Thought Leadership
Remove supplier collaboration hurdles for better product development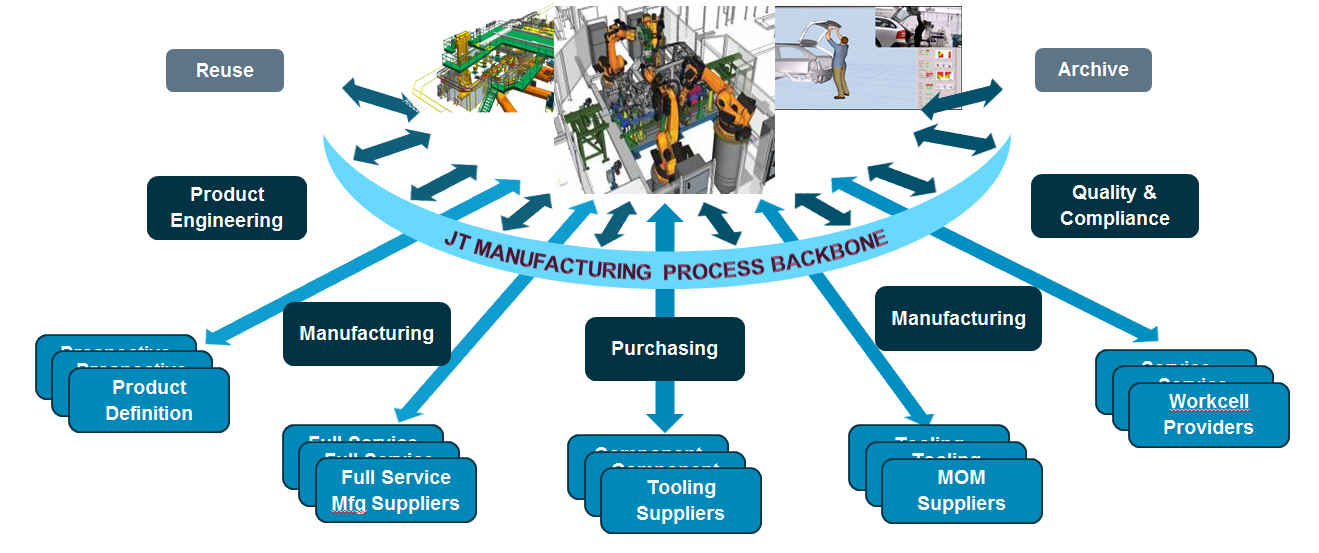 The time of simple collaboration and product development has passed. Global product development is the new norm as OEMs seek to partner with the best suppliers, regardless of their location or the applications they use.
It's often been said that the best applications a supplier can use for product development are those they're already proficient in. And in an increasingly competitive world, OEMs are under pressure to deliver complex products faster and at lower cost. This reliance on partners and suppliers makes efficient collaboration a key enabler of competitiveness.
As such, OEMs must leverage partners and suppliers to increase innovation and capacity. In part one of this series, Darby O'Reilly discussed the risks and challenges OEMs face related to supplier collaboration. Here, he discusses how some OEMs are improving supplier collaboration by leveraging standards and reducing compliance mandates.
Reduce supplier compliance mandates
Historically, OEMs require suppliers to deliver designs in the same CAD format used by the OEM. Because suppliers generally work for multiple OEMs, CAD compliance mandates create significant inefficiency. Supplier data is translated between multiple CAD formats or to neutral formats like STEP solely to exchange files.
Today, OEMs in multiple industries are taking a new approach: exchanging CAD neutral design data called JT (ISO 14306) with suppliers. JT is a lightweight and precise 3D file format which can easily be generated to or from commercial CAD applications. JT is increasingly enabling a multitude of processes, including supplier sourcing, product visualization, design in context, CAE, kinematics, manufacturing planning and simulation, technical documentation and even marketing.
Not only has the number of suppliers increased, but the supplier's role in global product development has become more comprehensive. Today, many suppliers design, validate and manufacture components and subsystems. These suppliers are often referred to as full service suppliers. Due to the expanded responsibility of full service suppliers, OEMs often require less design detail from them.
In these cases, suppliers simplify complex systems with many discrete parts into simple designs having fewer parts or even a single as-installed part. When appropriate, design simplification greatly reduces supplier collaboration complexity and streamlines the global product development process.
There are many other examples of compliance mandates that might be unnecessary, but it's important for OEMs to consider the cost of mandates.
Simpler designs can help reduce the supplier collaboration complexity many OEMs are dealing with.
Daimler's 'Strategic Fields of Action'
Daimler has been on the leading edge of an effort to rethink its approach to supplier collaboration and compliance. For Daimler, supplier collaboration is a top strategic initiative because it's a key enabler of so many critical processes. Collaboration has evolved from being an afterthought to being a consideration across the multiple functional domains of product development.
Daimler's revolutionary approach to supplier collaboration aligns IT, purchasing and engineering functions to optimize many global product development processes. Daimler and other thought leaders are successfully eliminating non-value-add work processes and the resulting costs and errors from their design collaboration processes.
While OEMs do not publish specific numbers, collaboration using JT instead of STEP or native CAD is clearly showing benefits.
At a ProSTEP seminar in Germany in late 2015, Rudolf Dotzauer, director of customer supplier integration at Continental AG, presented with Dr. Siegmar Haasis, CIO for R&D at Mercedes-Benz Cars, Daimler AG, on supplier collaboration.
They talked in detail of their successes resulting from JT-based design collaboration and product validation. Haasis said that Daimler has over 12 million JT files under management representing more than 70 percent of externally authored vehicle design data. Daimler's policy allows suppliers to choose whatever CAD application they prefer, which reduces time wasted on compliance.
Clearly, JT-based collaboration for global product development represents a win-win for OEMs and suppliers.
OEMs across automotive and aerospace industries are watching Daimler. In the U.S., suppliers with client connections to their automotive OEMs are downloading JT context data from VisMockUp and importing it to their local CAD applications. ATK exchanges rocket booster designs with NASA using JT.
These exchanges are a sign of what's to come with reducing compliance complexity and improving supplier collaboration.

ATK's work with NASA on rocket booster designs is one sign of what's possible with improved supplier collaboration.
Lightweight visualization with JT
JT for supplier design collaboration is a natural expansion of the use of JT for internal collaboration. For years, JT has enabled expanding user communities to visualize, interrogate and collaborate on large and complex products. Most OEMs now use JT to create digital representations of their products – often called digital mockups or digital twins. As such, JT-based collaboration and validation is reducing the need for costly physical prototypes.
This expansion of access to the digital twin, and the new user communities' ability to interrogate the function and even behavior of the digital twin, would not be possible if the digital twin were based on native CAD. In fact, it's not practical or even possible to load the design data for large products into a CAD session. Moreover, most user communities are data consumers who benefit from having access to accurate product or manufacturing geometry without needing to modify their designs.
Expanded access to the digital twin wouldn't be possible if the digital twin was in native CAD.
Digital twin for supplier design-in-context
Some leading OEMs have granted select suppliers limited access to their digital twin. These suppliers perform a spatial search to isolate parts in the areas they are working. Suppliers export this landscape data (in JT format) and use it to create their designs 'in context.'
In some cases, the supplier's design is converted to JT for easy and quick import back into the digital twin such that iterative validations can be executed with the latest designs. In cases where the OEM requires native CAD based designs from their supplier, the supplier uses a CAD integration to save designs back to PLM in the proper context.
In these cases, JT files are generated and the digital twin updated automatically by the OEM's PLM. (This example references Teamcenter out-of-the-box functionality.)
Collaboration between co-equal partners
Daimler has also expanded the supplier collaboration domain to include collaboration with its partners. The automotive industry, like many industries, has seen an increase in joint programs and alliances between OEMs that have traditionally been competitors. Daimler collaborates on multiple programs with the Renault – Nissan alliance, for example.
Similar relationships exist in multiple industries, where partners are responsible for major modules such as powertrain, chassis, cabin or landing gear. This means large volumes of data will be shared on a frequent basis. For these partnerships, OEMs can't impose compliance requirements, like the use of a specific CAD application or design methodology.
In 2014, the Global Automotive Action Group endorsed a common; standards based approach for OEM-to-OEM collaboration that includes three elements:
• ISO 14306 (JT) for precise 3D shape data
• AP242 XML for structure, metadata
• TIFF for 2D drawings
Members of the Global Automotive Advisory Group understand the need for standards to enable collaboration and have made further definition of standards-based collaboration a priority for further definition.
While much of our discussion has been on supplier collaboration related to product design, JT is also rapidly growing for design collaboration and supporting manufacturing processes, including plant layout, work cell design and simulation, composite layout, fastener optimization and additive manufacturing.
JT is also being used for CAE including multiphysics simulation. And JT-based collaboration pilots are also underway to demonstrate massive model visualization, augmented reality and enhanced reality.
The efficiency of collaboration to support global product development can be significantly improved by using JT for standards-based design collaboration. Improvements are also realized by reducing supplier compliance mandates and enabling broader access to the digital product and digital manufacturing environments.
Better access to the digital product and digital manufacturing environments can improve global product development.
This concludes part two of our supplier collaboration series. In part three, Darby O'Reilly discusses collaboration from the perspective of partners and suppliers.
About the author
Darby O'Reilly has 23 years of experience in the PLM Industry. His background as a software engineer and extensive customer interaction informs a balanced business and technical perspective to help Siemens customers optimize globally distributed product design and manufacture. In his current role as director of product driven services, he consults with automotive and aerospace companies to streamline globally distributed product development. Competencies include defining collaboration policies and processes, overseeing technical solution implementation in support of joint OEM partnerships and integrating design-responsible suppliers. He also interfaces with Siemens' product development organization to ensure customer needs are enabled by Siemens solutions. In previous roles at Siemens, O'Reilly worked in technical services to define industry best practices and provide solution alignment. He managed global PLM deployment for a major automotive OEM. He served as technical lead for PLM deployment at a major commercial aircraft OEM and has provided technical consulting services and solution development for numerous Global Fortune 100 companies and the U.S. Air Force. O'Reilly holds a Bachelor of Science degree in computer and information science from the College of Engineering at Ohio State University.
This article first appeared on the Siemens Digital Industries Software blog at https://blogs.sw.siemens.com/thought-leadership/2016/09/14/remove-supplier-collaboration-hurdles-for-better-product-development/