Tessent at the 2022 AI Hardware Summit
Tessent recently attended the AI Hardware Summit (September 13-15, 2022). The summit is recognized as THE place for those accelerating AI/ML workloads in the cloud and at the edge, at hardware or systems level. This year's event was co-located with Edge AI Summit at the Santa Clara Marriott in California.
Wednesday, 14 September, saw the presentation from Joseph Sawicki, Executive VP of Siemens EDA.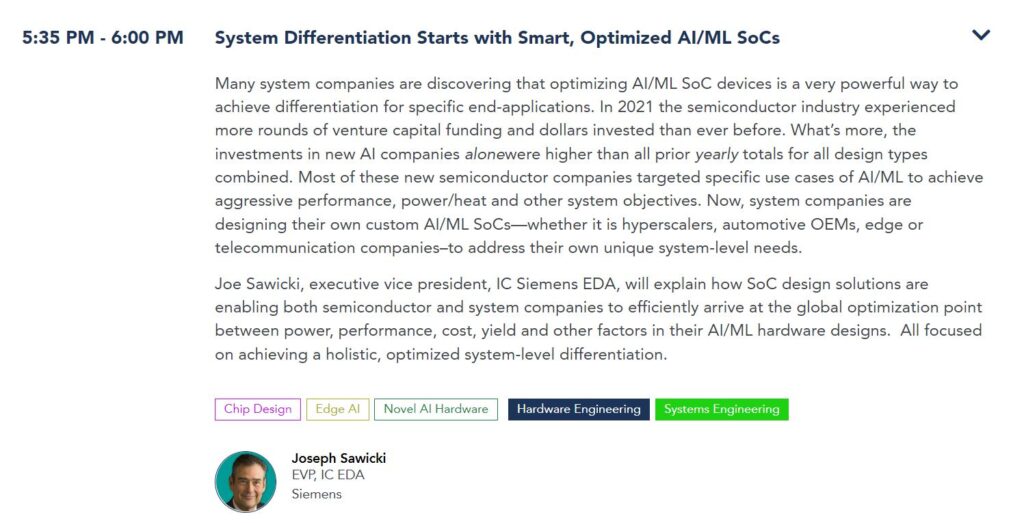 The show had a virtual platform this year, through which attendees could download the latest Cybersecurity technical paper and chat with Tessent experts.
In the Siemens exhibitor booth, we demonstrated how the Tessent Embedded Analytics platform gives unparalleled visibility and insights into complex functional behavior of AI SoC's. We demonstrated how to generate unique and valuable insights into system performance, under real software loads, from emulation and into deployment, by combining our silicon IP portfolio, our software toolset and powerful data analytics libraries.
To optimize AI system performance, you need a deep understanding of how your AI hardware functions under real firmware and software loads, starting from the development phase and into the life of the product. This means that you need access to the right functional data from the chip and powerful software tools to process it. The Tessent Embedded Analytics platform provides this kind of system-level visibility for SoCs.
For more information on optimizing AI systems with Embedded Analytics, download the technical paper Harness system-level data to optimize manycore AI and ML chips | Siemens Digital Industries Software
This article first appeared on the Siemens Digital Industries Software blog at https://blogs.sw.siemens.com/tessent/2022/09/16/tessent-at-the-2021-ai-hardware-summit-2/