Products
Celebrating Hanukkah, A Festival of Dedication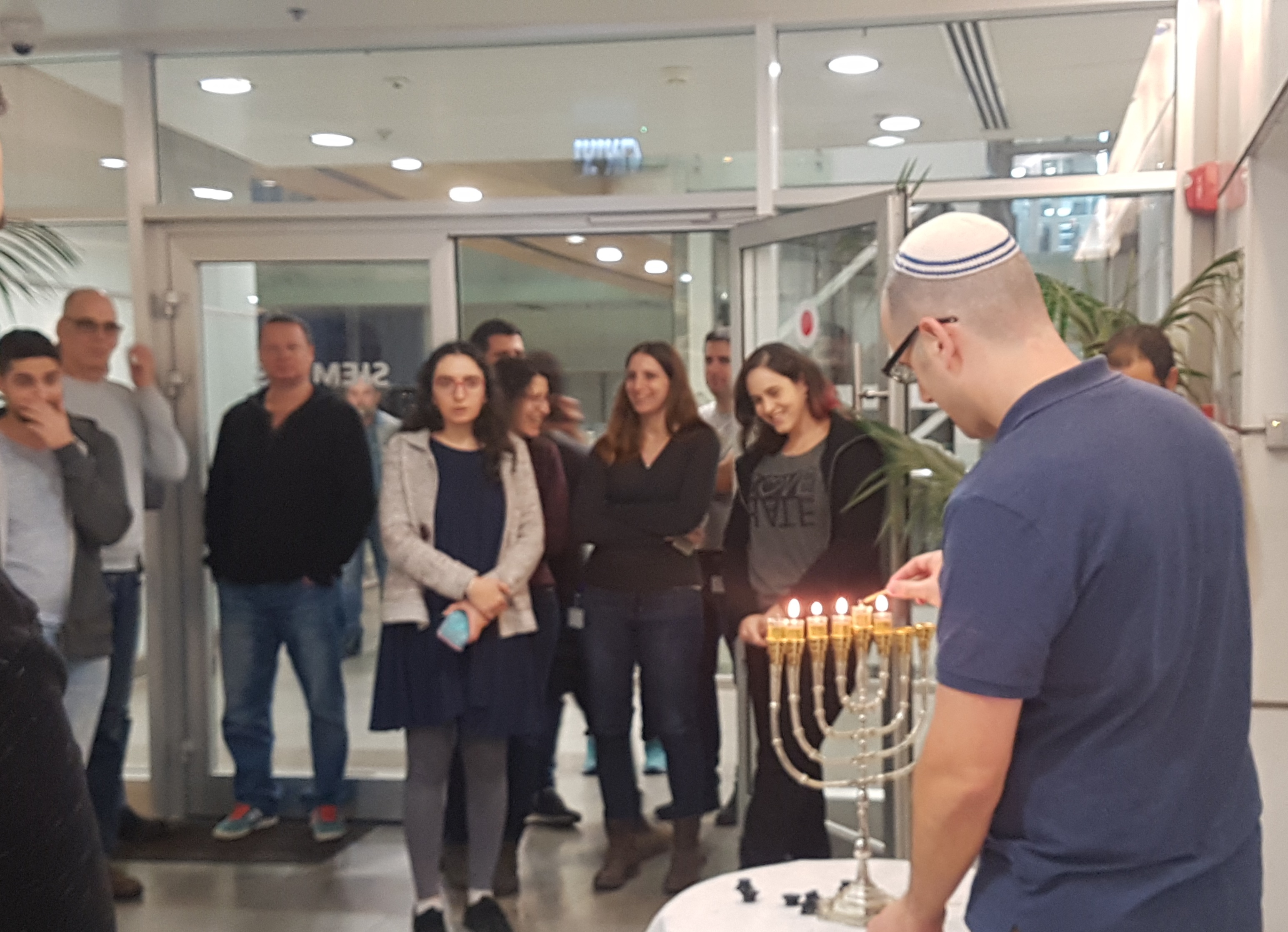 Hanukkah Sameach!
Hanukkah is a Jewish festival that is celebrated for eight days, in honor of the miracle of the oil that lasted eight days in the Holy Temple. On each day, those who celebrate, light a candle on a hanukkiah (a nine-branched candelabrum), starting with one candle and adding one more each day. The candle used to light the other candles is known as the shamash. Blessings and festive songs are sung.
Here are some stories from our own that are celebrating Hanukkah…
Adam Dales, Technical Documentation for Tecnomatix:
"When the ancient Greeks ruled over Israel, they imposed religious oppression on the Jews of the land. Though the Jewish people could only muster a very small, rag-tag force, called the Maccabees, with inferior weapons (the Greeks had elephants!), the Almighty granted a great miracle, and the few triumphed over the many in battle. Yet another miracle awaited them – they returned to the Temple in Jerusalem to resume lighting the menorah, the 7-branched candelabra. Searching hard, they found one cruise of undefiled olive oil, enough to stay lit just one day. Yet the oil continued to burn a full 8 days until they could prepare a new quantity of pure oil. And those are the Hanukah miracle commemorated every year in most Jewish houses when the 8-branched Hanukah menorah is lit every evening for 8 nights. Every time, an additional candle is lit, until all 8 are burning on the holiday's last night. The name of the holiday reflects the rededication of the Temple, and also evokes the education to values and tradition, especially as families gather in front of the glow of the candles."
Maya Laxer, Product Management lead for Teamcenter Manufacturing:
"Hanukah is a great holiday for us. It is an opportunity to meet with family and friends every night, light the candles and eat (too) well. Enjoying amazing jelly doughnuts, potato pancakes ("latke") and other fat fried food… For kids, it is also a very special holiday as they are getting a school break of a week, in which theatres are playing new shows and musicals for the whole family and kids are getting presents and candies from their families."
At Siemens, we celebrate Hanukkah in the APC office in Israel where we develop Tecnomatix solutions. Between
Siemens celebration in APC releasing Teamcenter manufacturing versions and Easy Plan new and cool web apps we are also trying to find the time to light the candles together, singing holiday songs and eating doughnuts.
For everyone celebrating Hanukkah, we invite you to share your greetings and traditions with us … and subscribe to our blog to see what more we have in store to honor this special time of year around the world.
This is Day 10 of the 12 Days of Teamcenter holiday series. Read the rest of the series to see what else is new and exciting within the Teamcenter community this holiday season.
Check out the 12 Days of Teamcenter series:
Day 1: Celebrating Diwali, A Festival of Lights
Day 2: Skating with Teamcenter
Day 3: Thanksgiving– like Teamcenter – is better when everyone contributes
Day 4: Configuration Management Saves Holiday Shopping
Day 5: All I want for Christmas is Active Workspace 4.1
Day 6: The New Look of Teamcenter using Active Workspace
Day 7: 'Tis the Season To Achieve Green Initiatives
Day 9: Polar Electro Brings Together Mechanical and Electronic Product Development
Day 10: Celebrating Hanukkah, A Festival of Dedication
Day 11: New "Active Change" management tools in Teamcenter 
This article first appeared on the Siemens Digital Industries Software blog at https://blogs.sw.siemens.com/teamcenter/celebrating-hanukkah-a-festival-of-dedication/