Solid Edge Realize LIVE: Call for Presenters
Share your Solid Edge knowledge and product insights at Realize LIVE! And receive a FREE VIP conference pass.
Breakout presentations: 45 or 90 minutes of content in a traditional classroom type session
Knowledge Theater: 15 minute "Ted Talk" presentations to be held in our Innovation Pavilion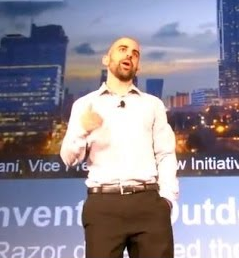 Join our dynamic roster of speakers at Realize LIVE and take your place among the expert innovators helping businesses advance to the place where today meets tomorrow. As a customer speaker at Realize LIVE, you'll help more than 3,000 attendees learn, grow, and optimize their professional performance. You'll inform and influence the industry, while also making valuable connections to drive your own career forward.
What are the perks?
Save on conference registration (a $1495 savings!)
Influence the future of your software innovation
Recognition as an industry expert
Savings on conference registration and other perks as part of the Realize LIVE Customer Speaking Program (customers only)
Next steps
Get started now by going to the "Submit Abstract" page.
You can make edits to your abstracts until March 3, 2020.
Abstract decisions will be emailed to all submitting authors in mid-to-late March 2020.
Never presented at Realize LIVE before, or at all? We will be more than happy to coach and assist along the way.
We hope to see you in Vegas!