Products
[What's New] Digital Image Correlation (DIC)
Discover a new paradigm for materials and structural testing.
Simcenter Testlab expands its horizons with Digital Image Correlation (DIC) for materials and structural testing. This new solution is built on image acquisition and digital image correlation technology to deliver extremely accurate full-field experimental characterization and identification of material properties, as well as quantitative validation of structural models. With one single sensor, you can now measure a lot more data of different quantities all at once, helping create a more reliable Digital Twin.
Watch the video below for a quick introduction to DIC:
How does it work?
DIC is a revolutionary testing and analysis method that relies on images from digital cameras to extract 3D full-field data on the test object. The information is captured from thousands of points, extracting the 3D geometry of the tested area, as well as the 3D displacement on all the points, with a spatial resolution equivalent to that of a Finite Element model. This offers engineers the possibility to accurately capture local behaviors, derive strain, velocities, accelerations, stresses, curvatures, and more, with just two cameras.
The solution offers a truly open platform that provides full control on all calculation parameters, ensuring true metrological information. It also allows the quick identification of the best processing settings to find the right balance between noise and accuracy. It is a solution that allows you to identify complex material models using the available full-field data. You can also quantitatively validate simulation models with full-field DIC results through a unique approach, fully aligning test and simulation results. To top it all, this new solution seamlessly integrates with other solutions and capabilities in Simcenter.
In fact, DIC enables full-field modal testing and analysis, making use of unique expertise by combining DIC and structural dynamics testing.
Accurate 3D full-field measurement for specific needs
You can use DIC to determine and identify mechanical properties by measuring the static and quasi-static loading of material samples on dedicated testing machines.
DIC offers one solution to characterize any kind of material thanks to the virtual field method (VFM). It also enables live tracking during acquisition with the possibility to define virtual strain gauges and perform online necking detection.
Visit the Materials Testing website.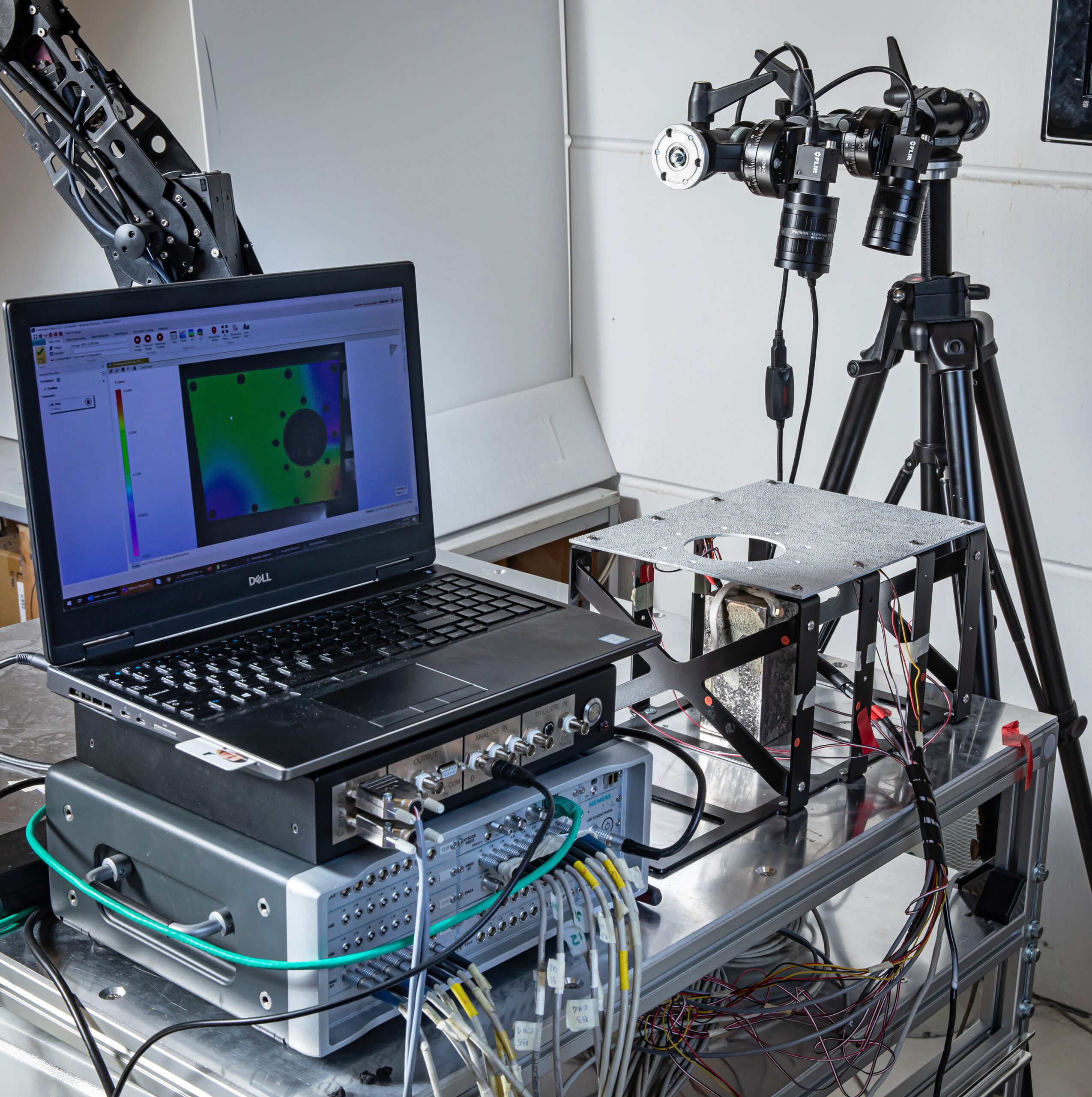 DIC can be used to perform static and transient testing for components and systems, and measure full-field strain field under load to reliably validate numerical models.
Characterize the full-field structural response of components and structures under load and confidently identify stress hotspot, extract deformation and strains in static and dynamic conditions, and validate models in a comprehensive ad quantitative way.
Visit the Structural Testing website.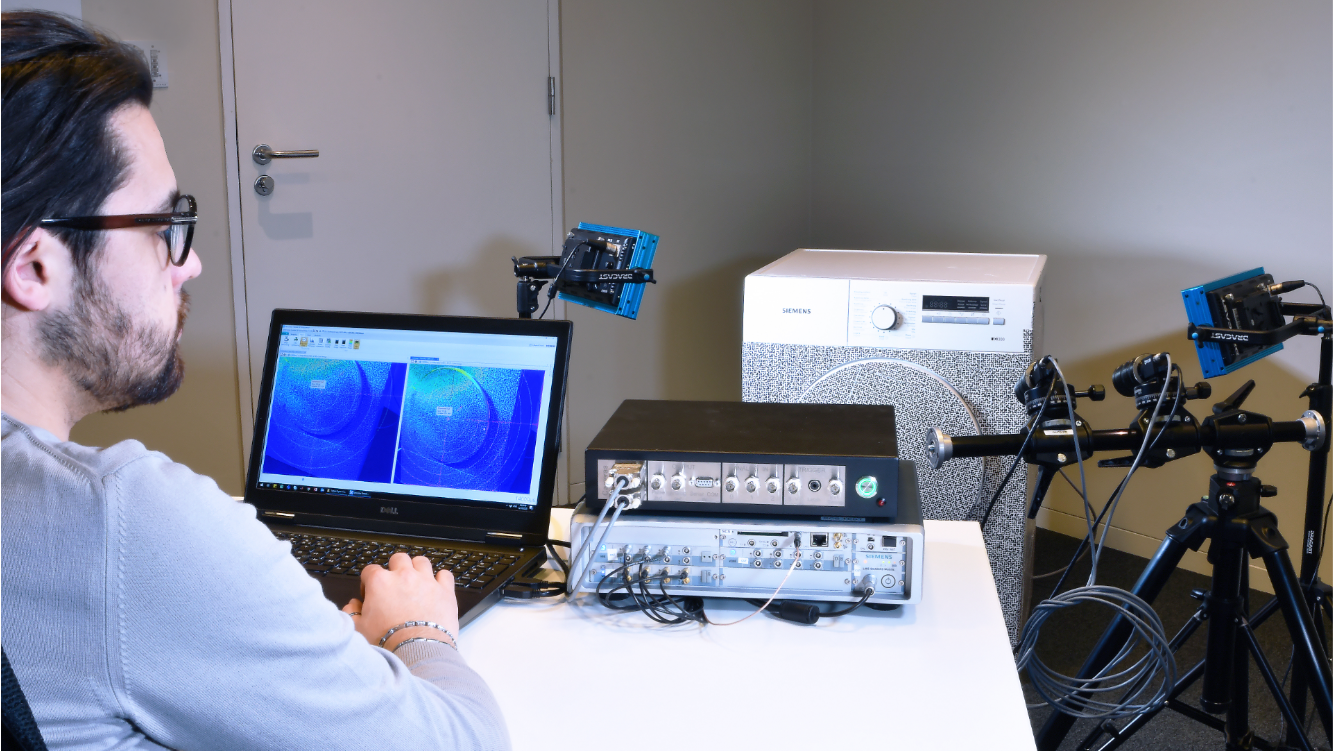 Structural Dynamics Testing
You can conduct full-field contactless modal and vibration testing and analysis with cameras or by combining cameras with traditional sensing techniques.
DIC offers an integrated solution for full-field frequency and modal analysis, resampling algorithm to use low-speed high-resolution camera at high frequency. Quickly check frequency content before exporting data for more accurate analysis, and combine fatigue and modal test for structural integrity.
Visit the Structural Dynamics Testing website.
Learn more about Digital Image Correlation now
Accelerate testing and precisely characterize material properties, validate structural models, and enable a reliable and extremely accurate Digital Twin with Digital Image Correlation.
Watch the free on-demand webinar on how to characterize materials and structures with DIC.
Read about how an international university uses DIC technologies to test wind turbine blade longevity.
Read how to use DIC to characterize the mechanical
behavior of materials and structures.
Discover more in-depth information about DIC technologies in the knowledge-based article.
Visit the website and learn more about accurate 3D full-field measurement with DIC.
---
This article first appeared on the Siemens Digital Industries Software blog at https://blogs.sw.siemens.com/simcenter/simcenter-testlab-materials-and-structural-testing-dic/