Increasingly complex requirements
Electric cars continue to integrate an increasing number of electronic features, for example for autonomous driving. As a result they carry an increased risk of electronic failures. Sometimes those failures are safety critical. For example suppose you are accelerating your vehicle and because of that vehicle acceleration, the radar sensor fails. Such an event is safety critical and should not happen. Why does it happen in the first place? One likely option is because of Electromagnetic interference. Accelerating the vehicle by pushing the pedal will increase the power to the electrical motor, however, it will also increase the high frequency electromagnetic fields in the car. Those fields could potentially reach a level that they interfere with the electronic cables and systems and cause them to fail. This is the domain of EMC EMI (Electromagnetic Compatibility and Interference).
Vehicles which were engineered just 2 decades ago, featured some EMC requirements engineers had to take care of. But with today's vehicles, for which high power electric systems are in the vicinity of electronic, safety critical systems – the topic of EMC is significantly higher on the agenda of automotive companies.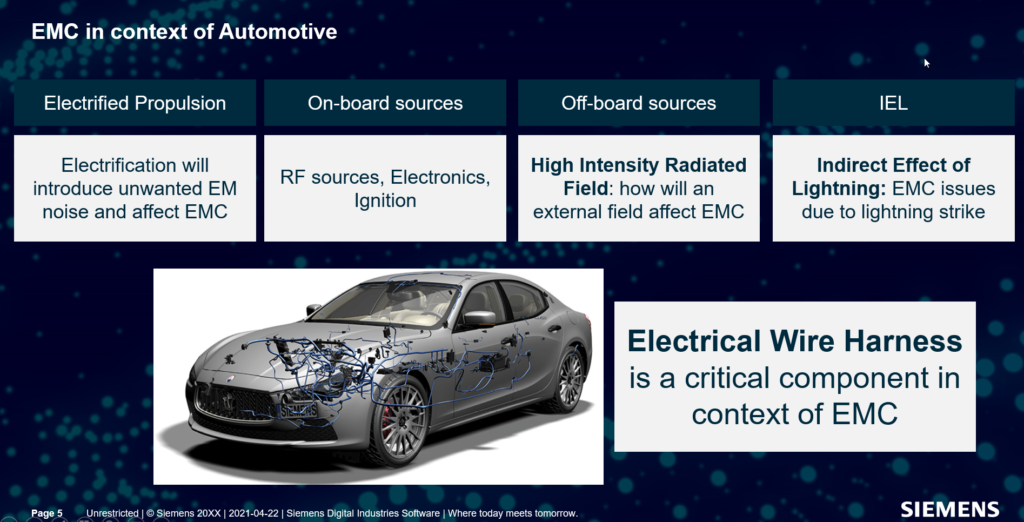 I will discuss more in detail the EMC topics for EVs at your Realize Live conference. If EMC is a topic of concern for your products and business, make sure to subscribe to my presentation on Addressing EMC/EMI Issues in a Vehicles Development Process.
The presentation will give background to the EMC topic and will discuss solutions to mitigate interference issues and comply to EMC. Such solutions are primarily based on simulation in combination with measurements. The importance of the power invertor as the main active source for EMI will be discussed. And likely the Electrical wire harness as a key component into the transmission of high frequency electrical energy throughout the electrical system of a vehicle.
Xcelerator provides the essential solution tools to address EMC concerns: From circuital simulation capabilities of the invertor and cables (conducted emission), to full 3D Electromagnetics simulation capabilities allowing to predict EM fields at any location in a vehicle as well as predict currents in each wire or voltages at each pin of an electronic device. The coupling with Capital, the world-leading wire harness engineering tool, makes the entire process also very efficient.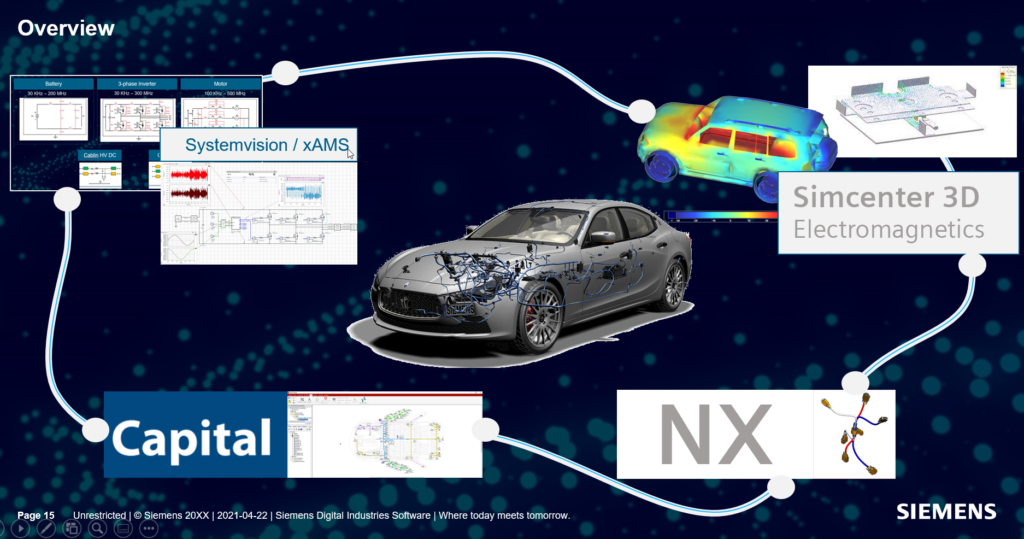 We have many more great presentations at Realize LIVE 2021 on the topic of Combining Mechanical Design with Electrical Design & Electromagnetics. Some of the presentations include:
The Demands on Electromagnetic Simulation Systems
Improved Cooling Strategies to Raise Power Density of Traction Electric Machines
Enhancing Electronics Thermo-Mechanical Analysis Workflow Using Simcenter Platform
Register below and check out the rest of the upcoming presentations on Electromagnetic Simulation.