Products
Giving a voice to Simcenter towards the heavy equipment market

My first steps as Simcenter heavy equipment marketer
A year ago, I was asked to care for what we call the Simcenter for Heavy equipment performance engineering marketing campaign here at Siemens Digital Industries Software. With my prior experience as a system simulation product marketer, I knew a part of the challenges that our customers from the heavy equipment field were facing. Also, I was aware of only a tiny portion of the solutions we offer to them. Indeed, I was most familiar with everything related to machine energy management and fuel efficiency challenges.
Nevertheless, the scope of the challenges and of our solutions towards the heavy equipment industrial players are much wider than what I knew. My goal here is to recap and share with you what I learned over the past year. And show where we, with Simcenter, can support the heavy equipment companies all along their machine design and development process.
So, to be the marketing spokesperson for that topic, I first had to reset all my assumptions and learn which market we address when we speak about heavy equipment. We consider three main markets: the agricultural, mining, and construction machines.
Simcenter for three heavy equipment markets
They all have commonalities. They're big multi-parts machines used in various types of environments and geographical zones. They also are often very versatile because of their multiple usages. The first selling ticket of a heavy machine is the respect of specific regulation standards relative to vibration and noise for the operator comfort and to emissions because of the expansion of low emissions zones.
Consequently, all those markets' expectations and legal requirements make the machine design more and more complex for the OEMs and suppliers. Other constraint layers worth mentioning include delivery time and quality of a new or improved machine program to the market.
How can engineering departments face the market and organizational pressure without sacrificing innovation? They must opt for the digitalization of their processes.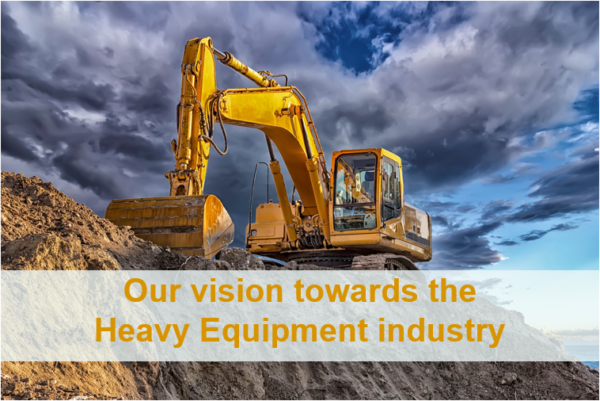 What are the solutions that Simcenter offer to the heavy equipment market?
As a second step to my learning process, I took time with my new colleagues who focus on the heavy equipment market (from the Siemens Digital Industries Software Simulation & Test solutions business development organization). There, I dove deeper into details of our solutions and the innovation areas we cover:
#1 Machine energy management and fuel efficiency optimization
Firstly, I spoke with Romain Nicolas our Simcenter system simulation solutions focal point for heavy equipment. He told me about his focus on machine fuel efficiency and energy management. Indeed, all the newly-created low zone emissions and related regulations make the OEMs think about new ways to innovate. OEMs can focus on areas such as electrification, optimized thermal management, and overall system architecture process. We also talked about control system verification & validation.
Learn more section :
– Webinars series Optimizing off-road equipment with system simulation,
– Customer stories: From heavy equipment component design to system integration with Simcenter Amesim and related infographic
#2 Machine operability and structural integrity
Then, I met Sebastian Flock, our Simcenter 3D business developer. He explained everything related to structural integrity and durability as well as machine operability and productivity. It was exciting to learn and gain a better understanding of the magic behind multi-body simulation.
Learn more section :
– Most recent webinars: Validating heavy equipment transmission design using multibody simulation in real-time with John Deere
Simulating heavy equipment durability
– Customer stories: Amazone written case & video
#3 Noise, vibration and durability
Therewith, the next expert I spoke with was Şafak Has. He's the Simcenter Testing solutions business developer in our group and leads the discussion around noise and vibration, and durability. During our exchange, Safak explained to me everything about the certification process related to noise and vibration regulations. Safak also demonstrated the importance to capture data in any type of tough environment in order to improve machine durability and comfort. Finally, he told me how the Simcenter testing solutions help our current customers to improve their machined design and save a considerable amount of time in the process.
Learn more section :
– Webinars
How to reduce development cost and time of your heavy equipment without compromising on durability, efficiency, and operator comfort
– Customer stories:
Hidromek. Construction equipment manufacturer uses Simcenter durability solutions to improve equipment performance
Volvo Construction Equipment. Construction equipment provider enhances acoustic comfort with the help of Simcenter Testing Solutions
#4 What about the big industry topics such as electrification and autonomous operations?
Once I finally felt like I understood all the industry facets that we address with Simcenter, I could step back to build the overall messaging with . Indeed, Gaétan is the industry leader of the Simcenter heavy equipment team. All of the previously discussed topics are linked to each other and so we must step back and see how we can create synergies to answer more global challenges that heavy equipment may face. This includes topics centered around the electrification of autonomous operation in the heavy equipment industry.
No one gives a better voice than our customer themselves
Finally, to keep improving my learning process, I read and watched a lot of our customer stories. There is nothing better after getting a lot of theory than to jump into concrete application cases. You can do so too and check out our Simcenter Heavy Equipment Magazine.
What's next?
Well, a year has passed since I was given the responsibility of lending a voice to our Simcenter offer towards the heavy equipment market. As a result of teamwork, we have planned a bunch of exciting virtual events and new customer stories. The best way to stay tuned is either on our LinkedIn Simcenter showcase page or by visiting the Siemens communication preferences center.
Before our first live session in November, check out what's already available:
Find us on the blog to get the latest news
Browse over our webpages
Register to the Simcenter LinkedIn showcase page you won't miss any of the latest information about our group
Catch up on any on-demand webinars.
Save the date for the upcoming live webinar host by our Simcenter heavy equipment experts and special guests:

November: Everything you need to know about machines electrification

December: New acquisition system for rough conditions – SCADAS RS discovery

February: Getting a better thermal management system design for your equipment

April: Improving vibro-acoustics machine for operator comfort

And/or get in touch with our group by commenting that post.
STAY TUNED!
This article first appeared on the Siemens Digital Industries Software blog at https://blogs.sw.siemens.com/simcenter/giving-a-voice-to-simcenter-towards-the-heavy-equipment-market/