Excuse me! Have you seen my model?
This might seem an odd question to you, but it is a reality for many using system simulation today. Let me explain how and why system simulation model management is key.
Things get tricky when you are in a project on a short deadline and just need to work at full steam towards your main goal – delivery of a simulation result. Invariably, questions will come back. "Did you use the correct set of data?", or worse, "Show me the data you used as an input to your simulation".
Handling simulation model complexity in troubling periods
When you are in "stress" mode it is easy to lose track of some things and you might misplace the one file, the one library or the one link you used in that model and suddenly…. you no longer can reproduce a set of results that you have shared with your peers. And there you have it, just like that, your simulation skills are questioned. Many will read these lines and say, "that is just an organization issue, that will not happen to me…" and to an extent I agree. Unfortunately, things are not just about putting a file, or a data set on a folder and keeping things tidy. The reason for saying this is that each system simulation authoring tools have their own way of handling data and sometimes this might overwrite without your knowledge the nicely organized structured you had just built for your model.
What is then a system simulation model?
When we at Siemens in system simulation domain talk about models it must be noted that we are not simply talking about the file (.ame, .slx…) where these models are being stored by an authoring tool such as Simcenter Amesim of Matlab Simulink.
When we talk about a system simulation model we talk, in fact, about everything that is related to that model that makes it complete and has contributed in some form to a set of results. With this we mean libraries that were used to build that model, data files that are being used as a parameter input (e.g. efficiency map) or initialization scripts that are needed to ensure the model runs well from the beginning. A model can be a long concatenation of artifacts that need to be understood and maintained. In the example list below we can see the example of a model composed by several subsystems, each belonging to a set of libraries and each making use of some sort of data.
The complexity is of course highly increased if for each of these mentioned artifacts you now bring versioning into place. Your model is now a configuration of subsystems each on a specific version belonging to a full library, which itself is as well in a certain version and includes data also with its own lifecycle. Suddenly what seemed obvious becomes a nightmare and one understands why it is so easy to lose track of things. This is even more true if you are now working in a team and each has their own responsibilities on certain deliveries towards the model. Who keeps track of what?
System simulation model management with Simcenter Sysdm
Getting control back
At Siemens Digital Industries Software we have identified this situation and have been working together with lead customers over the past 10 years, in order to come up with a good solution that tackles the main issues of system simulation model management. Simcenter Sysdm is the result of interactions with our customers who were increasingly becoming overwhelmed by the complexity of the matter and where traceability became an issue.
Simcenter Sysdm has advanced model management capabilities for system simulation tools like Simcenter Amesim models and libraries but as well for Matlab Simulink models and libraries. It also treats S-Functions and FMU's in a dedicated manner. This is possible due to the embedded data models for each of these tools or standards. Simcenter Sysdm understands a Simcenter Amesim model and will act to detect and capture relationships of interest. Once in Simcenter Sysdm it then takes advantage of several capabilities of the tool to display the model in a certain structure and layout and, at the same time enriching the model with metadata that can be used for queries or classification.
Using the right data model
Let's take a closer look at what happens when Simcenter Sysdm detects a Simcenter Amesim model and stores it into its repository. As represented here, this model has direct dependencies to Simcenter Amesim libraries and to data which is being used as a parameter.
Model dependencies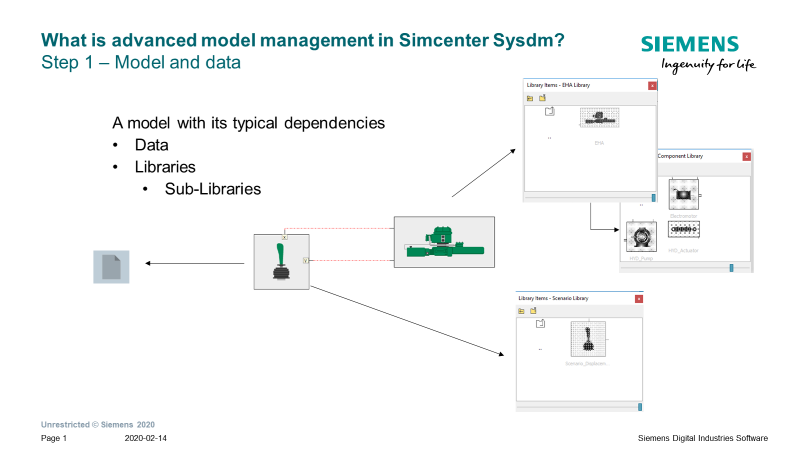 Seeing is believing
What you can see in the picture below is how Simcenter Sysdm detects model dependencies and lays out the schematic of the relationships and structures the data in the model according to the underlying data model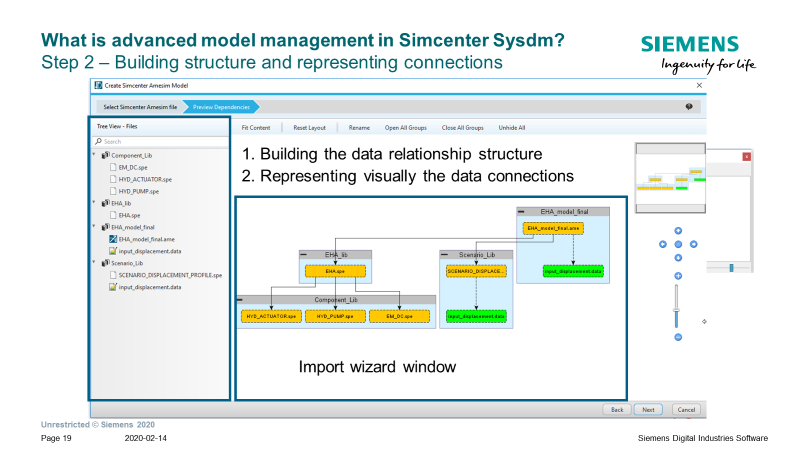 Start managing your models
Hereafter the model is imported into Simcenter Sysdm and all the information is displayed in a contextual fashion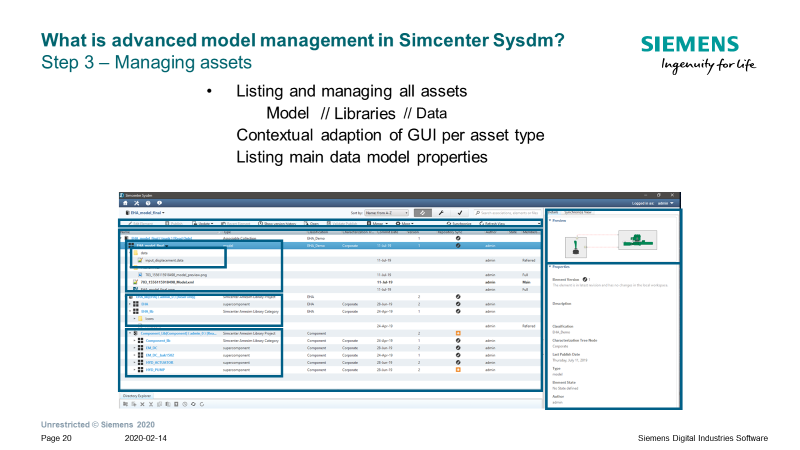 All artifacts can now have different versions, can contain attributes enforced by the system and metadata is associated to the model in Simcenter Sysdm. This all happens of course respecting the aforementioned data model of the Simcenter Amesim artifact, which is exactly what we want to achieve.
With all these steps performed seamlessly it is now virtually impossible to misplace something. Simcenter Sysdm will detect any changes on the managed files and will let the user know what needs to be uploaded to the system, or, if someone else has performed any changes on files or libraries that affect my model. Simcenter Sysdm will be able to bring back to your desktop the exact configuration of artifacts that were used to produce a given set of results.
As a fact Simcenter Sysdm cannot be reduced to this one unique feature as it includes many other capabilities that make the case of advanced system simulation model management.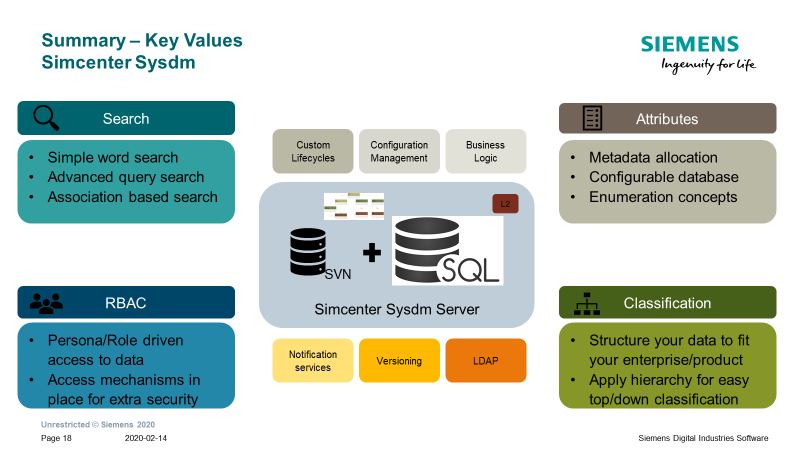 So, next time you hear somebody ask, "Have you seen my model?", help them with guiding them to Simcenter Sysdm which is part of the Simcenter System Simulation Solutions. It will for sure change their way of working for the best.
Related information
Watch this video to learn more about Syndication setup in Simcenter Sysdm:
Discover in the video below the Simcenter System Analyst solution:
This article first appeared on the Siemens Digital Industries Software blog at https://blogs.sw.siemens.com/simcenter/excuse-me-have-you-seen-my-model-i-think-i-am-in-need-of-system-simulation-model-management-with-simcenter-sysdm/