Video: Callaway designs clubs faster, so golfers can drive farther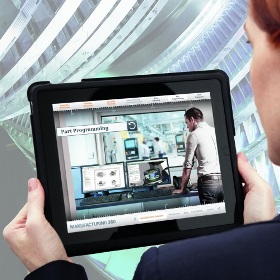 Callaway Golf has accelerated design, prototyping and testing of its clubs with the help of a Teamcenter innovation platform and NX CAD, CAM and CAE software. Today, Callaway develops clubs in months that used to take years—and they're leading the industry's innovation race. The result: golf clubs that are lighter to swing, faster on arrival at the ball and easier to hit the sweet spot.View this two minute video to learn how they did it.
Video transcript:
There are sixty million golfers around the world.  All of them, from beginners to pros, want to improve their game.  Until 1998, the only real way to improve was by taking lessons.  Then Callaway disrupted the industry.  The company hired a team of engineers to redesign clubs using aerospace principles.  Step 1: Implement a software platform to speed club design, simulation and prototyping.
2: Callaway turned to Siemens software.  NX CAD helped designers dream up more complex clubs.
3: NX CAE helped engineers analyze club face thickness.
4: NX CAM software helped machinists make push-button prototypes.
And, Teamcenter, managed the entire process.
Callaway soon introduced new clubs that were lighter to swing, faster on arrival at the ball and easier to hit the sweet spot.  Callaway's engineering approach sparked an innovation race in the industry.  Today, golf clubs are developed in months instead of years.  Some are made using six materials.  And, they include adjustability features to correct hooks and slices. Despite growing complexity, Callaway remains at the forefront of golf innovation.  When Siemens software helps an ambitious team of engineers make fast, forgiving golf clubs that boost every golfer's game, that's ingenuity for life.
Check out Siemens' Manufacturing 360 tablet app!
Explore the world of digital manufacturing. See how Siemens' software
for part and assembly manufacturing enable more efficient and nimble operations.
Download the FREE Manufacturing 360 app from Google Play or the Apple Store.
Manufacturing 360
This article first appeared on the Siemens Digital Industries Software blog at https://blogs.sw.siemens.com/nx-manufacturing/video-callaway-designs-clubs-faster-so-golfers-can-drive-farther/