Products
Industrial 3D Metal Printing at toolcraft – Siemens NX for Additive Manufacturing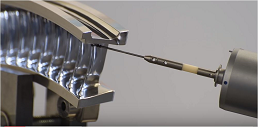 Christoph Hauck, Managing Director of toolcraft GmbH, discusses how they are using Siemens NX to aid in industrializing additive manufacturing (3D printing). By using Siemens NX, they are able to perform their entire workflow from design changes (NX CAD), through to manufacturing (NX CAM) in a single system.
Toolcraft video transcription
Industrial 3D Metal Printing at toolcraft
My name is Christoph Hauck, Managing Director of toolcraft GmbH. I am responsible for new technologies for new markets and customers. The start of toolcraft was in 1989. We started as a one man show in a garage with a used three axis machine. We now have around 300 employees. We have more than 70 CNC controlled machines and we support industries like aerospace, medical sector, semiconductor, automotive, and defense industries. I would say that toolcraft is not only a standard supplier. We really try to solve the problems of our customers and looking for the demands they have.
We decided in 2011 to buy the first additive manufacturing machine. We were quite early and until now we have eight additive manufacturing machines in the powder bed and the story will go on with the powder nozzle technology. Toolcraft doesn't only offer 3D printing. We offer the whole process chain starting from the design and ending with the non-destructive testing on the part. And, between this, there could be seven to nine different print process steps and this is what we can offer to our customers. We have everything under one roof.
In 2011 additive manufacturing was really like prototyping. You needed to test a lot to become successful and we had four different software solutions to finish the process. So, this is really what we like about Siemens. We now have one software product that allows us to do everything in our process chain. This is really important as with customers in the aerospace sector, in the semiconductor business and all of them request traceability.
My name is Ralf Domider. I am responsible for construction for part design for all parts produced by additive manufacturing. Usually if you prepare parts for additive manufacturing there always exists several parts next to each other. First, we receive the part from the customer. After that we start to modify the part. For example, we generate support structures. We do oversizes on surfaces. We change the angles of surfaces and so on. After that, we have a modified part which goes directly to the 3D printers. After we get the printed part it goes straight to the machining to remove all the support structures. At the end we have a final part which we deliver to the customer.
With Siemens NX we work with only one file along the process chain. There is less complexity. You can work in less time and have a lower error rate. That's the main advantage of Siemens NX. Nowadays with Siemens NX we can supply all of these systems and all of these machines – Trumpf, EOS and ConceptLaser.
My name is Benedikt Schlund, Project Leader Metal Laster Melting at toolcraft. We have good traceability with Siemens NX software. We have the full test chain in one software. It is easier to communicate with the other departments if there are any changes on the CAD models. We have very good quality and fewer errors. It is much easier to communicate if there are changes on the model because milling and machining and additive manufacturing are in one software.
We see that with Siemens NX 11, this is only the beginning. We have a high expectation in the future that lots of our problems in the past will be fully solved by Siemens.
This article first appeared on the Siemens Digital Industries Software blog at https://blogs.sw.siemens.com/nx-manufacturing/industrial-3d-metal-printing-at-toolcraft-siemens-nx-for-additive-manufacturing/